What happened in the past month in the world of beer and brewery? Well… A lot.
Fret not. We'll give you the up-to-date beer news, homebrewing, new breweries in town, and many more! Here's 52 Brew's monthly round-up in the world of homebrewing.
---
Breweries Supporting Each Other and Their Communities in the Carolinas After Hurricane Florence
Breweries in the Carolinas are showing us that they don't just offer good beer — they offer community assistance too. After Hurricane Florence battered the area last month, breweries there immediately mobilized to provide free water, ice, food and beer to their affected neighbors. And some of them are not only helping their communities; they're helping each other too by hosting fundraisers to help those whose shops were destroyed by the hurricane.
It seems Good Samaritans can really come from anywhere — even from inside a beer brewery.
---
3 Takeaways from the 2018 Great American Beer Festival
This year's Great American Beer Festival which attracted a record 62,000 crowd saw a liquor company — instead of a beer company — winning the week, with the Pernod Ricard-owned Jameson Irish Whiskey label dominating the event with its 13,000 sq. ft. beer garden, analog and digital billboards, and VIP rooftop party. The three-day festival also saw "Big Beer" brands striking out, with not one mainstream lager brand winning a GABF medal.
Amazingly, the GABF this year evolved from being a beer fest to being a veritable tradeshow, with established companies engaging the trade and breweries re-energizing their flagship products. We hope that this last one will a regular feature of GABF in 2019 and beyond.
---
New Real Brewing Co. Opens in Virginia Beach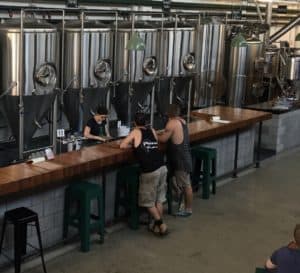 Beer lovers in Virginia, rejoice! New Real Brewing Co. is branching out to Virginia Beach with a new brewery. They are featuring a tasting room which offer more than 15 different types of beers on tap. A 44,000 square feet outdoor beer garden with fire pits, adult game areas and newly added patio bar, and a large private event space.
Its 50-barrel brewhouse has an opening tap list which includes Hoplandia and Hoptropolis American IPA brands, Euphonia Pilsner and Kikimora Imperial IPA.
Patrons will also be able to enjoy select brews from limited release, small-batch specialty beers seasonally, mentioned in their press release. Guess we'll have to go head out to Virginia now.
---
Beer: Colleges' New Way to Fill Seats, Not Couches
If you're someone who prefers your football game with an ice-cold glass of beer, this might be for you: after years of banning beer in football stadiums, more universities are now starting to allow its sale during games so people like you won't have to stay home just to get their beer fix.
"Selling alcohol at college games is not about adding a few million dollars to annual bottom lines but a longer-term strategy to convert new, fickle fans into more reliable ones." Emily Golembiewski, a stadium consultant, told The New York Times.
She said that college students were not attending football games because "they wanted it to be more social, more customizable, more welcoming," and she's hoping that this shift in stadium policies will appeal to that crowd. "It's not the drinking crowd, it's actually a more social crowd," she said.
Resources
www.craftbeer.com/editors-picks/carolina-breweries-hurricane-florence-support
https://www.brewbound.com/news/3-takeaways-from-the-2018-great-american-beer-festival
https://www.nytimes.com/2018/09/28/sports/ncaafootball/beer-colleges-new-way-to-fill-seats-not-couches.html