The homebrewing market has virtually exploded in an array of hi-tech devices over the past few years, with loads of innovative products that aim to make brewing faster, better, and more efficient.
The BeerDroid from BrewArt is only one in a long list of such devices, but the wealth of advanced features that it offers promises it to be something different. A fully-automated personal brewing system, it can churn out as much as 2.6 gallons of beer in one go.
A slick and stylish unit that comes with a host of modern features (Wi-Fi connectivity anyone?), it could very well be the droid that you're looking for. Read the rest of this BeerDroid review to find out why.
---
BeerDroid's
Highlights & Benefits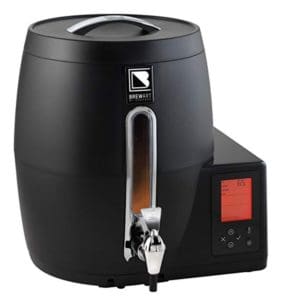 Right out of the box, this automated beer brewing system makes a powerful visual statement with its smooth matte-black finish that would make it right at home on the Death Star. With its subdued LCD display, minimalistic control panel, and elegant silver fixtures, the look is absolute class all throughout.
So much for looks…how good is it in actual use?
As mentioned previously, this beer making machine can produce as much as 2.6 gallons of brew simply by pressing a couple of buttons. Temperatures are monitored and precisely controlled in order to produce beer of outstanding quality.
The aforementioned LCD screen is generously-sized but stops short of being overbearing or intrusive. BeerDroid provides surprisingly detailed information on the status of your system and the brewing process. This is all the more impressive considering that there isn't a lot of text and graphics on display.
The screen also gives you control over the temperature and enables you to customize your brew. This automated brewing system utilizes what BrewArt calls EOF ("end of fermentation") technology, which lets you know when your beer is ready to be kegged. This information is presented on the LCD screen as well.
The tap is a pretty slick feature. It consists of two pieces that snap together reassuringly, and it serves double duty as a flush drain. With this system, cleaning the BeerDroid is extremely easy and hassle-free.
One thing that sets the BeerDroid apart from other hi-tech systems is the use of "BrewPrints." Essentially, recipes for some of the most popular and most revered beers in the world, BrewPrints elevate its status from your typical brew kit to something akin to your own mini-craft beer production facility at home.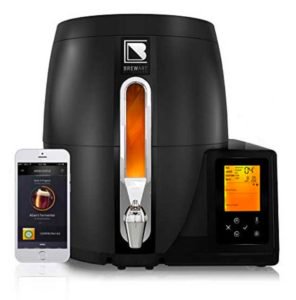 Each BeerDroid brewing machine comes with an American Pale Ale BrewPrint. In addition to that, you can also download other BrewPrints from BrewArt using the dedicated app. The company's own master brewers formulate all BrewPrints using only 100% natural and additive-free ingredients.
The BeerDroid app lets you do more than just download recipes. It also gives you control over the brewing process, sends you notifications of milestones, and enables you to update your device's firmware as new versions are released.
You can use the Wi-Fi capability of this automatic beer maker in many other ways as well. You can actually store your brewing progress and history in BrewArt's cloud servers. This makes it easy for BeerDroid's customer service team to help you out if your brew doesn't go according to plan. They will even helpfully tell you where you went wrong and how to fix it.
Having your brewing history stored in the cloud provides another significant benefit. In the event of a power failure, you can simply pick up right where you left off. Try that with your traditional homebrewing kit!
Pros
High-quality brews at the push of a button
Access to many BrewPrints from the brewmasters at BrewArt
Wi-Fi connectivity offers many benefits
Modern and stylish look
Cons
A bit pricey
Some aspects of the brewing process can't be manually controlled
---
Is BeerDroid
Worth Investing?
At the end of the day, technology is only as useful as its ability to help you produce quality product.
In this case, the technology simply aids in the process, and never gets in the way of producing great-tasting beer.
Are there any drawbacks? Sure. The BeerDroid machine is quite pricey, especially for an automated home brewing system that doesn't really let you get into the nitty-gritty of your beer.
But if you are looking for a push-button system that will give you a wide variety of excellent beers every time, the BeerDroid is the only real choice.
52Brews brings easy-to-understand, unpretentious craft beer and homebrew information for our readers. We got you covered on all things craft beer, beer of the month clubs, homebrewing, general beer knowledge and more!