Winter can be downright unpleasant if you're not the type to handle the cold well. Thankfully we've got you covered – winter beers!
There are certain beers that will compliment the winter season well. They'll not only warm your body, down to your bones, but they'll make you sleep that much better at night.
You could probably forget about those extra layers of thermal underwear if you want.
These beers are typically known for their higher than normal alcohol content and the seasonal spices mixed within it. We know, it's music to our ears too.
Alright, enough talk. Let's get on to the list.
---
1. Lagunitas Brown Shugga
Lagunitas Brown Shugga is a product of the Lagunitas Brewing Company out of California.
An American Strong Ale with an ABV of 10.00%, it has a translucent, copper hue that distinguishes it from many other best winter seasonal beers.
Full-bodied and complex, it features an amazing blend of flavors and aromas that almost overwhelm the senses with rich brown sugar, freshly baked bread, and fruit and citrus tones and is truly one of the best winter ales.
Watch this review below so you'll know more about this type of brew.
---
2. Alesmith Speedway Stout
Alesmith Speedway Stout is another California brew, this one produced by the AleSmith Brewing Company.
An American Imperial Stout with an impressive ABV of 12.00%, it is one of the few good winter brews available throughout the year.
It has a startlingly dark hue to it, almost totally black with a light beige head.
Flavor-wise, it is characterized by heady coffee and chocolate tones, tempered with roasted malt flavors.
FREE DOWNLOAD: Top 5 Craft Beer Recipes
---
3. New Belgium Accumulation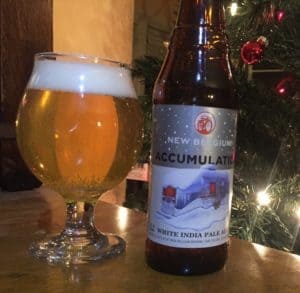 New Belgium Accumulation is a Belgian IPA out of Colorado.
With a modest ABV of 6.20%, you could expect to see it on the shelves around the fall.
Inspired by the winter snowfall in Colorado, New Belgium Accumulation is a white IPA that contrasts sharply with the dark beers typically brewed for this season.
In fact, its gentle fruit and citrus flavors almost make it summer-y in comparison to other winter brews.
---
4. Deschutes Jubelale
Deschutes Jubelale is characterized as a Spice Beer with an ABV of 6.7%. Drawing its flavor from a variety of hops and malts, it is a bold and complex ale with a distinctive spiciness.
Dried fruit notes combine with the malt result in an herbal blend that goes well with a variety of traditional holiday dishes.
---
5. Victory Winter Cheers
Victory Winter Cheers is a Pennsylvania beer brewed by the Victory Brewing Company.
A German Hefeweizen with an ABV of 6.70%, it combines the best qualities of German and torrified wheat with oats, barley malts, and Tettnang and Citra hops.
All these ingredients come together in a delicious and warming blend with subtle citrus, banana, and clove flavors.
---
6. Harpoon Winter Warmer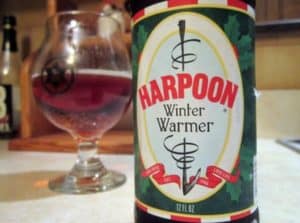 Harpoon Winter Warmer is a Spiced Ale with an ABV of 5.9%.
Rich and full-bodied, it has a spicy character to it due to its cinnamon and nutmeg flavoring.
The cinnamon is especially noticeable at first taste, particularly since there is no apparent aromatic hop that would otherwise cover up the spiciness.
Caramel and pale malts round up its blend without making it too rich for the palate. [1]
"I can sum this up in one word; Christmas. As strange as it may sound this beer reminded us of the Christmas season. Mainly it smells like gingerbread, nutmeg and cinnamon. Quite spicy yet really alluring. They hit the nail on the head with the bouquet of this one."

– Scott, The Beer Critic
---
7. Hardywood Gingerbread Stout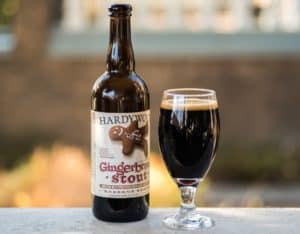 Hardywood Gingerbread Stout is an English Sweet/Milk Stout produced by the Hardywood Park Craft Brewery of Virginia.
It has an ABV of 9.20%, and it usually starts to appear on the shelves around fall.
The Hardywood Gingerbread Stout derives its flavors from baby ginger harvested from Casselmonte Farm and sweetened with wildflower honey.
The rich and creamy brew also has hints of milk chocolate and vanilla, with cinnamon and ginger finishing it off.
---
8. Samuel Smith Winter Welcome
Brewed in the Samuel Smith Old Brewery in Merry Olde England, Samuel Smith Winter Welcome is a honey-hued concoction brimming with floral aromas and rich caramel malt flavors.
Like all good winter brews, it has a subtle hop aroma that never gets too intrusive, making it pair well with your standard holiday dishes.
Samuel Smith Winter Welcome has an ABV of 6.00%, which is pretty mild as far as Christmas beers go.
FREE DOWNLOAD: Top 5 Craft Beer Recipes
---
9. 12 Dogs of Christmas Ale
The curiously-named 12 Dogs of Christmas is a Winter Warmer brewed by the Thirsty Dog Brewing Company out of Ohio.
It has an ABV of 8.30%, which matches well with the delightful blend of seasonal flavors.
Take a good chug of it and your mouth will be filled with a pleasant wash of toasted and caramel malt flavors, along with bold tones of honey, cinnamon, ginger, and nutmeg. One of the best winter beers you can buy today.
If you're too lazy to go winter beer shopping, you can see GiveThemBeer.com where they specialize in seasonal beers in their beer baskets.
---
10. Great Divide Hibernation
Great Divide Hibernation is an Old Ale with an ABV of 8.7%. It has a clean, almost lager-like quality to the aroma, with a distinctive malt flavor pleasantly accented with smooth alcohol and biscuit tones.
Various other flavors come to the fore as you are drinking it, among them chocolate, coffee, brown sugar, and an enigmatic smokiness.
A medium-bodied brew that leans just slightly toward fullness, it warms you up nicely as any good winter beer does.
---
11. 21st Amendment Fireside Chat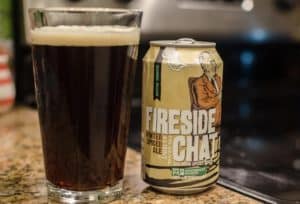 Brewed in California, 21st Amendment Fireside Chat has an ABV of 7.90%.
The 21st Amendment Brewery's take on the winter seasonal beer, it is somehow bracing and comforting at the same time.
In terms of flavor, there is no mistaking the richness of the English-style ale that serves as the 21st Amendment Fireside Chat's base.
The addition of specially-selected spices simply takes the brew to the next level, making it worthy of any holiday shopping list.
"Like FDR's Depression-era radio addresses, which were like a kick in the butt and a hug at the same time, our Fireside Chat is a subtle twist on the traditional seasonal brew. We begin with a rich, dark, English-style ale and then we improvise with spices until we know we have a beer worth sharing with the nation."

– Beer Advocate
---
12. New Holland Cabin Fever
New Holland Cabin Fever is a proudly Michigan-made American Brown Ale with an ABV of 6.50%.
Smooth yet full-bodied, it has a robust blend of rye and raisin flavors highlighted with a light caramel sweetness.
Finishing off with a nice dryness, it goes well with hearty holiday fare such as stews and roasts.
---
13. Southern Tier Old Man Winter
Southern Tier is an English Old Ale with an ABV of 7.50%. The ideal winter brew to put a spring back into your step when the weather turns cold, it has a complex array of barley and hops flavors in its reddish-brown brew.
Along with the distinctive hoppiness, the aroma also offers up hints of cinnamon, clove, and gingerbread, with all the ingredients coming together to produce the seasonal beer unlike any other.
---
14. Sweetwater Festive Ale
From out of Georgia comes a winter warmer that has a pretty solid ABV of 7.70%. Called the Sweetwater Festive Ale, it is a bold and full-flavored brew with more than a hint of spiciness.
Much of the flavor comes from Centennial and Golding hops, which are kept from getting too overbearing by the delightful cinnamon and nutmeg accents.
You also pick up enticing notes of roasted malt, dark chocolate, caramel, and even toasted woods.
FREE DOWNLOAD: Top 5 Craft Beer Recipes
---
15. Schlafly Christmas Ale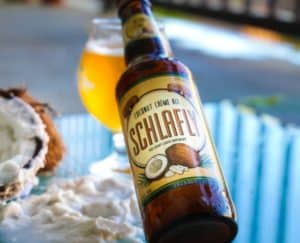 Schlafly Christmas Ale is a Winter Warmer with an ABV of 8.00%. Decidedly Christmasy in terms of flavor, it combines a welcome spiciness with a temptingly sweet aftertaste.
Like all good winter beers, Schlafly Christmas Ale boasts of an abundance of flavor tones, among them orange peel, juniper, cloves, and ginger.
---
Best Winter Beers:

What We Learned
Nothing quite compares to the richness and complexity of a best winter beer. The good news is that you can't go wrong with any one of these fine beverages, so take your pick and enjoy the best that the winter months have to offer!