Blichmann Engineering specializes in commercial grade home brew products. Some of their products include all-grain brewing systems, hop infusers, thermometers, bottle fillers, and much more. Blichmann Engineering is known for their ingenuity and quality and are a showcase to American manufacturing.
Their Top Tier Brew Stand is a prime example. It is designed to be efficient and practical. With its 3 tiered design, you can easily set up multiple burners and take advantage of gravity for transfers. It is a very impressive set-up that requires less space than most burner systems.
---
Blichmann Top Tier Stand:

General Features
Blichmann Engineering is back at it again with the Top Tier Stand. This is not an ordinary brew stand. Rather than burners on a wide range, it stands tall with three shelves that can be adjusted to accommodate your specific needs.
The Top Tier stand has a long aluminum mast with a T-slot mounting system; this is where the shelves are placed. At the base are heavy-gauge powder-coated steel legs with attached wheels. The shelves can be moved vertically and laterally.
The shelves on the Top Tier stand can be adjusted so that you can customize your brewing experience. This is extremely helpful for all-grain brewers. You can place your sparge water on the top shelf, a mash tun on the middle shelf, and a fermenter on the bottom shelf. This makes transferring very easy. All you have to do is hook up the proper tubing, open the valves, and let gravity do the rest of the work. However, you can set it up in whichever way fits you best.
Each shelf can also be replaced with a Blichmann HellFire Burner. The burners can be purchased with the stand. However, if you already have a couple in your inventory, you can purchase the stand separately and attach them.
Blichmann's Top Tier Stand are of high quality. They are engineered to hold a maximum of 3 tiers (up to 30 gallon pots per tier). However, it is not recommended to install additional tiers for safety reasons. They are also highly-efficient and can definitely change your home brewing experience forever.
Pros
Multiple shelves
Vertically tiered
Adjustable 3 tiered system
Built strong and rust proof
Multiple high-efficiency burners
---
Any Shortfalls?
Efficiency and power is the focus of this brew stand. However, it comes at a cost. The Top Tier stand is not cheap, and you may also end up having to pay for expensive shipping costs.
If money isn't an issue, the vertically tiered system may be. It requires you to lift a full brew kettle or mash tun onto each shelf. This may be tiring over time and may cause issues if you haven't transferred your liquids before taking them down.
Although this brew stand is top of the line, it is also gas hogs when used with Blichmann's burners. You may find that the cost of gas is not worth BTU output.
Cons
Shipping costs
Requires heavy lifting
Burners quickly burn fuel
---
Blichmann Top Tier Review:

Is It Worth It?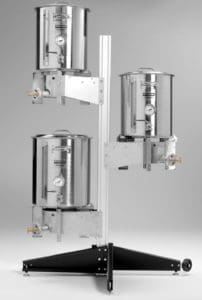 If you are looking for a quality burner stand, then the Top Tier Stand is your answer. I find the vertically tiered system to be extremely helpful. It is also built to be very sturdy and can easily hold the weight of multiple full kettles.
The Top Tier Stands is the most universal brewing stand on the market.
You can add or remove different burners, chill brackets, and many more, and you can adjust it depending on how you want them to be positioned.
Overall, the Blichmann Top Tier Stand is a great product for any serious all-grain brewer.
52Brews brings easy-to-understand, unpretentious craft beer and homebrew information for our readers. We got you covered on all things craft beer, beer of the month clubs, homebrewing, general beer knowledge and more!