Blichmann products cross the line from veteran home brewing into commercial grade innovation. They offer a wide range of crossover equipment that is tailored for precision and consistency. The Blichmann Fermenator is a conical commercial grade fermenter.
A conical fermenter is much different than the carboys you may be used to. These types of fermenters are conical in shape with the tapered end pointing down. This design provides utility that is otherwise not available with a carboy.
There are also many features Blichmann Engineering has incorporated that point to the quality and vision of their brand as a whole. From top to bottom, the Fermenator is an impressive fermenter
---
Blichmann Fermenator:

General Features

The Blichmann Fermenator is a commercial grade fermenter. It is available in 14, 27, and 42-gallon models that can be extended to increase capacity by about 50%. They are all constructed of heavy-gauge stainless steel and FDA-approved silicone.

The Fermenator is a cone shape that stands upside down and is supported by three legs. Leg extensions are available to increase the height and include pads to protect surfaces. There are also handles below the top hatch that extends out for easy transportation.
The interior of the Fermenator is weld-free. This is huge for sanitation. It means that you won't have to work hard getting between the cracks or uneven surfaces. This dramatically reduces clean-up time and the chances of water contamination.
On the top of the Blichmann conical Fermenater is a hatch for easy access. It is easily sealed and is designed to maintain pressure for CO2 forced transfers. This way you don't rely on gravity to move your beer.
Another impressive feature is the rotating racking arm. The shape of the fermenter keeps most of the sediment away from the clean beer, and the racking arm allows you siphon beer while staying clear of that sediment. This will produce a clean and clear beer.
The design of the Fermenator is sleek and smooth. This makes it easy to fit into a giant kegerator or freezer to maintain proper fermentation temperatures. And because the Blichmann fermenter is made of such high-grade materials for its construction, you won't need to worry about how the wide temperature ranges may affect the integrity of the unit.
Pros
Lid hatch
100% leak-free
Weld-free interior
Rotating racking arm
Pressure-capable stainless lid
---
Any Shortfalls?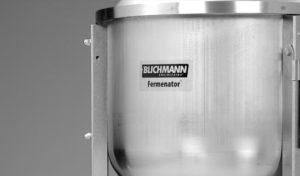 The Blichmann Fermenator is a top of the line home brewing fermenter. It can produce commercial quality beer and designed to meet all of your needs. However, it may not be for everyone.
All of the features of this beer fermenter are awesome, but they may be overkill for many homebrewers. At the end of the day, a glass carboy can get the job done. Many of the features that make the Fermenator are available to purchase in addition to a traditional fermenter and/or are included in most standard home brew kits.
If you are looking to take small steps in your home brewing journey, I would put this one on the shelf for now. If you're after something less intimidating, check out this our review on other great products: www.52brews.com/top-5-fermenters
Cons
Heavy
For professional brewing
---
Blichmann Fermenator Review:

The Bottom Line
The Blichmann Fermenator is the home brewers dream. It combines many features into one unit that is superior to any other traditional home fermenter. The weld-free interior and top hatch are the best features in my opinion. I can open the top and quickly clean out the entire unit with ease and feel confident there is no remaining bacteria.
The conical shape and racking arm are also key features. This is the same design that almost every large brewery has on their fermenters. It ensures that you are transferring the cleanest beer possible.
I highly recommend this fermenter to anyone serious about brewing. Although it will cost you more than some other units, it will save you time and money in the long run.
52Brews brings easy-to-understand, unpretentious craft beer and homebrew information for our readers. We got you covered on all things craft beer, beer of the month clubs, homebrewing, general beer knowledge and more!