Since 2001, Blichmann has been a high-quality brewing equipment supplier. Their focus is to provide innovation in engineering and efficient brewing equipment. They have a wide range of products, and all of them are some of the best home brew supplies on the market.
Blichmann's latest product is the Therminator – it is a wort chiller. These are used to rapidly cool wort after the boil. This is advantageous for your time, keeps unneeded enzymes from breaking down, and puts the wort to temp for yeast addition. You will find that there are many different wort chillers available but none quite like the Therminator.
Today, we're going to take a look at the [month] model and see if it's worth buying or not.
---
Blichmann Therminator:

General Features
The Blichmann Therminator wort chiller is truly unique. It is much smaller than most wort chillers and works just as fast, if not faster. It is made of 316 stainless steel plates and fittings, 100 percent copper, and has gaskets to prevent leaking.
Because it is so small, the water resistance is very low. This allows for easier gravity feeds and improves the speed at which water can move. This in combination with its composition and design are what drastically increase the speed at which you can chill your wort. With most cold faucet water you can cool a 5-gallon batch in less than three minutes and a 10-gallon batch in less than 5! This will also reduce the amount of water used in the process.
To operate the Therminator, all you have to do is attach hosing to both sides and allow the water and wort to flow through. It's a plate chiller, so rather than placing the chiller in your wort, it runs through the unit. This way you can push the wort from your brew kettle directly into your fermenter while it cools.
Attaching the hosing has been made easy by the standard fit male threading on both sides of the unit. For more optimal operation, Blichmann also provides an Therminator owner's manual. This is available on their website.
Another advantage of this Blichmann plate chiller is its size. It makes cleaning very easy. Instead of having a large unit to clean, you can spend less time and resources sanitizing the unit. It is also easier to boil if you wanted to go that route.
Pros
Fast
Compact
Bacteria-free
Stainless Steel
Low Water Consumption
---
Any Shortfalls?
There's no doubt this the Blichmann Therminator is efficient and will save you some time. However, any advantage you experience may be minimal so you'll have to ask yourself if it's worth the financial stretch.
You may also find it a bit easier to use an insertable chiller. With these, you connect the water, set it in the wort, and let it chill. Take some time to make sure the Therminator chiller is the right one for you. For other chiller options, read this page here.
Cons
Will cost a bit more than traditional coolers
More steps than traditional chillers
---
Blichmann Therminator Review:

The Bottom Line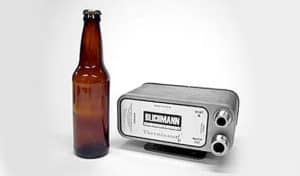 Like everything from Blichmann, the Therminator is a solid piece of equipment, and it will prove its point right away. It's still one of the best wort chillers in [month].
It provides fast cooling, efficient use of water, wort transferring, and easy sanitation. If you frequently brew and want to save time and money in the long run, we would seriously consider picking one of these bad boys up.
52Brews brings easy-to-understand, unpretentious craft beer and homebrew information for our readers. We got you covered on all things craft beer, beer of the month clubs, homebrewing, general beer knowledge and more!