Northern Brewer is known for producing quality home brew equipment, and the Copperhead Immersion Wort Chiller is no exception. It is among many of the products they offer and is a great addition to your home brew set up.
It is designed to bring your wort to the appropriate yeast pitching temperature. This is important before you place your beer into primary fermentation because it stops additional enzyme breakdown and allows the yeast to work efficiently.
---
Copperhead Immersion Wort Chiller:

General Features
The Copperhead Immersion Chiller is a wort chiller by Northern Brewer. It has a long stem that connects layers of copper coiling and the hose connectors. The immersion unit itself measures about 9 inches wide and 16 inches tall. The copper tubing is about 3/8 inches thick, and all copper components are made of 100 percent copper.
At the top of the copper stem is a bend. This bend is where the hosing connects. This design keeps the connecting components out of the kettle and away from the wort. This is a nice feature because if you happen to get a leak, it will be outside of the kettle.
Hosing can be connected to standard garden hose fittings located after the bend on the end of the copper tubing. These fittings make it easy to connect with an outside spigot or laundry sink. If you want to connect it to your kitchen faucet, there are adapters available for purchase separately.
To chill your wort, all you have to do is dip the immersion coils into the wort and allow the water to run through. The copper allows for efficient temperature exchange and by using a thermometer you can run it until the desired temperature.
Pros
Easy to use
Efficient
100 percent copper
Standard garden hose connection
---
Any Shortfalls?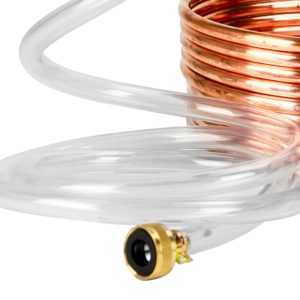 Pre-sanitation is easy because all you need to do is dip it into some Star San or place it in the wort while it is still boiling. However, post cleaning and sanitation isn't as simple.
While the Copperhead immersion chiller is working on your wort, trub and sediment will adhere to the coils. This makes it hard to clean because you will have to get between all of the coils to get everything. You can use a spray hose to get most of it, but I recommend giving it a good scrub to make sure you aren't leaving anything behind.
We wrote a review on the 5 best chiller options. If you're interested, check out this page here: www.52brews.com/top-5-wort-chillers
Cons
Difficult to clean between coils
---
Copperhead Immersion Wort Chiller:

The Bottom Line
Overall, Northern Brewer's Copperhead Immersion Wort Chiller is a pretty good wort chiller. You'll pay a little more, but I believe it is well worth it. It is easy to use and will quickly chill your wort. A 5-gallon batch will take about 15 – 20 minutes to chill.
The benefits of a chiller definitely outweigh the extra equipment to clean in the end as well. I recommend picking up a chiller of some sort, and this one is definitely going to get the job done.
52Brews brings easy-to-understand, unpretentious craft beer and homebrew information for our readers. We got you covered on all things craft beer, beer of the month clubs, homebrewing, general beer knowledge and more!