While it can be hard to find the perfect gift for certain people, if that certain person happens to love beer, the search is a lot simpler. There are a ton of cool beer gifts on the market that make getting your friend, significant other, family member or colleague the perfect gift really easy. Best of all? They're all available on Amazon for easy shopping and delivery.
Check out our list of 10 gifts perfect for any beer lover:
1. Pour your own pints with the SUB home draft beer appliance by Krups
Have you ever dreamed of pouring your own "pub-perfect pint" at home? Instead of guzzling from a can or a bottle, you can experience draft beer at home with a home draft beer appliance by Krups. Giving this as a gift is truly a way to tell your friend or family member that you love them, because you care about the freshness of their beer.
This unit fits easily on any kitchen countertop, and it's easy to load it up with mini-kegs of beer that you can order on Hopsy. Tons of different varieties and flavors are available, including from local microbreweries. Bring the pub and the tap room into your home!
---
2. The Complete Beer Course: Boot Camp for Beer Geeks – Josh Bernstein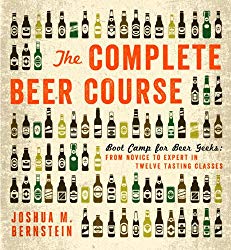 There are books, and then there are "sacred texts." This is the latter. Josh Bernstein's Complete Beer Course promises to take you from a complete novice to a beer expert with his brilliant writing on beer. He is one of the world's most influential and important beer journalists and a renown cicerone (a sommelier for beer). This is the perfect book for any beer lover on your list who wants to up their beer knowledge.
---
3. Beer shower fan? Get the shower beer holder!

There's no shame in the "beer shower" – if you haven't done it, try it! It's a wonderful way to combine the refreshing feeling of a shower with the relaxation of a great beer. While you can set your beer down on a bathtub edge, that's definitely not optimal. Also, what if you only have a stall shower?
Hang this stainless steel spiral shower beer holder on the glass door of your shower, and it will stay put. It's a cool way to combine your love of beer… with basic hygiene!
---
4. Lather up with a set of 6 handmade, artisanal beer soaps
Looking for an ideal gift for any beer lover? This set of handmade beer soaps consists of 6 soaps, each roughly the size and shape of hockey pucks, made with natural ingredients and real hops. They smell great, and are all made in America.
The set includes soaps made with:
Oatmeal Stout– sweet and creamy
Hoppy IPA– spicy and earthy
Vanilla Porter– a unisex vanilla scent
Apricot Wheat– a scrubby soap made with apricots and wheat beer
Belgian Witbier– sweet, citrusy, and spicy
Honey Pilsner– scrumptious and cleansing
You can use the soaps to cleanse your body, wash your hair, and even tend to your beard. This is one unique and practical gift that any beer lover would cherish – and lather.
---
5. Fancy playing a game of Beer-opoly with friends?
Sure, lots of people play drinking games, but how about something a little bit different? Beer-opoly guides you and your drinking buddies through a series of games, tasks, and challenges, including rapping, dancing, and "never have I ever" questions. The last person remaining drinks from the community cup. Beware – things can get very fun, and very messy.
---
6. Fancy dresser? Accessorize with some "pint of Guinness" cufflinks
If you know someone into cufflinks, or Guinness, or both, give them this set of Guinness beer cufflinks. They come in a clamshell box that is perfect for gift-giving and storage and are sure to be a treasured keepsake for many years to come.
---
7. The Craft Beer Cookbook: From IPAs and Bocks to Pilsners and Porters – Jackie Dodd
Heading into the kitchen has never been tastier – or more boozy – than it is with Jackie Dodd's Craft Beer Cookbook. She teaches you how to pair beer with delectable meals, and provides more than 100 recipes for actually cooking with beer as an ingredient. This book teaches you how to add IPAs, Porters, Lambics, Stouts, Lagers, and Wheat Beers into appetizers, main courses, and desserts.
---
8. Serve beers in the correct glasses with this set of type-specific glassware for beer

Not sure what to get the beer lover in your life? This entry on our list is a true no-brainer, as no beer lover can ever have too much glassware on hand. This set of type-specific glassware includes:
1 x 15.25 oz. classic pilsner glass
1 x 20 oz. English pub glass
1 x 16.6 oz. Belgian ale glass
1 x 14.75 oz. porter/stout glass
1 x 23 oz. wheat beer glass
1 x 20 oz. craft pub glass
These glasses are attractive, but we don't recommend you use them for a game of beer pong!
---
9. Really show you care with a glass-fronted beer fridge, perfect for displaying craft brews
Order Now on Amazon.com
Sure, you can store your craft beer finds in a normal fridge, but isn't it way cooler (get it?) to see everything you have in your collection? This NewAir Beer Fridge has a glass door, and cools down to 34 degrees Fahrenheit. Best of all? It can hold up to 126 cans at any given time. You can even adjust the shelves to accommodate different sizes of cans and bottles.
---
10. A copper plated and insulated mug that keeps your beer frosty cold
Nothing is better than an ice-cold beer! But leave it undrunk for a few mere minutes too long and it comes back up to room temperature quickly, as we all know. One of the best materials to combat this is copper, which keeps liquids icy cold for way longer than glass. Similarly, copper also keeps warm liquids warm – so, while this 17 oz. coffee mug is advertised as being particularly good for coffee, don't be put off: it is even better for beer. It may sound unusual, but try it! It's made of stainless steel and plated with copper, and utilizes double-walled insulation – so it'll make even slow-sippers happy by keeping their beer colder for longer.