Like many products today, GrowlerWerks came into being as the result of a Kickstarter campaign. This one launched back in 2014. A lot of people felt that the world needed a better product and that it was so essential that they were willing to part with their own hard-earned money to fund its development. But stranger things have happened and, as far as we can tell, this growler is, in fact, a better one.
So it would seem that the money raised was money well spent. In this review, we're going to take a close look at what might be a new step in the evolution of the humble growler. We'll look at what it's made from, how well it works and whether or not it has any hidden flaws.
---
uKeg Growler

General Features
This product sports an array of features you wouldn't normally associate with an ordinary growler. That's because it's not a standard product. When you go searching for alternatives you'll be struck by how advanced it seems in comparison. In that sense, it's a game-changer because once you see it you can't unsee it and everything else suddenly looks so 21st century. That said, the features include:
18/8 stainless steel growler with double wall construction
Adjustable VPR (Variable Pressure Regulation) cap with gauge
Sight tube that allows you to monitor beer levels without having to open the top
A locking dispenser cap that keeps the beer inside where it belongs
The stainless steel is put to good use via a double wall construction that keeps the beer nice and cold for extended periods of time. It's the same concept that's been available on your average thermos for decades, and it's nice to see this growler in action.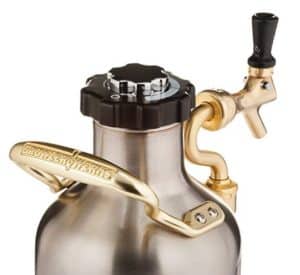 The VPR cap has a built-in 16-gram CO2 cartridge and an adjustment knob so you can regulate how much CO2 is entering the growler at any one time. There's also a pressure gauge on the bottom, and between the two you can keep an eagle eye on internal pressure, evacuating when necessary.
The tap system on this growler sports a standard-looking (if slightly undersized) faucet that swivels conveniently out of the way when transporting this equipment. There is also a convenient locking pin on the tap that prevents accidental discharge of your precious brew.
There's little doubt this product is perhaps the best growler on the market today just as there's little doubt you're going to pay for that quality. Still, it's reliable, exceptionally well built and does what it says it will. So…
Pros
As handsome as it is effective
Outstanding build quality
Keeps beer nice and cold for hours
Allows for tapping instead of tipping
No CO2 tank to lug around
---
Any
Shortfalls?
Trying to find fault with a device as simple and as well-made as this growler is not easy. If we had to nitpick, we might question why anyone would spend so much just to have a cold brew at the ready. Don't we already have refrigerators for that? Sure, but, this product will let you take your cold beer with you wherever you go.
If this really bothers you, we've got some other great cool growler bottles that we reviewed so make sure to give it a read.
Cons
---
GrowlerWerks Review:

Is it Worth Buying?
While we took this growler to task in this uKeg review for being a bit expensive, we can't find any reason to think the device is overpriced. When you see it (or its big brother the uKeg 128) and hold it in your hand, you'll come to appreciate the obvious thought and care that went into its construction.
There's not a shoddy seam, hinky value or leaky faucet to be found and the whole thing resembles as much a work of art as a device to dispense cold brewskis. You'll see yourself taking this growler to music festivals, on camping trips, to parties, and into the living room to accompany you while you watch the big game.
While some reviews might consider the price to be exorbitant, we believe it a worthy investment for any true craft beer lover and recommend the uKeg growler without reservation.