PicoBrew makes several highly regarded homebrew products, and with the PicoBrew C they try and expand their portfolio with an ultra-simple, more-or-less fully automated appliance.
It is touted as the simplest, most dependable way for novice homebrewers to get their feet wet as well as a simple tool more experienced homebrew aficionados can use when they want to knock out a limited batch with minimal effort.
While the this model is simpler than settling up your own brewery, it will still help if you have at least some general knowledge of the brewing and fermentation processes.
That said, in this PicoBrew review we're going to dive in and take a close look at what's under the hood of this new offering from PicoBrew.
---
PicoBrew Model C
General Features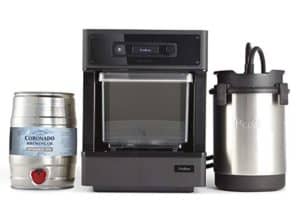 This is the Mr. Coffee of homebrewing. It even looks a bit like a drip coffee maker, and we don't think that's an accident.
It seems the designers were trying to adopt a look and feel for this product that novices would be familiar with so they could relax a bit and focus on enjoying the product instead of trying to figure out the vagaries of the brewmeister's equipment list.
With the this, there's no chance of spilling hot wort on your hands or the floor, and they even provide you a mini keg for racking your finished product. It uses self-contained "PicoPaks" that have everything you need already measured and ready to go inside.
And if you want to add your own touch to the proceedings you can tweak any of the recipes and Pico will create a custom PicoPak for you.
This is about as close to real hands-off brewing as it can get and does have a lot more in common with brewing coffee than beer.
Except of course for the week-long wait while the brew ferments. Here are some of the features you'll find in this equipment:
Recipes from award-winning craft beers.
The ability to fine-tune the brew.
Ultra simple cleanup.
Customizable PicoPaks.
Monitor brew via mobile app.
In just about every review out there, people will mention the cost. And there's no doubt it is a bit pricey.
On the other hand, this is an appliance you're likely to have for years and which will become an important aspect of your holiday get-togethers, Super Sunday parties, barbeques and more for many years to come.
So when you think of it that way the price is really not such a big deal.
Pros
Effortlessly brew small batches of high-quality craft beer.
No need to invest long hours learning the brewing process.
A great addition to your holiday fare.
Built-in steam cleaning for some components.
---
Any
Shortfalls?
The promotional Pico Brew video, as well as some Pico C reviews, is a little misleading in that they give the impression you can create your own version of the various recipes and brew them on the spot.
In reality, you need to go to their website, create your custom recipe and then wait for PicoBrew to deliver the customized PicoPak to you.
For total novices, this is likely no big deal but it is important to understand, and it would be nice if their promotional materials were a bit clearer.
For more machines that give more control of a custom brew, check out our other top recommendations on in-in-one brew systems.
Cons
Custom brews are not as simple as they sound
---
Is the PicoBrew Pico C
Worth Buying?
While purists and even some of those writing PicoBrew reviews will turn up their nose at the this equipment, those with a taste for something different and don't necessarily care what purists think will likely love it.
Its kitchen countertop brewing at its best: safe, efficient and capable of producing a high-quality product with minimal muss and fuss.
While many PicoBrew Pico review focus on the price, we'd encourage you to focus on what you get.
And that is a first-class homebrewing appliance that will enrich your experience and expand your horizons a bit without you having to turn over your life and your home to the mess (and even higher cost) of setting up your own home brewery.
52Brews brings easy-to-understand, unpretentious craft beer and homebrew information for our readers. We got you covered on all things craft beer, beer of the month clubs, homebrewing, general beer knowledge and more!