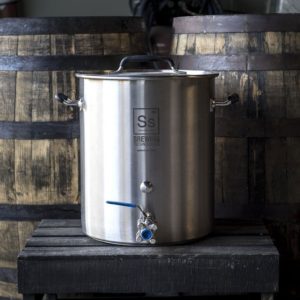 SS Brewing Technologies, also known as SS BrewTech, is a newer company that made its launch in 2013. They have set their mission past innovation and are also focusing on creating brew equipment that is progressive and expands the boundaries on current industry standards.
They have had many market firsts, and their SS Brew Kettle is nothing short of their mission statement. It is available in six different sizes and parallels Blichmann's engineering in high-quality commercial grade equipment.
---
SS BrewTech Kettle:

General Features

SS BrewTech has left no stone unturned and has proved their worth with the SS Brew Kettle. It is a part of their SS series and functions similarly to standard brew kettles. However, it is designed with the professional brewer in mind and addresses some of the finer details.
All metal is composed of 304 stainless steel, and the handles are covered by sleek black silicone grips. The kettle walls are brushed stainless steel that prevents water stains and fingerprints maintaining a clean look.
Matching the silicone grips are the SS Brewing Technologies logo and internal etched in level gauge. The level gauge measures both gallons and liters and starts measurements at 2 gallons.
This kettle also includes a ball-valve, spigot, and lever. On the interior, attached to the ball valve, is a pickup tube that allows you drain down to the drops. Attached to the pickup tube is a trub dam.
The trub dam is exclusive to the SS Brew Kettle. Pro brewers sometimes use a whirlpool method to center suspended sediment (trub). This reduces the amount of trub that is transferred. The trub dam aids in this process. It slows down the flow and draw of liquid, further reducing the amount of sediment transferred.
Above the ball-valve is a thermometer port. It does not include the thermometer, but the plug can be easily removed to include an on-board temperature gauge.
This kettle also includes a false bottom which doubles it as a mash tun. And to support the addition of grain weight the handles have been angled upward for additional support. This also makes them a convenient place to hang the lid.
Summary:
Silicone Grips
Tri-Clad Bottom
304 Stainless Steel
Internal Level Gauge
Ball-Valve with Pickup Tube
---
Any Shortfalls?
The only problem I see with the SS Brew Kettle is the lack of thermometer. I am confident that the plug will ensure a proper seal, but because you will need to buy a third party thermometer, I question how well the design will prevent leaks. You also may need to pick up some tape to get a tight seal and so that you can remove the thermometer later.
The only other issue may be the price. While it isn't prohibitive, you might save some money by purchasing something a bit simpler. For more options, check out our review on the best brew kettle products here.
---
SS BrewTech Kettles Review:

Bottom Line

Compared to most other brew kettles on the market, the SS Brew Kettle is definitely up there. It is manufactured with high-quality materials and has a very intuitive design. It also includes the trub dam which is not available on other bands.

I highly recommend the SS Brew Kettle as it is versatile, durable, and will last you for years. It's also an excellent value when you weigh what you get against what you'll pay.
52Brews brings easy-to-understand, unpretentious craft beer and homebrew information for our readers. We got you covered on all things craft beer, beer of the month clubs, homebrewing, general beer knowledge and more!