Northern Brewer is known for their wide range of homebrew supplies. They do a good job of providing a variety of products that can be customized for your specific needs and budget. Their economy line offers equipment that is low cost but does not sacrifice quality.
The Tall Boy is one of their economy line brew kettles that combines cost efficiency and quality without sacrificing the integrity in design. They can do this by reducing the additional features that are not required for operation.
---
Tall Boy Brew Kettle:

General Features
The Tall Boy Kettle is a high-quality pot intentionally designed for home brewing. It is made of stainless steel and incorporates the same layered bottom as their MegaPot 1.2. It is designed to reduce scorching by increasing heat dispersion. This is done by placing a layer of aluminum between layers of stainless steel.
Northern Brewer has also taken into account the pot's height to width ratio. It is a 1.2:1 ratio which optimizes boil performance. Available in 8, 10, and 15 gallons, all Tall Boy models hold true to this.
In combination with the layered bottom, these features contribute to reducing evaporation and increases the vigor of your boil. This is is an important factor that aids in the breakdown of enzymes and other ingredients.
All Tall Boy models come with a stainless steel lid and handle. They also have a laser etched Tall Boy Kettle logo on the side. This is not just any brew pot. Northern Brewer has put together a high-quality brew kettle and at an affordable price. Overall, the Tall Boy kettle has been well thought out, and you will enjoy both its efficiency and aesthetics.
Stainless steel
3 layer bottom
Reduces evaporation
8, 10, and 15 gallon models
---
Any Shortfalls?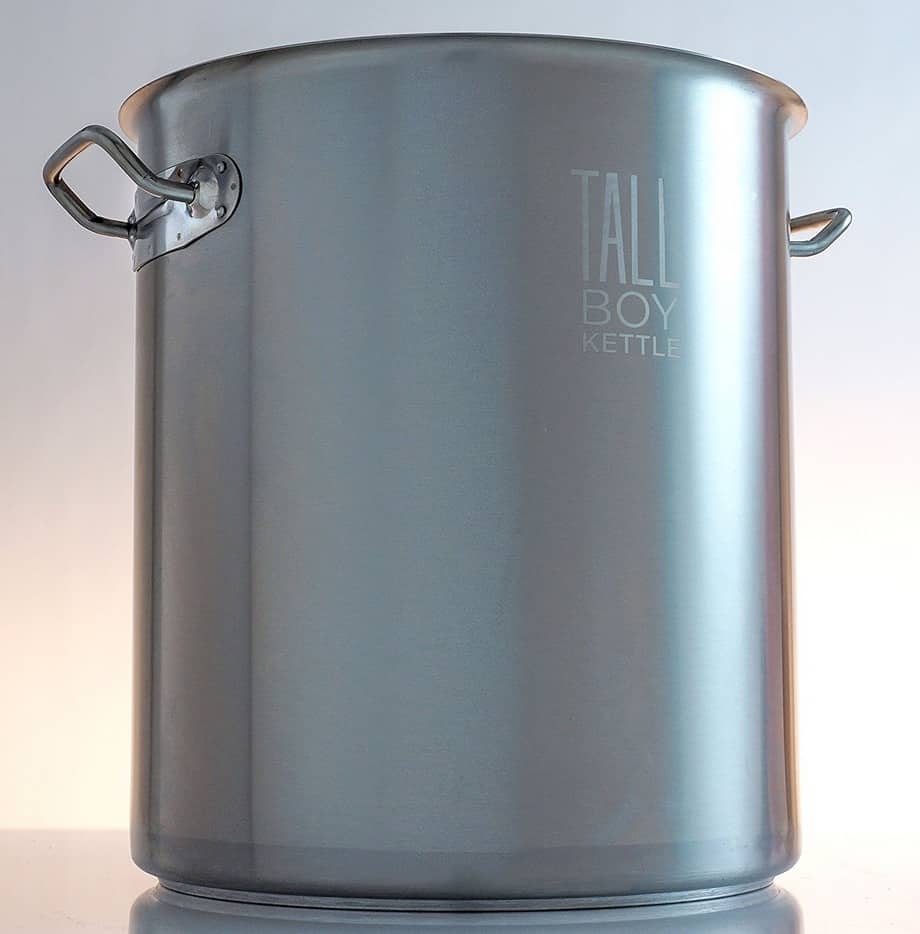 Northern Brewer has delivered quality and cost efficiency with the Tall Boy Kettle. However, it does lack many features that are available with other popular brew pots.
The biggest loss, in my opinion, is the lack of an exit valve. Without an exit valve, you can't double this kettle as a mash tun. That means you will have to purchase additional equipment if you switch to all-grain and you will not be able to transfer your wort without an additional siphon.
Other features it lacks include a false bottom, cleaning brush, thermometer, and level gauge. These additional features are available to purchase separately, but they will end up costing you more money in the long run.
If you want something more of a all-in-one, make sure to check out our brew kettles reviews article where we look at the 5 best products out on the market.
---
Tall Boy Kettle Review:

The Bottom Line


This brew kettle is very practical for brew bag methods. You can easily hang grains over the side and use a clip or lid to hold them in place. And because of its quality in manufacturing, it will last throughout your brewing career. It will also make the transition into an all-grain system easy.

For what it is, I have no complaints with the Tall Boy. It is a high-quality brew pot and will serve your immediate needs without any foreseen issues. I wouldn't worry about its simplicity because additional tools are easy to pick up when the need for them arises.
52Brews brings easy-to-understand, unpretentious craft beer and homebrew information for our readers. We got you covered on all things craft beer, beer of the month clubs, homebrewing, general beer knowledge and more!