I guess you could say this is some sort of a disclaimer, but I can't stress it enough.
It is so important to purchase good quality home brewing equipment. Otherwise, the quality and taste of your beer may suffer, and it can also turn a fun hobby into a frustrating nightmare.
This is definitely true for the homebrew burner.
The days of trying to boil substantial amounts of liquid on your stovetop are over.

Purchasing a good quality beer burner alongside a nice brew kettle will allow for great, even heat distribution and help prevent scorching. A quality homebrewing cooker will also speed up the boiling process significantly minimizing the time spent waiting around. Super important when getting your wort ready so that you can add your yeast starter.
In addition to quick boil times, it provides a large surface area that can keep large brew pots nice and stable.
If you're new to the homebrew world and are looking for a decent propane burner for brewing (or the very best), below are our top 5 picks for any beer enthusiast.
Hopefully this free guide will help you get a better idea of what you are (or should be) looking for!
Our

Top Brewing Burners

for September 2018
| Product | BTUs | Precise Adjustments | Dimensions | Price |
| --- | --- | --- | --- | --- |
| #1 - Edelmetall Brü Burner | 72,000 | Yes | 18.5 x 14.8 x 15.8 inches | $$ |
| #2 - Bayou Classic KAB4 | 210,000 | 30 PSI regulator | 10 x 14 x 22 inches | $ |
| #3 - Dark Star Burner 2.0 | 65,000 | Yes | 18 x 18 x 13.5 inches | $ |
| #4 - Bayou Classic SS84 | 165,000 | 10 PSI regulator | 20 x 16.8 x 14 inches | $ |
| #5 - Blichmann Floor Burner | 140,000 | Yes | 18 x 12 x 15 inches | $ |
---
#1 Edelmetall Brü Burner (

Our Favorite

)
The first thing you'll notice about the Edelmetall Brü Burner is the sharp, sexy look of the copper accents and the elegant nameplate.
However, this product isn't just good looks; it's packed with personality and power.
This is a heavy duty propane burner made from brushed stainless steel and copper and will pump out up to 72,000 BTU an hour.
You'll find that it only takes a few minutes to get a large kettle of wort to a full rolling boil, so no more waiting around. In the case of a boil over, it has handy valves for added control.
It is also extremely efficient and clean and will not leave burn marks or soot on your shiny brew kettle.
Like the Blichmann counterpart, this product also has optional extension legs that will produce 27" height to make draining easier.
If you like top-of-the-line products, then this brew burner is one of them.

– or –
---
#2 Bayou Classic KAB4 Burner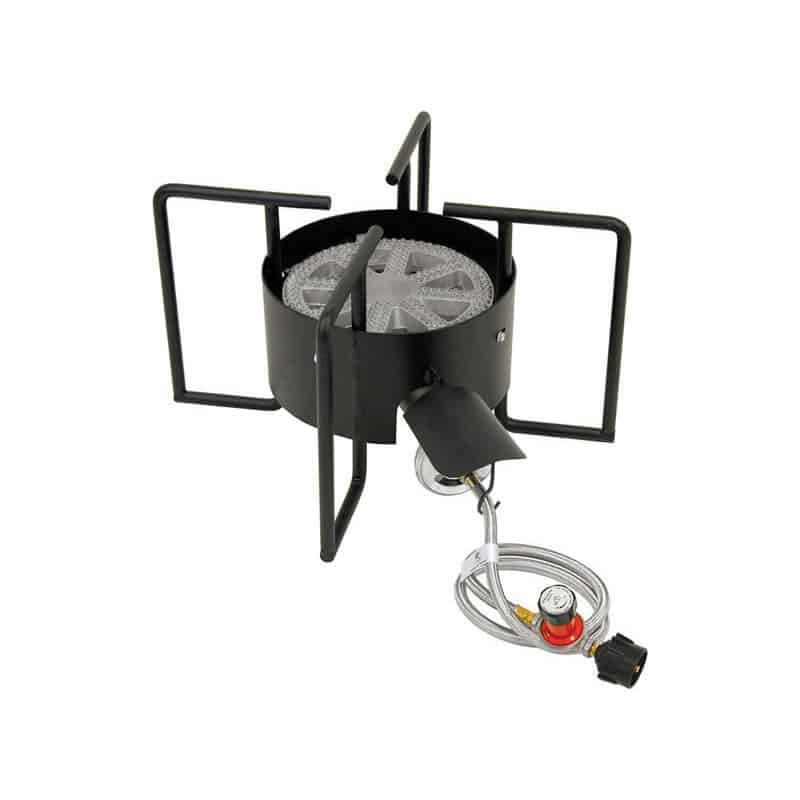 The Bayou Classic Burner is an excellent quality beer brewing burner that provides a ridiculous amount of even heat.
This heavy-duty homebrew propane burner is capable of dishing out anywhere from low to high BTU output, up to 100,000 and more, which is plenty of heat to boil several gallons in just minutes. It also has a 22" cooking surface, which is large enough to fit most brew kettles.
It is made from high quality, heavy duty cast iron for enhanced durability and heat resistance.
Also included is a 4 ft rubber hose, 30 PSI regulator and a brass control valve. Considering everything, this is excellent value for the price.
– or –
---
#3 Dark Star 2.0
This burner doesn't have much for features and isn't necessarily the best looking unit on the market, but it sure does deliver the heat. Isn't that what matters most?
It is a high output propane burner, capable of producing up to 65,000 BTU's of heat per hour. It can do this while being at a fraction of the price of other more mainstream branded products.
With a slick design, we could view at this unit all day! Its simple design makes it very easy to use and powerful enough boil up to 15 gallons of brew.
It's equipped with a wind guard, adjustable regulator, lighter power and 6" diameter banjo-style burner. The wind guard will come in handy for your outdoor brewing needs.
The Dark Star burner does not have optional height adjustment like some of the other propane burners, so this might not be the best option for those of you looking for something that will allow for a quick drain.
– or –
---
#4 Bayou Classic SS84 Brew Stove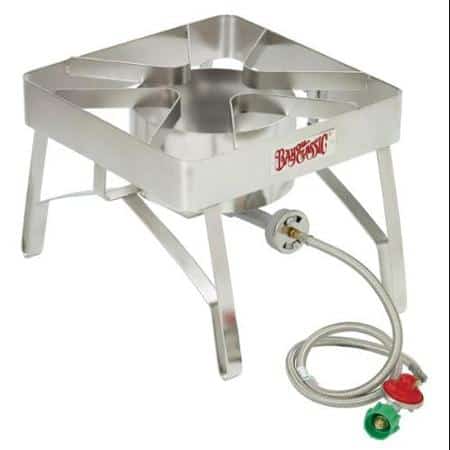 The SS84 brew burner is capable of up to 60,000 BTU and is specifically designed for the home brewer. A gallon or two, or 15. it doesn't matter. This little unit that will skyrocket the temperature of your water and wort in minutes.
It comes with features and specifications that compliment your home brewing needs.
The SS84 Brew Stove has an extra large cooking surface that helps keep large brew kettles nice and stable.
Another great feature in the SS84 is the wide range of flame control, which allows you dial in the perfect temp for your homebrew. The SS84 high pressure beer burner comes with a 10 psi cast iron regulator with a brass control valve.
The square frame body of the SS84 is made from welded stainless steel and comes with a windscreen that encompasses the propane cooker.
– or –
---
#5 Blichmann Hellfire Floor Burner
The Blichmann name is huge in the home brew supply world, their propane floor burner is just another example of one of their well-engineered products and supplies
This ultra-efficient stainless steel propane burner puts out up to 72,000 BTU/hr. Making your wort boil is never easier. This unit will get your wort to a rolling boil in just minutes. Its got a good consistent heat output so you can maintain temperature when boiling.
The Blichmann Hellfire Burner also gives you the option to add leg extensions to bring your brew kettle 24" off of the ground, which allows you to drain your kettle much easier. This will make it easier for your outdoor and indoor brew projects.
This single unit is also capable of being converted to a natural gas burner with a simpler conversion kit.
We always suggest going with a Blichmann product if you want something that will last.
– or –
---
What to Look For in a

Home Brew Burner
With some different brew burners and random accessories out there, it can be confusing choosing which type. Here are the 4 most important factors you should learn and consider when purchasing a propane burner for your brewing system.
Number of BTUs produced: Just know bigger doesn't always mean better. Though high BTU output is great for all grain brewing, some lower output models are more efficient as they can distribute heat more effectively.
Type of metal used: All models are made from either stainless steel or cast iron. Cast iron tends to be thicker and more studier but tend to weigh more and can rust – not great for outdoor brewing. If you're after something lighter or will generally be doing a lot of outdoor brewing, go with a stainless steel model.
Height: Outdoor propane burners will generally have longer legs than your traditional stove – essentially a brew stand. This will be great for your back as you won't have to bend over every time. However, you want a product that sits closer to the ground if you're handling a large batch of boiling wort as they tend to be sturdier.
Windscreens: If you're going to be doing a lot of outdoor brewing, this is a must. Windscreens help guard the source of your flame so you don't have to re-light your flame every time a strong breeze comes. This will allow for a smoother boil and will be less annoying.
---
Best Brew Burner:

Our Vote
There you have it, our top 5 homebrew burners list. These are all great propane cookers, and you'll most likely be happy with any of these 5. However, if you're looking for only the best quality, then your search is over. The Edelmetall Brü is going to be our top choice. They always delivers extremely well-designed products that are designed specifically for home brewers.
Our second choice has got to be the Bayou Classic KAB4 Burner. This thing delivers some serious heat output at around 100,000 BTU and also provides a huge 22" cooking surface for nearly any sized brew kettle.