First off, there is a decent amount lot of law and science to understand behind "Marijuana Beer." If you're curious about the details, we have an article outlining the basics or Marijuana beer.
Now, if you're ready to just get your hands on some tasty CBD-, THC-, Hemp-, Cannabis- and other weed-related beers made by the pros, check out our list!
Note that we call out "related" here because not all of these have THC, the ingredient typically associated with "marijuana" itself!
About 100 brands have gotten approval to add hemp to alcohol since the year 2000. Here are the most notable:
Ceria Brewing
Made by the former brewmaster of Blue Moon, Ceria Grainwave is a THC-infused de-alcoholized craft beer with a citrus taste and fruity smell, thanks to the addition of blood orange and Valencia orange peels. It's considered a Belgian-style white ale, and the founder, Keith Villa, has positioned this as both an all-occasion and a celebratory beer.
---
Two Roots
"The new way to consume cannabis." These drinks don't even have alcohol, but are worth mentioning here for those into beer and weed tech! Two Roots is a San Diego-based company that has embraced the city's rich biotech heritage by creating a product with nanoemulsion technology. This process means that the CBD and THC particles are smaller than average, allowing them to be absorbed into the body quickly and consistently. The "high" is mellow and lasts about 90 minutes. Also, at just 80 calories a can, Two Roots is a "healthier" alternative to typical party beverages. It's also infused with B vitamins and electrolytes.
---

Lagunitas
This THC-free blend is infused with cannabis terpenes. Tasters compare the flavor to "a musician having access to new notes" or "a painter with an expanded color palette." It's unlike anything else on the market with a distinct herbal flavor.
---
New Belgium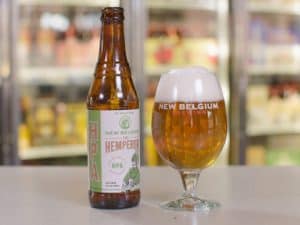 New Belgium (of Fat Tire fame) released a hemp beer called "The Hemperor," and they get bonus points for the clever wordplay. It's a pale ale with hemp seeds as one of the ingredients, and it has a subtle cannabis flavor. At 7% ABV, you'll feel the effects of the alcohol, but because there's no THC, you won't get high.
---
Humboldt Brewing
The laid-back area of Humboldt, California is synonymous with cannabis, so it's no surprise that they've got a hemp ale available in a colorful can. It's an award-winning beer, and it gets top marks for its unique flavor and subtle herb terpene profile.