Most people who make their own beer find themselves at some point wanting to festoon their bottles of home brew with unique labels. Since you can't sign the beer itself, the label is your way of putting your signature on your creation, of saying "I made this," like a painter does. It's also a great way to influence perceptions of your product through the use of fonts, colors, graphic touches and more.
Finding a convenient and affordable way of applying labels to your bottles is not always easy. But if you look hard enough, you discover there are several labeling machines on the market that might serve your purposes. One of those is the Zap Labeler ZL5 and below we'll take a close look at it.
---
Zap Labeler:
General Features
Labeling bottles by hand is kind of like making your own clothes. It's possible, sure. But it takes patience, knowledge of the materials involved and practice, practice, practice. Even if you manage to master the technique, it will still be a long, exacting, labor-intensive process.
The ZL5 from Zap Labeler allows you to cut to the chase and achieve a level of automation you probably thought was impossible for a home brewer. The Zap Labeler ZL5 is designed and built right here in the US by a small family firm and the level of customer service you'll receive is going to be a pleasant surprise. As is the price.
This is a manual labeler but once you get the hang of it – which won't take long – you'll be pumping out perfectly labeled bottles at a surprising rate. Whereas prior to owning the Zap Labeler the hardest part of your labeling process was attaching labels to your bottles, once you have the ZL5 on your side the hardest part of the process will be figuring out where to store all your newly labeled bottles.
The Zap Labeler is made in the US from high-quality aluminum, rubber, stainless and impact resistant plastics. It's assembled by hand by talented craftsmen and women, and every one undergoes rigorous quality control checks before being shipped.
The ZL5 accepts self-adhesive rolled labels on a 3" diameter core and will label any bottle or other container from 1" to 12" in diameter.
Pros
Easy setup, lots of supporting videos.
Labels any type of bottle from square to tapered.
A fraction the cost than your typical bottle labeling machine.
Outstanding customer support.
Designed and built in the US.
---
Any Shortfalls?
There is no doubt you need to read the instructions and make sure you're using the right label orientation for the type and size of bottle you're using. If you get the orientation wrong, the label will wind up skewed, and you'll start thinking you got ripped off. There are 4 different orientations for the labels, and each is designed for a different shape of bottle from round to tapered and even square.
These are the "adjustments" you'll sometimes hear people talking about in a particular Zap Labeler review. And while they make perfect sense once you get used to working with them, if you aren't aware of them at the beginning of the process it may seem a bit confusing. The Zap Labeler website actually has an array of helpful videos that can clear things up for you and don't hesitate to call them because, as we said, their level of customer service is excellent.
Cons
Finding the right settings can take some time.
---
Is the ZL5 Zap Labeler
Worth Buying?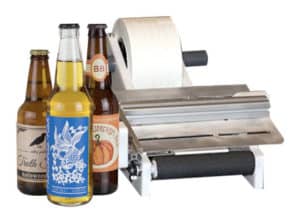 If you are interested in giving your home brew more of an upscale feel, or if you're at the point where you may even be trying to establish a brand, labeling your bottles is essential. Hand labeling, however, just isn't going to cut it. And automated labelers can cost many thousands of dollars.
The ZL5 label applicator machine is the perfect solution for the small to mid-sized home brew operation. It costs just a fraction of what other labeling machines cost, will handle whatever type of beer bottle you want to use, won't add to your energy bills since it's a manual labeler and is backed by outstanding customer service.