Beer has always been America's most popular alcoholic beverage. However, around the world, beer's "sweeter and fruitier" cousin, cider, is quickly gaining in popularity. Cider has always been especially popular in the United Kingdom, which has a long history with the drink. Brits account for 40% of worldwide consumption! Like a new kind of Beatlemania, cider is a British trend that is quickly gaining popularity in America.
But what exactly is cider? Is cider "good for you" because of its fruit content? How can you get your hands on some of the best and newest ciders on the market here in the US? Is it easy to make your own cider?
Keep reading!
All You Need to Know About Cider
The origins of cider can be traced back to Europe, specifically England. Cider is a result of fermenting fruit with yeast and sugar. The most popular fruit used is usually, apples, which is also a good source of antioxidants such as Vitamin C. Having a fruit base allows breweries to produce gluten-free variations easily. As it is made mostly out of fruit, the cider is jam-packed with all the good stuff our body needs (including antioxidants and vitamin C).
Did you know? Cider also contains anti-inflammatory agents that can help you fight against serious illnesses like diabetes and heart disease.
In fact, during the olden days, cider was used to help combat health problems like indigestion, and also in the prevention of rheumatism, gout, fevers, and stones. However, no studies have been shown to prove these great health benefits. Cider does also contain a considerably higher amount of sugar compared to other alcoholic beverages like beer. Most of its natural sweetness comes from the fruit itself, but more sugar is usually added in small quantities to balance out the tanginess. This makes it an easier beverage to craft at home as well.
Cider of the Month Clubs
There is one thing that hardcore cider lovers in the US know that most people do not: you can get a selection of artisanal ciders delivered to your doorstep! If you are one to buy your ciders at your local supermarket, you are missing out on variety. Some cider breweries are relatively small, which means you will not find them on supermarket shelves.
Thankfully, you can find a variety of cider breweries that offer cider club shipments to your doorstep! No longer will you be missing out on some of the country's favorite local ciders that you have not even discovered. As long as you are in a place that allows alcohol shipments, you can now browse online and wait for your ciders to be delivered to you. Here are some choices to consider:
The Hops Collective is not a brewery, but they work with breweries and cideries so you can curate or customize your own choices according to your taste. Their cider club offers several options where you can select how many bottles you want, bottle size, and you can also choose how often you wish to receive your pack.
Then, you can decide how long you want the subscription for and pay either in advance or monthly. What's great about The Hops Collective cider club is you can add-on a bunch of their other stuff like gourmet foods, fruit, chocolate, or a selection of cheeses, and much more. Any first orders come with free shipping, and future deliveries below $100 will be subjected to shipping fees.
Apples used to produce Eden Ciders are either freshly plucked from their orchard or locally sourced from farmers in their area. By using traditional New England apples, with the surrounding cold weather of New England, the flavors and sugars are enhanced before fermentation. The ciders are not all sweet, though, as not everyone likes their ciders sweet. You can choose from a selection of varying sweetness levels according to your liking from extremely dry sparkling cider to sweet dessert ice ciders.
Their subscription program will make you feel like a VIP, as you get three exclusive ciders every quarter. This means you can expect three unique ciders every March, June, September, and December. Besides this, they have a bunch of other special offers like 20% off quarterly shipments, 15% year-round discounts, and more. You might even get some exclusive invites to cider or alcohol-related events! Your delivery might cost around $60 to $75, excluding shipping.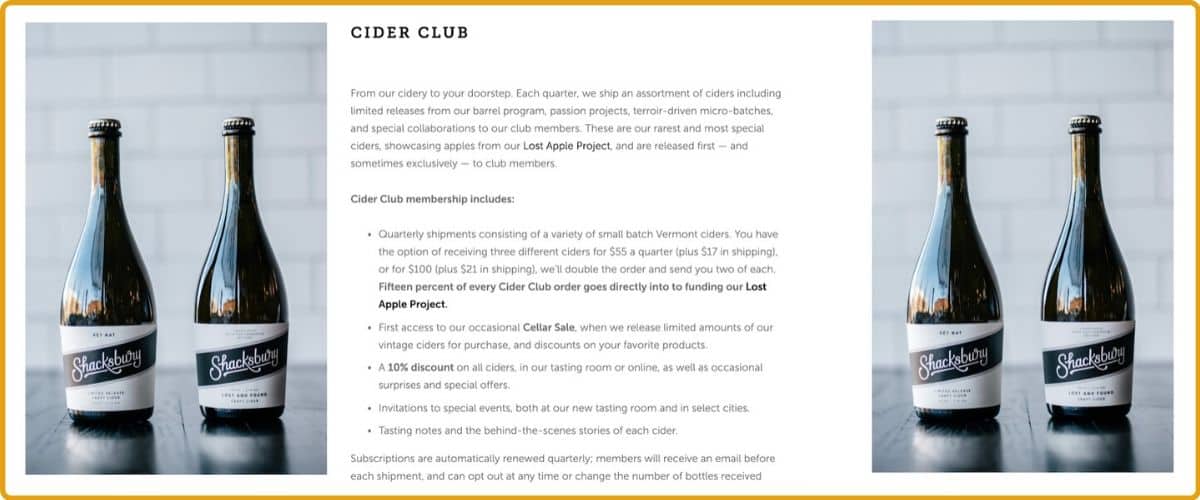 The Shacksbury Cider Club also ships out quarterly. They also include limited releases from their very own passion projects or exclusive collaborations. By subscribing to their quarterly shipments, you will get a selection of small-batch Vermont ciders. Their subscription plan is very straightforward. Either you pay $55 for three ciders or $100 for double!
15% of your purchase will be sent to fund the Lost Apple Project. But that is not all, being part of their exclusive club also gets you some exclusive treatment such as first access to their Cellar Sale that is held every now and then. This event is where they showcase limited releases and also where you can buy products at discounted prices.
You will also get exclusive invites to other games and tastings. Members also enjoy 10% discounts on all ciders, including more special offers as each season approaches.
So, are you ready to take your love for cider to another level? These ciders of the month clubs are just the tip of the iceberg, as many other cideries offer similar packages. Now that you know what is out there, it is time to treat yourself and start ordering some delicious ciders to help you relax at the end of a long day.