Beer as dessert! Who would've thought? Surprisingly, this delicious trend is on the rise. Quite a few craft breweries picked up on the dessert beer trend and began to make niche sweet beers and pastry stouts that mimic our favorite desserts. Whatever the dessert, from chocolate and apple pie to peanut butter cups, and French toast, there's a beer that tastes just like it!
Why This Sweet Beer Craze?
Beer connoisseurs demand variety, and to survive breweries began to differentiate their offering to reach as many customers as possible. Gone are the days where drinking beer was only for hot summer days.
Dessert beers, just like dessert wines, accompany and enhance meals all-year-round and can even be drunk alone.
This quality makes them the perfect pick-me-up on a searing cold day or an excellent accompaniment to a top-notch dessert.  On the flip side, you can also use these beers as ingredients to make your favorite dessert!
Good dessert beers are rich, malty, and creamy, with a residual sweetness that delights the palate. A wide range of base flavors such as caramel, chocolate, bread, and nuts feature in these beers offering lots of variety, whatever your sweet tooth preference.
So, which breweries are crafting the best dessert beers today? Here are a few of our fave picks.
Our Pick Of The 5 Best Dessert Beers
1.    Funky Buddha – Barrel-Aged French Toast
French Toast is the quintessential breakfast dessert, and this beer nails it. We found it to be full of maple sweetness and at a moderate 9% ABV, perfect as a creamy, refreshing drink or dessert accompaniment with, well, French Toast!
Photo Credit: funkybuddhabrew on Instagram
2.    Atwater – Vanilla Java Porter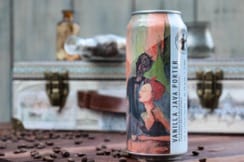 If you love coffee, you'll love Atwater's Vanilla Porter. Vanilla and roasted dark coffee beans are the dominant flavors here, profoundly appealing to coffee lovers.
This beer is perfectly paired with a dark chocolate cake or, and why not, a bar of chocolate!
Photo Credit: atwaterbeer on Instagram
| | |
| --- | --- |
| ABV | 4.5% |
| Calorie Content | 135 |
3.    Cigar City Brewing – Oatmeal Raisin Cookie

Cigar City Brewing took all the chewy, oaty flavors of this classic cookie and turned it into a brown ale.  This light 5.5% ABV beer features vanilla, caramel, cinnamon, and raisin flavors that capture the flavor and smell of oatmeal raisin cookies baked straight out of the oven.
Photo Credit: Cigar City Brewing on Facebook
| | |
| --- | --- |
| ABV | 5.5% |
| Calorie Content | 165 |
4.    Rogue Ales – Voodoo Doughnut Series
Rogue Ales is known as a craft brewery that has come up with some interesting flavor profile beers. They have created this line of Voodoo beers based on Portland's Voodoo doughnuts to inspire almost any dessert flavor that makes for an exciting taste experience.
Savor a variety of flavors including bacon-maple, chocolate-peanut butter, pretzel-raspberry-chocolate, and lemon-chiffon-crueler that will fascinate and delight your taste buds.
Photo Credit: Rogueales on Instagram
| | |
| --- | --- |
| ABV | 5.3% |
| Calorie Content | 159 |
5.    Omnipollo Karpologi – Pineapple Peach Passion Candy Sour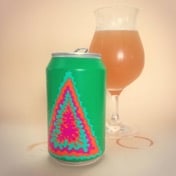 A light ABV of 3.5% makes this brew by Swedish craft brewers Omnipollo Karpologi for those who love a taste of sweetness tempered by that sour aftertaste.
This sweet and sour brew will take you back in time when sour candy ruled the candy shop. The beer itself has a light soda feel that won't feel too heavy, especially for those who prefer lagers over stouts.
Photo Credit: beery.tales on Instagram
Favorite Dessert Beers: Final Thoughts
These top dessert beers profiled above have all received rave reviews from connoisseurs and beer novices alike. Whether you are a fan of lighter fruit notes or decadent chocolate, there is a dessert beer to satisfy any sweet tooth palate!
What do you think of our top dessert beer picks? Have you had the pleasure of trying any of them? We'd love to hear your thoughts in the comments below.