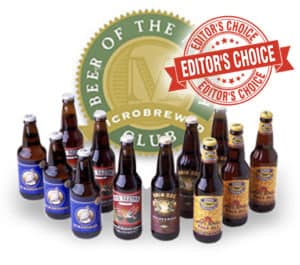 The Microbrewed Beer of the Month Club was a pioneer – it has been around since 1994, before mobile phones, before beer-ordering apps and before everyone in the country knew what an IPA was. Since then they have proven, consistently, that it's one of the best clubs out there.
You may presume that running a beer club is easy ("how hard can it be to just taste beer and recommend it?") But at this scale and required professionalism, properly running a club is incredibly tough work! Researching and tasting hundreds of beers every year to provide your members with the highest quality selection is time-consuming and expensive. It says a lot about the company's seriousness and quality of offering to be open for more than 25 years.
But, let's talk about what may make this club right for you. After all, there are lots of clubs to choose from out there. We're here to help you make an informed decision.
The Microbrewed Club is unique in that it has 5 distinct beer clubs that you can join. Each is themed differently and gives you a little different selection to cater to your tastes and interests. Each club works the same way, though. They curate awesome beers from around the world. You get to try new breweries and beer styles every month.
You will also receive a newsletter with great information about that month's selection, the featured breweries, and even some tips on food pairing. They also offer suggestions for related brews. So if you liked a few of that month's picks, they will give you suggestions for other beers that taste similar that other people liked.
– Learn more about The Microbrewed Beer Club –
(use code 52BREWS35 for $35 off a 12-shipment order!)
As you may have seen in our best beer of the month club article, it makes sense to analyze clubs from a few different angles. Here is a review of the Microbrewed Beer Club taking that into account:
Beer Variety

The Microbrew Club's beer selection and variety are almost endless. They have close to 50 different styles of beer, including tons of variety in each specific style. They've got breadth and depth.
With literally hundreds of different brews, this company has one of the most expansive selections out of any mail order company. Their styles include:
English Pale Ale
American Pale Ale
Belgian Pale Ale
India Pale Ale
American Amber Ale
English Special Bitter
English Extra Special Bitter
Scotch Ale
Scottish Light Ale
Scottish Heavy Ale
Scottish Export Ale
Golden \ Canadian Style Ale
Kolsch
English Mild Ale
English Light Mild Ale
English Dark Mild Ale
Brown Ale
American Brown Ale
Belgian Flanders
Dusseldorf-style Alt Bier
Berliner-style Weisse
Porter
Stout
Irish-style Dry Stout
Foreign-style Stout
Sweet Stout
Oatmeal Stout
Imperial Stout
English Old Ale
Strong Scotch Ale
Belgian Strong Ale
Barley Wine-style Ale
Belgian Red
Biere de garde
Saison
Belgian Abbey Ale / Trappist Ale
Single
Belgian Dubbel
Belgian Tripel
Belgian White
Belgian Lambic
Gueuze
Belgian Fruit Lambic
Rousse
European All-malt Pilsener
German Pilsner
Bohemian Pilsner
European-Style Pilsener
German Licht
Munchener Helles
Dortmunder
Vienna Lager
Marzen
Bock
Helles Bock
Eisbock
American Lager
American Light Lager
American Premium Lager
American Malt Liquor
American Amber Lager
American Dark Lager
Cream Ale \ American Lager \ Blonde Ale
American Wheat Ale \ American Wheat Lager
Fruit Beers
Vegetable Beers
Herb and Spice Beers
Smoke-flavored Beer
Specialty
California Common
Non-alcoholic Malt Beverages
You like variety? This is why you'll love them.
– Check out The Microbrewed Beer Club For Yourself –
Until the end of the year, use coupon code 52BREWS35 for $35 off any Prepaid 12-shipment order!
Monthly Selection Process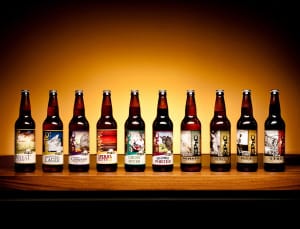 "The key to finding good beer is to try more beer." – Aristotle
Just kidding, it wasn't Aristotle. But this is well-known craft beer philosophy, and that's core to Microbrewed's essence too. They personally taste and rate over 500 different new brews each year to expand their ever-growing selection.
The team travels around the country and world meeting new brewers and tasting new brews. In the process, they develop relationships with small and large brewers to experiment and create new flavors. Because of these relationships, Microbrewed can get exclusive deals, discounts, and bottles that are not offered to the public. This means that as a member you will have exclusive access to hundreds of unique beers that none of your friends will even know about.
The tasting team tries beers from all different regions and rates them for their quality and taste. Only the best bottles ever make it to your doorstep. Each month four different styles are picked from the huge list above, and three bottles are included in your shipment from each style.
---
Community
The Microbrewed community is second to none. Their guides, newsletter, and blog are updated on a regular basis to ensure that you have great information about the current selection along with the history of each brewer.
Their Facebook and Twitter pages also include tons of information as well as other members talking about the newest selection and varieties that they are excited about.
---
Shipping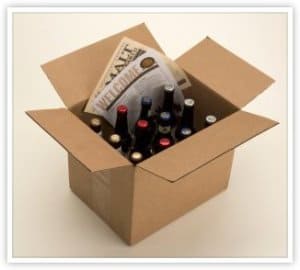 When dealing with any mail order company, you always have to be a little leery about shipping—especially when you are ordering beer in glass bottles. This goes beyond the chance that they may break – as any serious microbrewer (or drinker) knows, factors like temperature, movement and exposure to sunlight can alter the quality of the beer even inside the bottle. Luckily, Microbrewed has been doing this for a really long time. 25+ years of experience shipping bottles makes them experts at knowing what to ship and when to ship it. Quality and timeliness are two of their biggest concerns.
Microbrewed rates prospective featured beers rigorously to ensure freshness and works with brewers to make sure the beer that arrives on your doorstep tastes exactly like the fresh brew at the brewery. Also, they ship a lot of beers with higher hop acidity (thus more durable) in the warmer months. Microbrewed Club knows that some artisanal beers are aged like wine while others are supposed to be enjoyed fresh. Don't worry. They know what they are doing. They make sure every non-aged beer is brewed to order just weeks before you receive it. That's where their brewery relationships come into place.
– Take Me To The Microbrewed Beer Club –
Until the end of the year, use coupon code 52BREWS35 for $35 off any Prepaid 12-shipment order!
---
Customer Service
I think customer service is important when dealing with any company. You want someone you can trust and someone that will be able to work with you instead of hassle you when something goes wrong. This is a huge priority for the Microbrewed Beer Club.
Microbrewed ensures 100% satisfaction every order and every item in that order. They want you to be completely happy with your selection and the high standards they put on their products.
If you have any problems, you can return any item for a replacement or refund at any time. You can't get much better customer service than that.
Need proof this is good? They have 750,000 customers.
---
Get it!
Sign up for a Microbrewed Beer Club membership today and start experiencing some of the tastes and flavors that you wouldn't have access to on your own.
Get access to the world-class selection that will make your friends jealous at parties and give you something to talk about with other beer enthusiasts.