What is a beer flight?
What we know is that it's a part beer festival, part excuse to show off your brewing skills.
It most often occurs in bars and pubs, but they are increasingly making their way into the domestic party scene as well. And it's not hard to know why — it's a great way to liven up a get-together and get people talking.
At A Glance: Our Top 3 Beer Flights
Beer flights are the perfect accompaniment to summer barbeques and Thanksgiving dinners, and it won't cost you an arm and a leg to take off on a few brew-related flights of your own.
Below we've rounded up the best commercially available flights for your consideration.
---
Our
Top 3 Beer Flights

Reviewed

A great sampler is a simple way to entertain, inform, show off and generate plenty of smiles all around.

Here are the 3 best brew samplers as chosen by our experts.

IMAGE
PRODUCT

Holds 4 glasses
Beautiful hardwood paddle
Dishwasher-safe

GO TO SITE →

Has high-quality, dishwasher-safe pilsner glasses
Includes chalk and a built-in chalkboard
Perfect complement to your homebrew efforts

GO TO SITE →

Holds up to 6 glasses
Includes a blackboard strip for noting contents
well-made, robust carrying rack

GO TO SITE →
---
#1 Libbey Craft Brews with Wooden Carrier
(Editor's Choice)
This 4-glass sampler kit from Libbey is a portable party waiting to happen.
There are four classically shaped, undersized beer tasting glass samplers and a beautiful hardwood paddle to hold it and transport them.
Each holds 6 ounces and is thick enough to stand the test of time. A bonus: They're completely dishwasher-safe. The paddle itself is crafted from durable hardwood and provides you with a generously-sized handle so you can maintain a solid grip.
The glass used in this set is lead-free and sports the classic pilsner profile. Although they're undersized affairs, they're not the Munchkin variants that you'll find in some flights.
That said, they'll still fit neatly into your hand, which means that you'll always have a nice, firm hold of your glass. And that's a good thing if you're working your way through samples of homebrew all night.
The Libbey Craft is an ideal gift for any beer lover and will be a nice aesthetic touch to any kitchen or home bar which makes it our top choice.
Pros
Great investment – made of high-quality glassware that will surely last
Easy to use – perfect gift for the beer lovers on your list
Durable and for long-term use – hardwood carrier is solid and dependable
Saves you time – All glasses are dishwasher safe
Cons
Care must be taken when setting it down, especially if it's loaded.
---
#2 Deco Beer Tasting Flight Sampler Set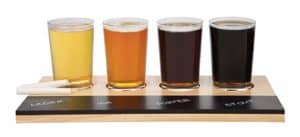 The Deco Flight platform is referred to as a "paddle" but it doesn't have a handle, and it's not meant to be carried around.
It's meant to be set on the table or bar and have 4 different beers set into the slots. And that's fine. Because who wants to be carrying around a full flight anyway?
The Deco sampler tray has a built-in blackboard section that lets you scribble down which beer is which, and it even comes with the chalk you'll need to do just that.
This is an excellent way to display and present your homebrews or the dozen or so craft beers you picked up at the beer festival you recently went to. It looks great, feels solid and is built to last.
The chalkboard covering is securely fastened and should stand up to as many cleanings as you want to subject it to. The glasses all have a nice heft to them and are dishwasher-safe.
Each is just under 4 inches tall and 2 1/2 inches in diameter, so they're the perfect size for a sample.
Pros
Has high-quality, dishwasher-safe pilsner glasses
Includes chalk and a built-in chalkboard
Attractive and affordable
Perfect complement to your homebrew efforts
Cons
The natural finish on the wood looks unfinished
---
#3 MyGift 6-Glass Brew Sampler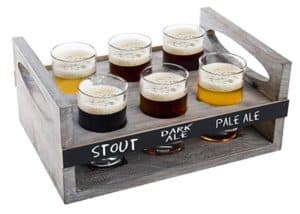 The 6-glass flight set from MyGift has a beautiful rustic finish to it that complements its sturdy, box-like construction.
There's no doubt about it: if you want a beautiful brew caddy to deliver your delicious brew to your guests then this is the one you're looking for.
With an extra layer of wood to allow you to grab hold of your brew at the halfway point and two generously sized handles to carry your brew safely and securely, the MyGift set and its 6 beer sampler glasses are super versatile.
The Caddy is 12 1/4 inches long, 8 3/4 inches deep and is made of beautifully finished hardwood. Each of the half dozen glasses here can hold 6 ounces of beer and is 4 1/3 inches tall and 2 1/4 inches in diameter.
What makes the MyGift sampler special is that you can use it to confidently take your craft brews wherever the people are: out on the deck, on the patio, in the basement home entertainment center or in the outdoor kitchen.
It's the brew lover's gift that keeps on giving.
Pros
Has a well-made, robust carrying rack
Has a tasteful antique finish
Includes a blackboard strip for noting contents
Most stable of the consumer-grade samplers
Cons
The shape of the glasses is uninspired
---
What is a
Flight of Beer?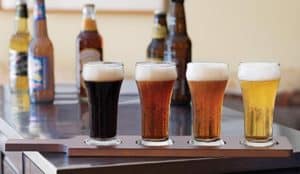 There is a ton of speculation when it comes to the origins of the term beer "flight."
After all, why not just call it a "beer paddle" or "beer carrier"? Why "flight?" The truth is no one knows for certain.
Some speculate it derives from a group of birds moving through the air in formation: i.e. a "flight" of geese. Some guides, though, point to a couple of more archaic meanings of the word.
One of those defines flight as a "swift movement or progression," and the other is derived from architecture meaning "a series of steps between one floor and the next," i.e. "a flight of stairs."
This seems more likely than the birds in the air theory. In any event, it has come to mean a series or set of different types of brew with the color of the various beers typically progressing from light to dark.
Also, it can be presented on beer flight paddles, or it can simply be small glasses arranged on a bar or a table. Perfect when you're trying out a new bar with friends. [1]
"At its core a beer flight is simply a sampling of several beers. This form of "taste presentation" is better known in winemaking, but is also used in the culinary industry, and is becoming prominent in craft brewing as well."

– Nick Carr, Kegerator Team
---
The Basics:
What You Need to Know

Glassware – The typical brew sampler glass holds 6 ounces or less and is normally around 4+ inches in height. Many have the tapered, inverted bell pilsner profile while others have the more tubular profile often associated with water glasses.
Flight Paddle – As we've said, not all of them have a wooden paddle. The ones that do are usually intended for home use. Most think that has to do with wanting to create an attractive overall experience for the domestic market; something that is not necessary at a bar where the entire environment is already one complete aesthetic experience.
Beer – It doesn't matter what type of beer you choose for your flight as long as you have a wide assortment for your guests to choose from. That selection should include different color beers, and they should be displayed from lightest to darkest. Also, you'll want to write the name of each brew style on the chalkboard that comes pre-built on most home kits.
Price range – Beer samplers are typically very affordable, falling into the $20 – $40 dollar range, which is another reason why they have become such a hit with those who enjoy serving craft beers at their parties and get-togethers.
---
Our
Editor's Choice…
Beer flight glasses have taken off as a must-have cultural item. It has found its place of pride on tables, kitchen islands and backyard decks of homes all across the country.
None have earned that pride of place more assuredly than the Craft Brews Glass Set from Libbey.
This remarkable piece of culinary craftsmanship will brighten up any party and will always present your favorite brews in the best possible light.
From the hardwood brew sampler paddle to the beautifully sculpted pilsner glasses, the Craft Brew 4-Piece Set from Libbey is what a beer flight set should be.