When I first got started with homebrewing, I would completely rely on ready-made ingredients. And I'll be honest, I still buy ingredient kits where you don't have to do any measuring.
All the grains are ready milled, so you don't even need to dust off that pestle and mortar.
But once you get to a stage where you understand how different types and amounts of ingredients influence the flavor of your beer, then you can really start to have some fun by creating your own recipes.
One of the first things I started doing quite early is to invest in a grinder attachment for stand mixers. Using this I was able to buy a mixture of different grains and freshly mill them myself.
Not only does a simple grain mill attachment give you the flexibility to come up with your own mixes, but just like with coffee, freshly milled grains make a better mash.
I still use that Kitchenaid grain mill attachment, but I have since upgraded to a Mockmill grain mill.
And on this page, you'll find out why I love it so much.
---
Mockmill Grain Mill:
Product Highlights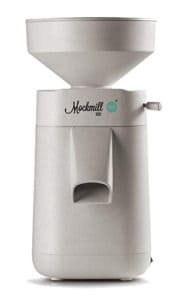 One problem I had with the attachment for stand mixers is that the coarseness setting for the grains was a bit of a problem. For beer brewing, you don't want really fine baking flour type material, but something considerably coarser. (1)
And that's when I decided to invest in a home grain mill.
Now, you can get these for less than $80, but I would strongly suggest that you up your budget a bit. What you need most of all is a wide-ranging setting for how coarse you want the grains to be milled.
After chatting to some fellow brewers, it became clear that the consensus was that I should look into the Mockmill grain mill. And I have to say that I totally agree with that consensus.
First of all, it couldn't be easier to adjust the coarseness setting. You can go from pastry fine all the way to barely cracked kernels. This also means that we can use it for regular bread making, and not just the liquid kind.
The noise level with the Mockmill grain mill is also perfectly acceptable, and because of the speed it won't be on for that long anyway.
And finally, to my wife's pleasure, it creates practically no mess! So, not only does it help me make better beer, but it helps maintain peace on brew days without the need for UN interventions. 🙂
As far as grain mills go, I can highly recommend this brand, and the 6-year warranty behind the German engineering and manufacturing says a lot about the quality.
Pros
Very easy to adjust the coarseness from pastry fine to barely cracked
Mills 7 ounces of grains per minute
Compact design makes it easy to store after use
It's not as noisy as an attachment for stand mixers
Mockmill grain mill comes with a 6-year warranty
---
Are There Any
Downsides?
Overall I'm extremely happy with my Mockmill grain mill, but there are two minor frustrations with it.
First of all, it can start to overheat if you use it for more than 20 minutes non-stop.
That would be about 140 ounces of grain, which most people won't need. But if you brew very large batches on a regular basis, then make sure you mill in stages and allow about half an hour to let it cool down.
Secondly, the spout on the Mockmill stone grain mill is quite low down. You won't fit a very large bowl or container underneath it, meaning that for larger batches you'll have to stand beside it.
The engineering geek in me did come up with a solution using a plastic pipe. So I can now stand a large container on the floor, and let the machine work away.
Cons
Avoid using for more than 20 minutes uninterrupted
The spout is quite low on the Mockmill grain mill
"The extent to which the grain is crushed will affect your brewing session and the end result — the beer you will proudly call your own. It's a critical step in the brewing process, and one that deserves some attention."

– Rob Brown, Brewers Anonymous
---
Mockmill Grain Mill:
The Bottom Line
Basically, there is nothing to mock about the Mockmill grain mill (pun fully intended).
The quality is excellent, it's easy to use, small enough to store away, and it will always give you the right coarseness you need.
If you want to save a bit of money and don't need large volumes ground fast, then there are smaller Mockmill stone grain mills.
However, I found that the price difference really wasn't that significant, so I future proofed my brewing equipment by going for the larger one.