The "typical mass-market beer" is around 5% ABV (Alcohol By Volume). Think Budweiser, Miller High Life, etc. However, with the growth of craft beer into the mass market, one of the things that (thankfully!) became more common are higher ABV, boozier, heavier beers. The idea of a higher ABV isn't just to get you wasted – it can come from the use of different ingredients and brewing methods, it can be used to create different experiences on your palate, and also often just go naturally with different tastes the brewer may be going for.
Often, higher ABV may mean you give up taste in favor of booziness. This scares some people away from even trying a high ABV beer.
Fear not! We have identified 7 high Alcohol by Volume (ABV) beers that are actually delicious.
For the purpose of this article, we are saying anything above 8% is high ABV. (Obviously there are higher ABVs out there – and we rate some below up to 20% – but to go that high and still taste amazing is a difficult task for brewers!)
---
1. Troegenator Double Bock
ABV: 8.2%
Brewery: Troegs
Brewed by Troegs, the Double Bock is quite chocolaty. It is thick and "chewy" with intense notes of caramel too. Popping the bottle will give you a scent of Christmas with cinnamon and gingerbread. (Yes, Christmas has its own scent!)
Aside from caramel, you can also taste sweet mash and dried stone fruit.
It's this type of flavor complexity that can often help mask the higher booziness of high-ABV beers. Be careful, then – if it tastes great to you too, make sure you don't have too many!
---
2. Delirium Tremens
ABV: 8.5%
Brewery: Huyghe Brewery
Often voted the best beer in the world, Delirium Tremens packs a punch with 8.5% ABV without giving anything up on taste. It has a long-lasting, dry, slightly bitter aftertaste. Its scent is slightly malty, which gives a nice touch of alcohol and spice.
"Delirium Tremens was nominated as the "best beer in the world" in 1997 and won a gold medal during the World Beer Championships in Chicago in 1998. The brewery's other beers have also won multiple awards."

– Andrew Thomas, VinePair
---
3. G'Knight Imperial Red
ABV: 8.7%
Brewery: Oskar Blues Brewery
This beer was brewed with an impressive background. There is a quote on the can saying "If you knew the man behind this tribute, this ale needs no explanation. If you didn't, we're sorry."
It is a tribute to Gordon Knight, a Vietnam vet, who died fighting the Lyons, Colorado forest fire in 2002.
Aside from being a soldier, Knight was also a helicopter pilot, a beer enthusiast, and brewer himself. It is lightly carbonated with tea flavor, and it gives you a surprisingly smooth finish.
---
4. De Dolle Dulle Teve 10º
ABV: 10%
Brewery: De Dolle Brouwers
When translated, the name of this beer is called "Mad Bitch." It is an all-malt brew with white candy in the kettle and refermented.
This is a fruity beer, full of aroma, and fun to drink with a touch of butterscotch.
When drinking this beer, you will taste a hint of different flavors like peach, apricot, raisins, bourbon, fudge, white pepper, and many more.
---
5. Japanese Green Tea IPA
ABV: 10.1%
Brewery: Baird Brewing Company, Ishii Brewing Co., Stone Brewing Co.
A double IPA with an ABV of 10.1%, this beer is brewed by 3 different brewing companies Baird, Ishii, and Stone.
The brewers said that this beer is an "extension of our 'What if' mentality" and they took it to the next level by brewing a beer made of green tea. The tea flavor is delicate, and the hop finish is not too much.
IPA lover? Here are some of our other favorite IPA beers.
---
6. Bourbon County Brand Coffee Stout
ABV: 12.9%
Brewery: Goose Island Beer Company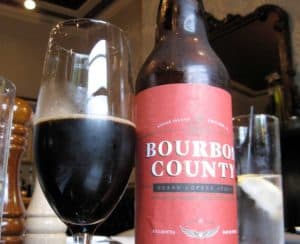 This Imperial Stout Aged in Bourbon Barrels is made from 2-Row, Black Malt, Caramel, Chocolate, Munich, and Roast Barley. Its taste is dominated by coffee, dark chocolate, vanilla, and wood.
This beer is perfect for those who love beer and coffee at the same time.
Intelligentsia coffee strongly influences its taste, and aside from that, it is housed in Heaven Hill bourbon barrels for eight months.
---
7. 120 Minute IPA
ABV: 15-20%
Brewery: Dogfish Head
This is one of the strongest beer on our list with an alcohol content of 15-20%. The sweet citrus, piney, floral hop aromas, almost candy-like aroma of this beer imperial IPA will surely leave you wanting for more. [2]
Its flavor will give you hoppy with some hop resin character, and its mouthful experience will bring you a slight coating with a lingering bitterness.
Dogfish Head considers this beer as the Holy Grail for hopheads.
---
Final Thoughts On High ABV Beer
There you have it! You now have the idea of what high-in-alcohol beers to try. There are lots of other high alcohol content beer options out there and to be honest, this list is just the tip of the iceberg.
If you encounter other high alcohol content beers that are not on this list – but are also extremely good, leave us a comment and share your experience!
Happy drinking!