At some point, you may decide to start labeling your own beer bottles. What you will quickly realize is it isn't as easy as it looks.
There are many different shapes and sizes of bottles, and there are just as many, if not more, shapes and sizes of labels.

It can be challenging to get the label perfectly centered and straight. And it can be even more difficult to be consistent bottle after bottle. It can be a very tedious process and take up a lot of your time.
Getting yourself a bottle labeler is a solution to this problem.
Bottle label applicators are used to quickly and efficiently label bottles. They will save you time and keep a consistent placement bottle to bottle, which is important if you are personalized beer labels or custom beer bottles. This is important as the aesthetics of your beer can be just as important as the taste.
There are a wide variety of bottle label machines. Some are very large and designed to be used in a commercial setting where you would be bottling hundreds or more bottles a day.
Others are more appropriate for at home or small craft brewery settings. However, regardless of the size and output of a bottle label machine, they all work in about the same way.
For our home brewers and business startup followers, I have reviewed some of the best beer bottle applicators available for you to consider.
They are very convenient and combine the means to label with speed and accuracy.
Our
Top Bottle Labeler Machines
IMAGE
PRODUCT

Sidco Labeling Universal R310

Semi-Automatic
Roll capacity is up to 12″ diameter
10-20 bottles/min
$$$$

VIEW LATEST PRICE →

Maxwolf Bottle Labeling Machine

Semi-Automatic
12 - 90 mm round bottles
3 - 15 bottles/min
$$

VIEW LATEST PRICE →

Semi-Automatic
Square, flat and oval bottles
12 vertical bottles in 45 sec
$$

VIEW LATEST PRICE →

START International LAB01

Manual
12.70 - 165 mm bottles, cans, jars
Heavy-duty metal construction
$$$

VIEW LATEST PRICE →

Bottle Label Applicator Machine

Manual
Beer, wine bottles, any round containers
1000 labels/hour (for round bottles)
$$

VIEW LATEST PRICE →
---
#1 Universal R310 Round Product Bottle Labeler (
Editor's Choice

)
The R310 Semi-automatic Round Product Labeling System is "The Cadillac" of beer bottle labeling machines. Or maybe a better metaphor would be to say, it's the Range Rover. It's easy to use, has a huge capacity, and is most definitely not an "entry level" product.
The R310 has solid aluminum construction and a roaming peeler adjustment to support a variety of diameters. With the press of a footswitch, labels are applied to 10-20 products per minute and accurately placed every time.
It's also versatile – beyond just beer bottles, the machine is well suited for products like jars, vials, and cylinders. The "roaming peeler" adjusts to support even smaller diameter products like markers, vials, and lip balms. We know you came here looking for beer bottle labelers, though, so fear not – this thing is the king of beer bottle labelers :).
Pros
Semi-Automatic
Highly adjustable and user friendly
Good for any size business
Photoelectric label sensor
Foot switch activation
Fits label up to 6.75 inches wide
Cons
Price – not for the broke homebrewer! It retails at several thousand dollars.
---
#2 Maxwolf Semi Automatic Round Bottle Labeling Machine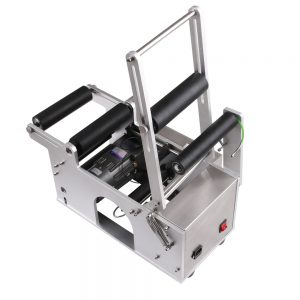 The Maxwolf is by-far my favorite for many reasons. This labeling machine is extremely versatile and even more efficient.
It has a similar design to the International LAB01 (which gets great reviews); however, it is semi-automatic which makes processing quick and easy.
It has an electrically powered motor that makes for fast application, and it can be calibrated for pinpoint accuracy.
This will save you a lot of time as it can label 40 round bottles (12 – 90mm) a minute.
It is also very easy to set up and designed for easy maintenance.
Pros
Semi-Automatic
Easy setup and calibration
Supports hot stamp ribbons
Supports large labels and all bottle lengths
Cons
---
#3 ZLA Zap Labeler: Semi-Automatic Labeling Machine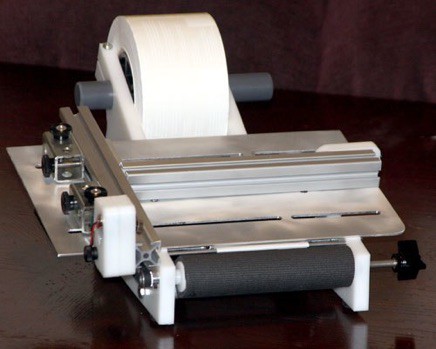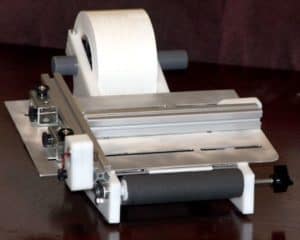 As you can see in the title, the Zap Labeler is a very versatile machine for beer bottles. It can label round, square, hex, and oval bottles as well as pouches, bags, and boxes.
This is a huge advantage in my mind.
This way you can label beer, wine, and liquor round bottles as well their packaging.
The supported label sizes range from 5 to 8 inches, and they can be easily switched out. Like the International LAB01, this is also a manual machine.
It also takes some adjustment to get going but once it does it is a great tool for both small and large batch brewers.
Pros
Supports wide labels
Many bottle shapes and sizes
Manufactured 100% in the USA
Affordable
Cons
No instructions
Assembly required
Requires initial adjustments
– or –
---
#4 START International LAB01 Manual Bottle Label Applicator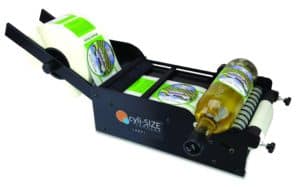 This is a manual bottle labeler. It is easy to operate and can label most bottle sizes.
Being that it is a manual label machine, you have to load and turn each bottle. This is not a bad thing. It just means that you won't be paying thousands of dollars to apply your labels.
To operate, you load the roll of labels, place a bottle on the rollers, turn the bottle until the application is finished, and then load the next bottle.
Within minutes you can apply 50 or more labels.
Pros
Sleek design
Supports most bottle sizes
Easy to operate
Holds hundreds of labels
Cons
Traditional labels only
Fully manual operation
Labels bottle faces only
---
#5 Easy Labeler Bottle Label Applicator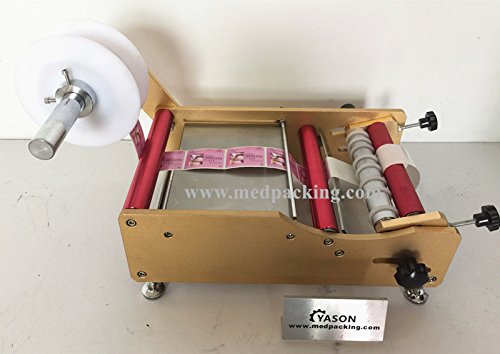 This bottle label applicator is designed to apply adhesives to round bottles. It is manually operated, supports up to 8-inch-wide labels, and can hold hundreds of labels.
Although, this labeler is manual it can still crank out up to 1000 bottles an hour.
There is a crank and handle that makes for fast application and can apply as fast as you can load the bottles.
Easy Labeler also offers additional attachments to support bottles with unique shapes and bottleneck sizes.
Easy Labeler also guarantees their parts and workmanship, and offers a full refund within 30 days for any dissatisfaction.
Pros
Accurate labeling
Supports labels up to 8 in. wide
Guides/Instructions included
Attachments available for unique bottles
Cons
Assembly required
Calibration required
Manually operated
---
Semi-Automatic
vs.

Manual Operation

There is a lot to be said about semi-automatic operation. When you are going to be labeling hundreds of bottles a day, this is going to be a huge time saver. [1]
This, in turn, will save you a lot of money and will greatly increase your return on investment. However, depending on your immediate needs you may consider going with a manual labeler.
Manual operated bottle label machines are still going to save you a ton of time. And like a Semi-automatic, you will have the advantage of label accuracy. The biggest advantage is that you can save some money when you go with a manual operator.
"Advantages commonly attributed to automation include higher production rates and increased productivity."
– Mikell P. Groover, Professor

Semi-automatic machines can save you time on every bottle – a big advantage if you are going to be running a business.
In the end, both are going to produce the same results but the semi-automatic bottle labeler machines can save you time on every bottle, and that can be a big advantage if you are going to be running a business. [2]
---
The
Best Beer Bottle Labeler Machines
If you are a casual brewer and only need something cheap to get the job done, I would go with the Zap Labeler. It can be extremely helpful in keeping your labels square and will save you time in the end.
However, for a larger output, I recommend going with Universal R310 Round Product Bottle Labeler. You may find this costly but it cuts out monotonous labeling maneuvers.
R310 is the solution to label 1000 to 6,000 round products per day.