The world's gone mad for IPAs and hoppy beers, as everyone knows. That's no reason to ignore stout beers, though! You may love stouts, or even prefer it over lighter options because of the dark, creamy and smooth experience it provides. Also, on a colder day, you don't want a light crisp lager – you want heavy and comforting! Stouts have that in spades.
Let's get to it. Here is a list of the best stouts available right now, from traditional stout to imperial stout to Russian stout and oatmeal stout… and more.
Note that stouts are just not as popular or available in as wide a variety as other types of brew, so this may seem like a "deep cuts" kind of list — BUT you can definitely still find these if you keep your eyes open. Also remember you can always order these beers online! (We recommend Drizly or Tavour.)
These should all definitely be on your "Try before you die!" list.
Before counting out Guinness, checkout our Guinness Draught vs. Guinness Extra Stout article.
---
Our
Top 15

Stout Beers: Reviewed

1. Founders Breakfast Stout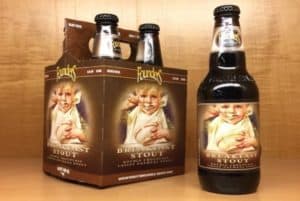 This is a very full-bodied oatmeal stout that is teaming with flavors of dark chocolate and roasted coffee.
Founders Breakfast Stout really stands out from the rest of this list; it's one of the most unique stouts you'll ever taste.
Strong enough to be perfect as an after-dinner drink, or just to enjoy on a winter's evening.
It has a sizable ABV of 8.3%.
---
2. Left Hand Milk Stout
This style of beer first appeared in the 1800s in London, and it isn't brewed with actual milk.
The term is used to describe the very creamy nature that provides a certain amount of sweetness to go with the flavors of dark chocolate and a hint of vanilla.
The ABV is 6.0%, which makes it perfectly suitable for having more than one (or more than two…).
---
3. Goose Island Bourbon County Stout
The Goose Island brewery has been creating some very special beers including this very dark stout. With an impressive 14.7% ABV, it is aged in bourbon barrels that also provide a very distinct aroma you can just about smell.
The flavor is as strong as the ABV, which makes it more suitable to dark winter evenings as an after-dinner tipple.
---
4. Stone Xocoveza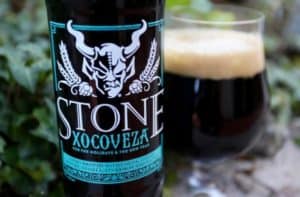 This unique American stout combines rich malts and barley with chocolate, chili, and vanilla. It may sound like a strange combo, but believe us that it works really well.
It's a perfect beer to have with seafood, with the ABV of 8.1% not being too shabby either.
You'll also notice a long lingering sensation left by the dark cocoa beans.
---
5. Prairie Bomb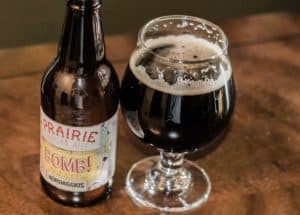 What makes this imperial stout stand out is the very clever brewing technique. It is aged by adding espresso coffee beans that are dark roasted.
The result is quite a strong coffee flavor, that works very well. By adding some peppers to the mix, you have a wonderful combination of smooth and hot finishes.
The ABV is an impressive 13%, so take your time with this one.
---
6. Southern Tier Warlock
If it's close to Halloween when you're reading this, then you're in for a treat, not a trick.
Brewed by adding pumpkins to the mix, you will immediately get that sensation on the palate that you're tasting something new.
The ABV is 8.6% making this very dark stout perfectly suitable for heavier meals including steak.
---
7. Duck Rabbit Milk Stout
Milk stout seems to be enjoying a new lease of life these days, and this one from the Duck Rabbit Craft Brewery is another very popular choice here at the office.
Roasted hop, barley, and malts all result in the very black color that still has a nice sweetness to it.
A more modest ABV of 5.7% makes this an ideal stout for pretty much any meal. And perfect for having a couple more.
---
8. Alesmith Speedway Stout
Another one of the stronger imperial stouts, this one brings full flavors of malts, chocolate, coffee, and even some caramel mixed in.
Despite the strength of 12.0% ABV, this beer is very smooth and drinkable, especially as an after-dinner treat.
It really is one of those beers you want to make sure you have a second bottle in store.
---
9. Old Rasputin Russian Imperial Stout
This Russian imperial stout brewed in California has developed quite a cult following.
You'll probably find that it doesn't last long on the shelves, so make sure you snap up a few when you do see them.
With an ABV of 9.0%, this is one of the more modest imperial stouts on this list.
---
10. Deschutes Obsidian Stout
The brewing techniques used for this beer are very traditional, and the focus was more on balancing the flavor than creating something very strong.
The ABV is "just" 6.0% which makes this very suitable to accompany seafood dishes.
Between coffee and chocolate, you'll notice just the right amount of hops not to make it too sweet.
---
11. Oskar Blues Ten Fidy
Chocolate, caramel, coffee and wonderfully smooth malt make this one of those beers that you will remember. It is thick and creamy in texture, and definitely one to savor with small sips.
As an imperial stout, it packs the usual punch of 10.5% ABV, which is the result of the beer going through a long aging process.
---
12. Allagash Black
With this stout you get the full sensation of flavors rolling over your tongue, leaving a sensational lingering taste behind.
The dark Belgian chocolate is one of the first things you will notice, but yet it isn't too sweet because of a nice balance of malts.
You'll also notice hints of coffee that add to the silky texture.
The ABV of 7.5% is low enough to make it a great choice for a light fish dish.
---
13. Great Divide Yeti
If you like your beers to be rich in hops, then this imperial stout will be right down your line.
Rich in chocolate, coffee, and burnt caramel, it is almost has a thick and sticky consistency.
With an ABV of 9.5%, it is a perfect choice as a dessert after a heavy meal.
---
14. Modern Times Black House
For those that like beer to be a bit sweeter, this Black House brings a great combination of coffee and oatmeal.
In order to achieve a more unique flavor, the Modern Times brewery actually roasts coffee beans onsite to get a consistent result.
While it is a full-bodied beer, its strength is on the lower end with an ABV of 5.8%.
---
15. Hardywood Gingerbread Stout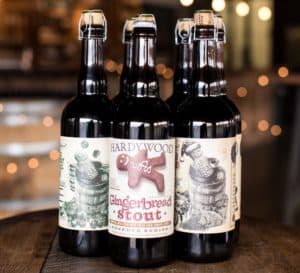 We've kept one of the most unique beers until last. You will definitely want to pay close attention to all the sensations you will experience.
By using local Virginia baby ginger and honey, you get a wonderful combo of bitter and sweet.
On top of that you have the usual chocolate and coffee flavors, but also vanilla and cinnamon mixed in. Basically, all the main ingredients for delicious gingerbread.
With an ABV of 9.0%, this is a great beer choice for the winter months.
"Brewers recognized that adding lactose and calling a beer "milk stout" made it seem more nutritious, and so was good for sales." – Markham Heid.
---
Our
Final Thoughts

on Stout Beers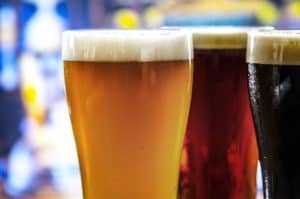 Unless you want to head out and source all 15 beers, my personal recommendation would be to focus on a Russian imperial stout.
Be prepared for some very full flavors and quite a hefty amount of ABV in our best stout beer.
You don't have to start with a Prairie Bomb; an Old Rasputin will do just perfectly fine.
However, if you generally prefer lighter beers, then the Duck Rabbit milk stout will be a great introduction to dark chocolate and coffee flavors.
Another beer that I have ordered more of is the bourbon barrel-aged Goose Island. It's a very memorable experience and one you'll look forward to revisiting.
One thing is for sure though, you most certainly won't get bored tasting any of these stouts.