First off, there is a decent amount lot of law and science to understand behind "Marijuana Beer." If you're curious about the details, we have an article outlining the basics or Marijuana beer.
Now, if you're ready to just get your hands on some tasty Marijuana-, CBD-, THC-, Hemp-, Cannabis- and other weed-related beers made by the pros, check out our list!
Note that we call out "related" here because not all of these have THC, the ingredient typically associated with "marijuana" itself. That is due to the fact that combining alcohol with THC is illegal and therefore prohibited in most parts of the United States. However, there are still several non-alcoholic beers that can be infused with THC. The marijuana-based brews that we mention below include hemp-infused beer or non-alcoholic beer that contains THC.
Hemp and marijuana are both cannabis, however, hemp does not have the psychoactive properties that will get you high. On the bright side, hemp is rich in protein, dietary fiber, vitamins, and omega fatty acids while still having that cannabis flavor. 
Approximately 100 brands received approval to add hemp to alcohol since the year 2000. Here are the most notable:
Ceria Brewing
Made by the former brewmaster of Blue Moon, Ceria Grainwave is a THC-infused de-alcoholized craft beer with a citrus taste and fruity smell, thanks to the addition of blood orange and Valencia orange peels. The founder, Keith Villa, positioned this Belgian-style white ale as both an all-occasion and a celebratory beer. Best of all, the beer is only 75 calories a can and has 5mg of THC, which may leave you high for a few hours. Ceria Brewing announced plans for two upcoming cannabis-infused beers that are coming soon, so make sure you keep up with their new releases.
ABV: 0% (non-alcoholic beer) | THC: 5mg | Calories: 75
---
Two Roots
"The new way to consume cannabis." These drinks don't even have alcohol, but are worth mentioning here for those into beer and weed tech! Two Roots is a San Diego-based company that embraced the city's rich biotech heritage by creating a product with nanoemulsion technology. This process means that the CBD and THC particles are smaller than average, thus allowing them to be absorbed into the body quickly and consistently. The "high" is mellow and lasts about 90 minutes. Also, at just 80 calories a can and infused with B vitamins and electrolytes that leaves you without a hangover, Two Roots is a "healthier" alternative to typical party beverages. 
ABV: 0% (non-alcoholic beer) | THC: unknown | Calories: 80
If you're located in California or Nevada, find out where to purchase Two Roots beer.
---
Lagunitas
This THC-free blend is infused with cannabis terpenes, aromatic
compounds of essential oils that are extracted from certain plants, such as cannabis. Although its 6.6% ABV is fairly low for a Lagunitas beer, the taste of the beer will surely leave you satisfied. Tasters compare the flavor to "a musician having access to new notes" or "a painter with an expanded color palette." It's unlike anything else on the market with a distinct herbal flavor. 
ABV: 6.6% | THC: 0 mg | Calories: unknown
---
4. The Hemperor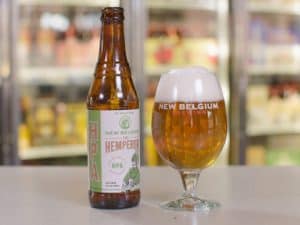 New Belgium (of Fat Tire fame) released a hemp beer called "The Hemperor," and they get bonus points for the clever wordplay. It's a pale ale with hemp seeds as one of the ingredients, and it has a subtle cannabis flavor and scent. At 7% ABV, you'll feel the effects of the alcohol, but because there's no THC, you won't get high. It is sweet with a mild bitter finish and has a medium body. 
ABV: 7%, THC: 0 mg
---
Humboldt Brewing
The laid-back area of Humboldt, California is synonymous with cannabis, so it's no surprise that they've got a hemp ale available in a colorful can. It's a two-time award-winning beer, and it gets top marks for its unique flavor and subtle herb terpene profile. Also, it's brewed with toasted hemp seeds, adding a herb-accented flavor, and is perfectly balanced with American hops. The beer has a 5.0% ABV, but its flavors are truly the spotlight of this beer.
ABV: 5.0% | THC: unknown | Calories: unknown
---
Additional CBD/THC-Infused Brews
6. Root Beer
Bubba Kush
Founded in Colorado, the 5-year-old company Bubba Kush created a de-alcoholized root beer that has 10 mg of THC. Either sip from the can or pour over ice cream to create a unique, THC-infused root beer float. If you are located in California, Nevada, Arizona, Colorado, or Michigan, then you're in luck because those are the only states where you can find the THC-infused beer.
If you aren't a fan of root beer, then not to worry – Bubba Kush has a long list of products that include: cannabis-infused sodas, energy drinks, sparkling drinks, and more.
ABV: 0%  (non-alcoholic beer) | THC: 10mg | Calories: unknown
---
Lagunitas

This new THC-infused, de-alcoholized sparkling beer has zero calories, zero alcohol, and zero 
carbs. However, it does have 18 mg of CBD and slightly less than 2 mg of THC, which may leave you with a high that you may be looking for. Although the beverage does not contain any alcohol, you will still expect both alcohol and cannabis flavors. In addition to having no calories and carbs, the beer is also gluten-free! If you're looking for a beverage that has more THC than CBD, Lagunitas also has a beer with 5mg of THC and another with 10mg of THC. 
ABV: 0% | CBD: 18mg | THC: <2 mg | Calories: 0
If you're in California or Colorado, find where to buy the newly-released 18:1 Hi-Fi Hops beer.
---
Want to add Hemp to your own beer?
Hemp oil includes such properties as anxiety and pain relief and may be a wonderful addition to your beer. Although hemp oil is derived from cannabis, the oil does not contain any THC or psychoactive properties. However, the benefits of the oil outweigh the lack of THC (if that's what you were looking for). 
Derived from the seeds of the Cannabis sativa plant, hemp oil has a wonderful profile of nutrients and bioactive compounds. The oil also has great health benefits such as:
Skin, brain, and heart health
Pain relief
Decrease in muscle tension
Although hemp oil doesn't carry major risks, certain side effects include:
dizziness
light-headedness
dry mouth
irritability
If you're interested, check out some of our favorite Hemp oils, which can easily be purchased on Amazon: