Everybody loves draft beer. There's just something about the experience that resonates with people.
Each pour is a sensory delight. It begins with the subtle sounds.
Then there's the enticing aroma and the visual beauty of a perfectly formed head.
Once the pour is complete, there's the tactile quality of holding the icy cold mug in your hand. And, of course, we can't forget the one of a kind flavor you only get from a tap.
As such, it was only inevitable that at some point manufacturers would get on their game and begin producing home tap solutions that were every bit the equal of what you'll see in the local tavern.
Today, draft beer towers for the home are available in a range of styles, materials, and sizes and most have either 1, 2 or 3 faucets from which to dispense your brew.
Below we've rounded up 5 of the best draft towers on the market.
Our
Top Draft Beer Towers
IMAGE
PRODUCT

Size : 2 Faucet(Other sizes available)
Stainless Steel
12" to top of tube 15" to top of black tap handles
$$

VIEW LATEST PRICE →

Size : 1 Faucet
Stainless Steel
12.7"
$

VIEW LATEST PRICE →

#3 - Kegco BF STCK2-542-2_NT

Size : 2 Faucet(Other sizes available)
Stainless Steel
18"
$$$

VIEW LATEST PRICE →

Size : 2 Faucet
Stainless Steel
15.6"
$

VIEW LATEST PRICE →

#5 - Beverage Factory D4743TT

Size : 3 Faucet
Stainless Steel
14-3/8''
$$

VIEW LATEST PRICE →
---
#1 Kegco KC D4743DT-SS Draft Beer Tower (
Our Favorite

)
The Kegco KC D4743DT-SS comes with a pair of faucets attached to the 14″ stainless steel kegerator tower.
The tap tower is 3″ in diameter, and the whole thing is affixed to your bar with four screws (included).
The chrome plated faucets have a heart of solid brass with an action that is smooth and satisfying. Those faucets are fed by a pair of 3/16 inch tubing, each one 5 feet in length.
The KC D4743DT-SS also attaches easily to any standard keg coupler.
If you are looking for a dependable, easy to install, low maintenance beer tap tower to complete your home bar, you won't find a better value than the Kegco KC D4743DT-SS.
Pros
Robust stainless steel throughout.
Mounts easily to your home bar or kegerator.
3/16-inch hose provides complete control over pour volume.
Connect easily to any standard coupler.
All necessary parts included.
Cons
Insulation could be a little better.
– or –
---
#2 Kegworks Single Tap Draft Tower
This Single Tap Draft Tower from Kegworks features a chrome-plated faucet with a black plastic tap handle.
It's a good looking tap in a minimalist way, with clean lines and an agreeably handsome polished surface.
The action on the single faucet is smooth and satisfying although the 4-foot beer line could be a bit longer in our opinion.
This draft tower is just over a foot tall which is just about the right height for most people who don't want to be bothered reaching too far up to pour a draft.
Pros
A classic, simple look.
Screws easily into your kegerator or bar.
Lustrous chrome finish.
3.5-inch diameter base flange for stability.
Cons
4-foot tap line is a bit short.
Plastic valves in the tap.
Mounting gasket can be a challenging fit.
---
#3 Kegco BF STCK2-542-2_NT
Kegco BF STCK2-542-2 beer tap towers come in a double faucet design and looks like a million bucks. They provide an ideal tap solution for your home bar.
It's as practical as it is handsome and the dual faucets feature silky smooth motion and consistent pours for your draft beer.
There's a pair of NSF-approved keg couplers fashioned out of forged brass with a hardy nickel plating, a dual gauge regulator that allows you to monitor both CO2 volume and PSI and two 5 foot 3/16 inch beer lines along with plastic snap clamps to keep everything tidy.
Pros
Dual faucets provide smooth, reliable action.
The keg couplers are widely adaptable.
Simple, effective installation.
Detailed instruction guide included.
Cons
Regulator is known to be buggy.
Less than robust insulation.
---
#4 HFS (R) Double Tap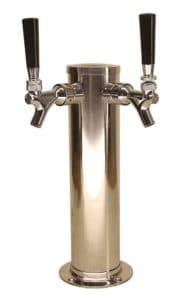 We love the way this mid-sized dual faucet kegerator tower looks. It has a satisfyingly solid appearance that's driven home by the high polish stainless steel finish.
It affixes easily to any home bar or kegerator via the four mounting holes in the flange.
Faucets come apart easily for cleaning, and the beer lines are a pleasing 8 feet in length. This makes HFS(R) draft towers one of the most versatile right out of the box.
Hose clamps and a keg wrench included.
Pros
Affordable.
Multi-purpose keg wrench included.
High polish stainless steel finish.
1-year limited warranty.
Cons
Some contact parts are not stainless.
Taps are not spring loaded.
---
#5 Beverage Factory D4743TT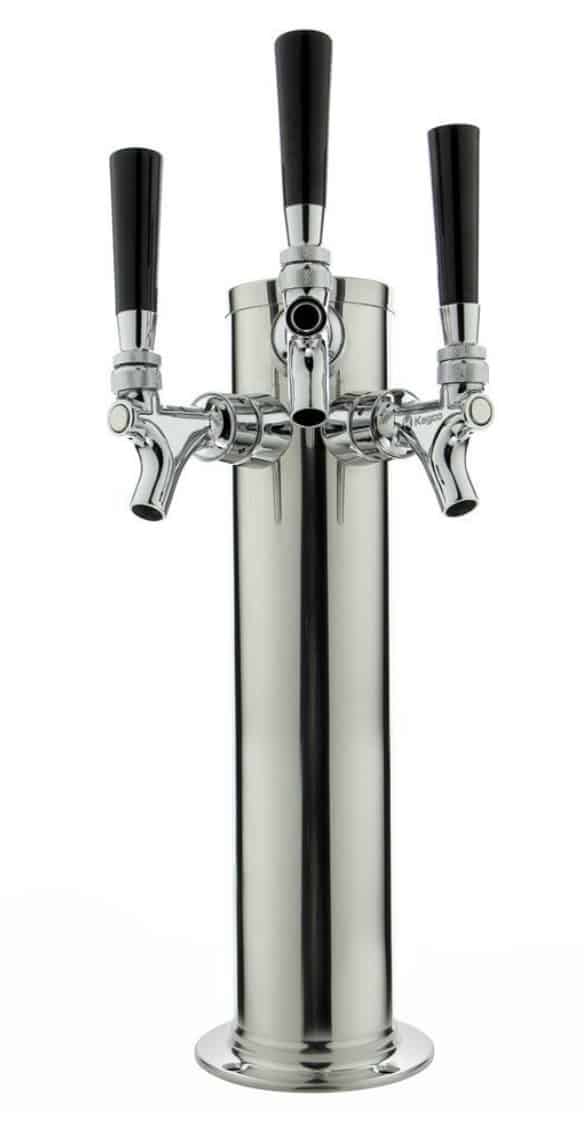 The Beverage Factory D4743TT is a 3 faucet keg tower nearly 15 inches high and finished with handsome high polish stainless steel.
This is a great keg tower for your draft brew and if you need to entertain a lot of guests. First, because it has those three faucets and second, because it works like a charm.
The beer hoses are pre-assembled and ready to go with stainless steel fittings, and those hoses are 5 feet long; which isn't great but is better than some.
Pros
Beautiful high polish finish.
All contact surfaces are stainless steel.
Preassembled beer hoses.
Easy to attach to any standard kegerator.
Cons
3 taps are perhaps too close together.
Insulation is not great.
---
4 Things to Consider when
Choosing a Beer Tap Tower

There are several things you'll want to consider when choosing a draft tower. They are:
Height – Draft towers come in a number of sizes and styles. If your kegerator is a stand-alone unit the tap is going to be naturally low so you'll want a beer tap tower that's pretty tall. If, on the other hand, your keg slips in nicely under a deluxe home bar you don't want the tap to be too high because reaching up to pour could be an issue for some.
Material – It's difficult to say one material is 'the best.' Essentially any keg tower made from stainless steel or chrome plated steel or brass will serve you well (as long as the plating was properly done). That goes for the faucets as well. You'd like them to be either chromed plated brass or solid stainless steel for hygiene's sake. [1]
Number of Faucets – Most homeowners won't be needing more than a single tap, but you can't really lose by investing in a two tap system. Simply because the time will probably come during a big get together when you're glad the second faucet is there, even if that only happens occasionally.
Cost – Decent draft towers can be had for less than $100 although prices can run as high as several hundred. How much you spend will be up to you. In our opinion, however, spending $300 or more on a draft beer tap is hard to justify for a home bar. But that's just us.
Tower Coolers – Before I discovered tower coolers, I was always forced to dump the first pour from my keg tower because of the large amount of foam that comes with it. If you're like me and you don't want a single drop of your precious home brew to go to waste, invest in a good quality keg tower cooler to insulate your draft beer tower because it minimizes foam and protects your draft beer tap from condensation damage.
"The draft beer tower is one of the final components in the flow of beer through your draft beer system. Standing tall and proud in either your home or commercial bar, the tower is connected to the faucet where your beer is ultimately dispensed."
– KegWorks
There's an endless array of models you could go for, so make sure you shop the best one that suits your needs. Here's a video to show you all the different types of keg towers:
Other recommended resources:
---
What is the
Best Draft Beer Tower?
The answer to that question is easy: the Kegco KC D4743DT-SS. This is a handsome, moderately priced, durable stainless steel beer tap tower that would be a welcome addition to any home bar.
We found it to be the easiest to install, most dependable to operate, among the most attractive to look at and it never failed to provide trouble-free operation.
The Kegco KC D4743DT-SS also attaches easily to any standard coupler and – lo and behold – everything we needed to install it quickly and effortless was included in the kit, along with comprehensive, easy to understand instructions.
You can pay a lot more for a draft tower, but why would you?