Peanut butter beer!? That has to be a joke, right? Like helium beer…
Actually, not at all! Once you have tried one, you will totally get how great beer and peanut butter flavors can go together. Also, think about how you don't necessarily bat an eye when you see beer with chocolate, coffee, pineapple, mango or some other "strange," non-beery flavor. Don't knock it till you try it!
52Brews compiled a list of 15 amazing peanut butter beers for you to try. Take a look!
---
15 Great

Peanut Butter Beers

1. Mission Peanut Butter Dark Seas
The people at Mission have been brewing many different types of beer, but none have been as unique tasting as this imperial stout.
Note that this is significantly stronger than an average beer, with an ABV of 9.8% (!).
The sensation is truly unique, with a creamy flavor of peanut butter, smooth cocoa and a little kick of coffee as well. An absolute must try for any beer lover looking for unique brews!
[thrive_leads id='7150′]
---
2. DuClaw Sweet Baby Jesus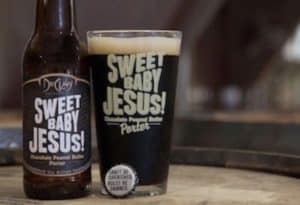 DuClaw is one of those breweries that takes its craft very seriously, and one of their best beers to date is this full-bodied porter.
In addition to peanut butter, it also has a distinct chocolate flavor and a wonderful hoppy undertone.
At a moderate ABV of 6.5%, the aromas linger for quite a while. Definitely worth checking out.
---
3. Belching Beaver Peanut Butter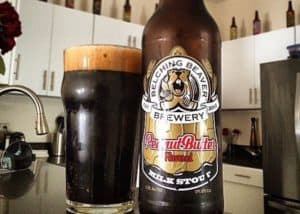 Another one of our favorites is this milk stout. Yes, you read that right, and it does almost sound like a fancy latte you'd order in a coffee shop.
However, there is no milk added, it's more a term used to describe the smoothness that some with low carbonation.
With an ABV of 5.3%, you get a delicious brew with moderate strength.
---
4. Terrapin Liquid Bliss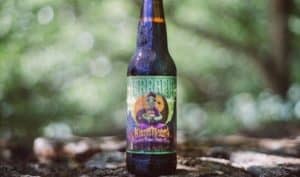 Brewing Liquid Bliss started off as a side project, but it quickly became a very big hit.
This porter combines both Georgia peanuts and chocolate to bring a full flavored and unique experience.
It also has a not too shabby 6.1% ABV.
---
5. Absence of Light
This is another milk stout brewed by the 4 Hands brewery and has gone through several rounds of "perfecting."
With very full-bodied flavor this one definitely stands out as providing a very long lasting taste on the palate. And you also get a significant ABV punch with 7.1%.
If you enjoy sipping your beer and taking your time, then this is your best option.
---
6. Spring House Chocolate Peanut Butter Stout
You will most likely find this one as Big Gruesome, with an unmistakable label to go with the strong chocolate and peanut flavors.
The strong aroma is achieved by adding raw cocoa to the aging process, which further enhances it.
The reason it's called Big Gruesome also has to do with the ABV of 8.5%, making it one of the stronger ones on this list.
---
7. The Bruery Black Tuesday
This imperial type stout is definitely not for the faint-hearted or anyone that doesn't like very strong beers with a lot of flavors. It was first introduced in 2009 and has gone through a few vintages. [1]
Aged in a bourbon barrel for over a year, this explains the ABV that, dependent on the vintage, can be up to 20.3%!
---
8. Nuddy Buddy Peanut Butter Porter
This is one of the more difficult ones to find, but if you do ever see it in a store, make sure you don't miss out on a very pleasant experience.
With a wonderful blend of chocolate, peanut and vanilla it almost tastes like a cookie.
With a not too overpowering aroma, it also has a modest 5.3% ABV.
[thrive_leads id='7150′]
---
9. Karl Strauss Peanut Butter Cup Porter
Coming to you from California, Karl Strauss has a long history of experimenting with different flavors. [2]
This beer has a perfect combination of peanut and dark chocolate to leave a very smooth and lingering flavor.
The ABV is a moderate 5.6%, which makes it ideal for people that don't like too powerful experiences.
---
10. Nutter Your Business Peanut Butter Stout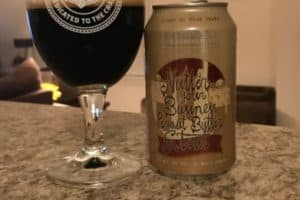 Grand Armory Brewing brings you this surprisingly light option, but it still contains the unique flavors of some of the most favorite cookies.
As a milk stout, it isn't as strong as most others on this list, making it ideal for those with a more "delicate" palate.
The ABV of 5.0% is also a bit on the light side for me personally, but there are people who do prefer that.
---
11. Nut Crusher Peanut Butter Porter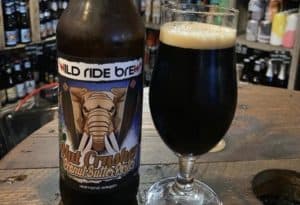 This rich chocolatey and caramel beer is combined with peanut butter for quite a strong taste that will linger for a while.
We certainly found that it was the closest to washing down a few peanuts with a traditional porter.
It has a very average 6.0% ABV, which makes it appealing to the majority of drinkers, as it isn't too overpowering.
---
12. Avery Brewing Nuttiest Professor
This is another one of those beers for people who really like their beers to be strong. Not just in ABV, which is 15.6%, but in flavor and aroma as well. [3]
It is an extremely creamy option, that is rich not just in peanut flavor.
There is a strong sense of dark chocolate as well that will linger for a surprisingly long time.
---
13. Liquid Mechanics Peanut Butter Porter
For those of you that enjoy an imperial stout, but prefer something in the more moderate ABV strength, this is an excellent option. [4]
At 8.6% it still packs a bit of a punch, but it's less than half of the Black Tuesday mentioned above.
What's unique about this one is that organic peanuts are used, which may be important to you, if you try to stick to an organic diet overall.
---
14. Tin Whiskers Peanut Butter Brown Ale
For the ale lovers out there we bring this brew from Tin Whiskers. Unlike some of the other ales out there, this one doesn't just use peanut butter extract to add the flavor.
Instead, the makers rightfully boast about the fact, that 2 pounds of peanut butter go into the making of each keg.
With a modest 5.8% ABV, this is certainly one you can enjoy a couple of.
[thrive_leads id='7150′]
---
15. Catawba Brewing Peanut Butter Jelly Time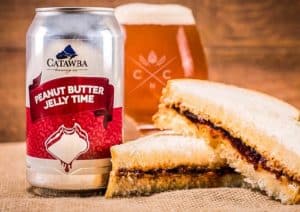 This brown ale will certainly bring you back to your childhood. Not only do you get that unique creamy and nutty flavor, but also the fruitiness of raspberries thrown in as well.
Just like those peanut butter and jelly sandwiches we all loved as kids (some of us still have them today).
At 5.7% ABV, this is definitely not for kids though!
"The most difficult task for brewers looking to recreate such strong and nostalgic flavors like peanut butter is balance." – Mark Denote.
---
Our Final Thoughts

on Peanut Butter Beers
As you can see on the above list, peanut butter beer is most commonly available as a porter and stout. But, what do we like more?
My personal preferences are the stouts as they tend to bring out a long lasting taste and smoother experience. You should also try it too and let me know if you experience the same.
Of course, the fact that some of them are very strong helps as well. Next time you're looking for something unique to try out, pick up one from this list.
And make sure to let us know how you enjoyed it.
---
References
1) The Bruery, Black Tuesday Reserve, retrieved from https://www.thebruery.com/beer/black-tuesday-reserve
2) Karl Strauss Brewing Company, Peanut Butter Cup Porter, retrieved from https://www.karlstrauss.com/beer/peanut-butter-cup-porter/
3) Avery Brewing Co., Barrel Aged Series, retrieved from https://www.averybrewing.com/beers/barrel-aged-series
4) Liquid Mechanics Brewing, Liquid Mechanics Brewing Co., retrieved from https://www.liquidmechanicsbrewing.com/