Looking for cool man cave ideas that show off your personality? Or perhaps you need something that is just a little bit more stylish and unique than what you find at IKEA?
Any one of these items will fit in just as easily in your rec room or basement bar, or any indoor "chill space" where dudes hang out.
Check out this list of essential man cave ideas for some masculine inspiration!
---
Our 19
Cool Man Cave Ideas
1. Wine Barrel Coffee Table
This eye-catching coffee table is constructed out of an actual whiskey barrel and poplar hardwood. It goes without saying, it makes for a great conversation piece. It has a hinged top too, which opens so that you can store things inside, like an old-school chest.
The hinge can be locked, so you can safely keep the top open without slamming it on your fingers. The top is clear coated as well, so it has a smooth surface that won't easily scratch.
---
2. Industrial Bar Table
Looking for a bar table to accent your place's "industrial" vibe?
The metal pipe design combined with the rustic oak provides just the perfect blend of ruggedness and sophistication, making it suitable for a variety of settings.
It will fit in equally well in a bar, game room, kitchen, or dining area.
---
3. Reclaimed Wood Arrows
Unique and creative room fixtures that liven up your living space (without costing a limb) aren't always easy to come by.
These reclaimed wooden arrows deliver on this. You can hang them up any way you wish (point in any direction!), or use them as wall accents.
They look particularly good in hallways!
---
4. Suitcase Shelves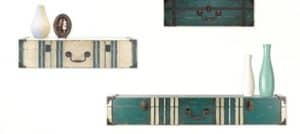 You can dress up your walls with these cool vintage-y suitcase shelves!
They work just as well as purely decorative pieces, or as actual shelves too.
This is a great symbolic accent for guys that travel!
---
5. World Map Suitcase Clock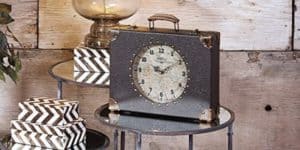 Is it a suitcase or a clock? It's a little bit of both actually!
Covered in distressed faux leather, this item oozes vintage-y class.
It opens up to hold small items that you want to have nearby but out of the way. Every suitcase clock is made by hand, so no two will be exactly alike.
---
6. Denim Ottoman
Denim is one of those fabrics that appeals instinctively to guys. Having it covering an ottoman is a particularly unique way to have it in your house (besides on your pants!).
Made from patches of recycled jeans wrapped snugly over poly foam, this item works as a man cave coffee table that doesn't hurt your wallet.
---
7. Magnetic Bottle Opener
Your man cave furniture will not be complete without a bottle opener. Having a bottle opener that is attached to the wall (instead of a portable one you grab from the drawer) is a sign that says, "this space is meant for manly relaxation."
So why not have an interesting one? The handcrafted wooden base is as stylish as they come, and the zinc alloy opener is durable enough to handle the rowdiest beer bashes. Most importantly, it comes with a powerful magnet that keeps your beer caps from tumbling to the floor and ending up under the fridge.
---
8. Jack Daniel's Soap Dispenser
Jack Daniel's bottles are iconic, but what do you do with them after drinking the contents? The company behind this cool, man-cave-worthy item has found a way to put them to good use.
Soap dispensers aren't particularly manly, but an exception has to be made for this inventive item.
Heavy duty stainless steel is used in the pump and lid mechanism. You can use it for hand lotion too.
---
9. Wood Slab Serving Board
Boring old plates and serving platters are just too… predictable. Why not take things up a notch with these cool wooden slab serving boards?
With a rugged and rustic look that enhances your food presentation, these home accessories can be used for anything from cold cuts to chips and fries and more. In fact, they look especially awesome underneath a nice, thick, juicy steak!
---
10. Industrial Bookshelf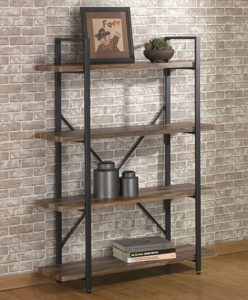 A well-rounded man always has a good collection of classic books and novels lying around, and this industrial bookshelf is a great way to keep everything organized. In fact, you can even use this to hold your vintage collection of Popular Mechanics magazines and still come off as ruggedly bookish!
With its retro styling and contemporary design features, this could very well handle most of your shelving needs.
---
11. Jack Daniel's Table Lamp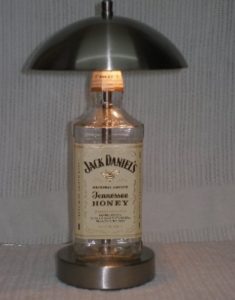 If you already have the Jack Daniel's soap dispenser in your bathroom, why not go all the way and invest in a couple of Jack Daniel's bottle desk lamps as well? Made with rustic brushed chrome, it will look amazing on your desk or table, or at the end of your bar.
Three light settings are available, so you can set just the right mood for any occasion.
---
12. Weathered Marquee Lights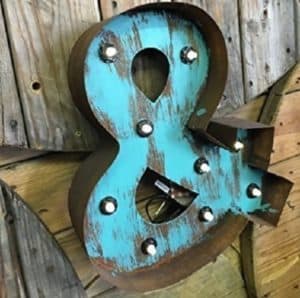 Looking for a lighting solution that is just a bit out of the ordinary?
Maybe something unique and stylish with a decidedly vintage vibe? Check out these weathered marquee lights that harken back to the Golden Age of drive-thrus, diners, and soda shops.
They are available in all alphanumeric characters, and you could even get them in a variety of colors and sizes.
---
13. Stacked Baseball Lamp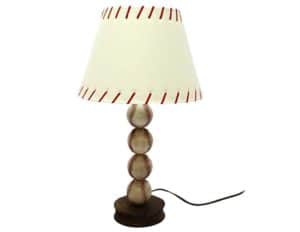 Show off your appreciation for America's passtime with a classic-styled baseball lamp.
Stacked resin baseballs are used to create this durable and creative mantelpiece, which should find a welcome place in any man cave.
---
14. Iron Pipe Toilet Paper Holder
You were taught as a kid: "everyone poops." Someone may indeed have to drop a deuce in your man cave bathroom, so let's make sure to decorate that room too!
Made of wood and industrial-grade iron, this toilet paper holder adds a touch of art-deco to your bathroom.
The eco-friendly materials are scratch-proof and easy to clean, and they will last longer than your average bathroom fixtures.
---
15. Rustic Towel Bar
You probably don't think much about bathroom fixtures, but they make for great accents.
This rustic towel bar combines brown wood and black metal, which can accentuate lots of different color schemes.
Along with the 18" towel bar, you also get a hand-towel ring and a tissue holder, all of which can be securely mounted with keyhole brackets.
---
16. Bottle Cap Beer Coasters
You will probably be serving beer in your man cave, so why not get a batch of huge bottle cap coasters to serve on? These are a lot heftier than your standard cocktail or bar coasters, with a 4-inch diameter and 1-inch thickness.
They even come with different witty sayings printed on them–all related to beer of course.
---
17. Golf Club Coat Rack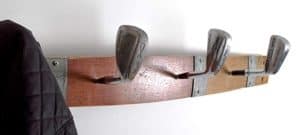 Golf is yet another time-honored manly pastime, and the perfect way to show off your love of the sport is by having this elegant golf club coat rack to hang various garments on.
Made from authentic wine barrel staves sourced from Napa Valley wineries, it has hooks made from four recycled golf clubs. A perfect addition to any golf lover's man cave, this is a unique and durable piece.
---
18. Burgundy Velvet Blackout Curtains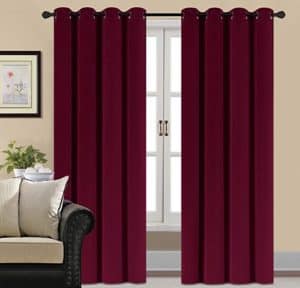 Finally, dress up your windows with these awesome velvet curtains that really give your man cave an elegant and stylish look. Made from high-quality velvet material and rust-free silver steel grommets, they are classy at a very affordable price.
Best of all, they block out as much as 99% of the light from outdoors, which could come in handy for those times when your poker game lasts until sunrise!
---
What's the
#1 Must-Have Man Cave Decor

You Need? (

Best for Last – #19

)

If you're reading this list on 52Brews, you are probably a beer fan. A beer fan's man cave must have a particular item – the end-all-be-all of man cave decor, the king of of man cave accessories, in aesthetics and functionality… a kegerator.

If you don't know… now you know! It's a combination of a keg-holder and a refrigerator with a tap on top for easy draft pours. No man cave is truly complete without it.

Check out 52Brews' full list and review of kegerators. Or, check out our #1 pick by Edgestar: