Most people tend to think of beer as a heavily "industrialized" product. Ask someone what they know about how beer is made and they will likely describe to you a big factory setting with huge vats and tubes, conveyor belts and furnaces. Naturally, to produce beer on a large scale, all that is definitely necessary. But if you're a beer lover that just wants to try their hand at making small batches yourself, homebrewing is an incredibly rewarding hobby. With home brewing kits, that hobby is now more accessible than ever.
At A Glance: Our Top 7 Picks for Home Brew Kits
If you love beer you've probably thought about trying to make it yourself. You don't have to start your own brewery to do this!

You don't need to go out and hunt down 17 pieces of equipment and set up a miniature laboratory in your bathtub to do this. Homebrewing kits are relatively inexpensive and most importantly, convenient. They allow beginners to easily try their hand at making their own beer and give grizzled veterans a way to enjoy their hobby without breaking the bank. 52Brews reviewed 7 great home brewing kits for you.
Remember! Some kits are tailored to beginners, and some are best suited for slightly more experienced brewers. It's very important to know which is which! Also make sure to look at what equipment is included in each kit, as not every kit has a "standard" set of equipment. Make sure to understand all this before diving in and buying one – don't overthink it, but make sure you make an informed decision.
Also, read on past the reviews for a list of accessories and a FAQ on homebrewing.
You can also join a beer of a month club where get award-winning, hard-to-find unique beers shipped right to your door. It's a great way to expand your beer knowledge, your palate, and to perfect your craft as a brewer too.
---
7 Great Home Brewing Kits
IMAGE
PRODUCT

Premium-quality equipment
Perfect for amateurs and pros alike
Includes IPA beer recipe kits and an instructional video

VIEW LATEST PRICE →

Ideal for beginners
30-minute brewing time
100% Satisfaction Guaranteed

VIEW LATEST PRICE →

Perfect for yourself or as a gift
All-in-one starter kit
Makes 5 gallons of homemade beer

VIEW LATEST PRICE →

Easy to use
Finest quality materials
Easy to read instructions

VIEW LATEST PRICE →

Designed for a 5 gallon batch
Includes all equipment & tools to brew first 5 gallons of beer
Just add any recipe kit

VIEW LATEST PRICE →

Brooklyn Brew Shop Everyday IPA Beer Making Kit

Beginner-Friendly
Easy-to-follow video instructions
Inexpensive

VIEW LATEST PRICE →

Coopers DIY Craft Beer Making Kit

Designed for larger batches up to 6 gallons
Includes all equipment & tools
Easy-to-follow instructions

VIEW LATEST PRICE →
"As long as you use fresh high-quality ingredients and treat them right (homebrew kit), you'll enjoy a lifetime of great homebrewed beer." – Dave Carpenter, Brewer

---
#1 –

Deluxe

Home Brewing Starter Kit (

Editor's Choice

)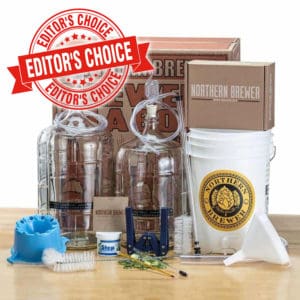 The Deluxe Homebrew Starter Kit includes an incredible package and is excellent for beginners and advanced
Brewery in a Box put this together with the highest quality products with amateur brewers in mind. These kits contain everything you need for quick, clean, and accurate execution of your craft beer recipes.
Though it's officially called a "starter kit," the name really doesn't do it justice.
This homebrew kit is excellent for beginners and has equipment that an advanced brewer would also happily use.
It comes with 2 carboys, bung and airlock, auto-siphon, bottling bucket and spigot, 2 adhesive thermometers, a full set of cleaning gear and much more. The only things not included are a kettle and beer bottles.
Also included are an instructional DVD guide and Chinook IPA beer recipe kits. This is perfect for any newbie or as a gift to someone looking to up their game in homebrewing.
This is an easy one to recommend, as it's truly one of the highest quality beer kits on the market.
Includes:
2 Glass carboys
Instructional DVD video and IPA recipe kit
Cleaning tools
Bottle capper
Tubing
Doesn't Include:
---
#2 – Mr. Beer

Premium Gold Edition

Home Brewing Craft Beer Kit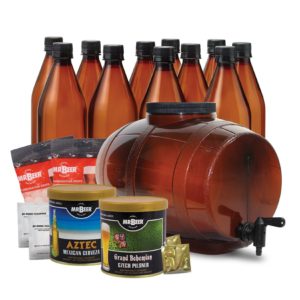 If you have never brewed before, don't feel intimidated – this product makes it easy and really affordable.
Mr. Beer brewing kits have just about everything you need to make your first beer. It comes with a fermenter, 11 25 oz. reusable beer bottles, yeast, carbonation tablets, and two different extracts so you can make two different beers at home.
One extract is the Grand Bohemian Czech Pilsner, and the other is the Aztec Mexican Cerveza extract. The only additional thing you need is a large pot, sanitizer, and thermometer to measure your wort's temperature (see best brewing thermometers for our recommendations).
With this kit, you can make up to two gallons of hops per small batch with other ingredients like hops, yeast, and grains. You can also test your carbonation and fermentation level for optimum drinkability.
These beer brewing kits make the beer process and system so easy you will be wondering why you didn't start sooner. It won't be long until you'll be able to share your liquid goodness with your friends.
Includes:
Ingredients
Reusable bottles
2 Gallon fermenter
Sanitizer
Two Beer Refills
Doesn't Include:
– or –
Read full review of Mr. Beer Brewing Kit
---
#3 – Northern Brewer Brew. Share. Enjoy.

Homebrew Starter Kit



This homebrewing starter kit is a brewer's best friend. It is one of the most complete packages on the market. You will literally be able to begin brewing craft beer the day you pick one up.
This home brewery kit not only comes with all of the necessary brewing equipment, accessories and tools required to make a small batch of beer or even gallons of beer, but it also comes with the ingredients and IPA beer recipe kits for an amber ale (malt extract, grains, and hops included).
This brewing kit includes amber ale ingredients also come with foolproof instructions which is perfect for beginners who are looking to learn.
This brewing kit even comes with a kettle and spoon. This largely outweighs the fact that its secondary fermenter is plastic rather than glass.
This home brewery kit is a great option. Honestly, the only thing you will need to complete the fermentation and brewing process and system is a set of bottles. The set even comes with the bottle caps (!)
Includes:
Kettle
Amber pale ale recipe
Bottle caps
Bottling capper
Cleaning equipment and accessories
Ingredients, recipes (malt extract, grains, and hops)
Doesn't Include:
---
#4 – Ohio RL-WKZ2-0IJS

Gold Complete

Beer Kit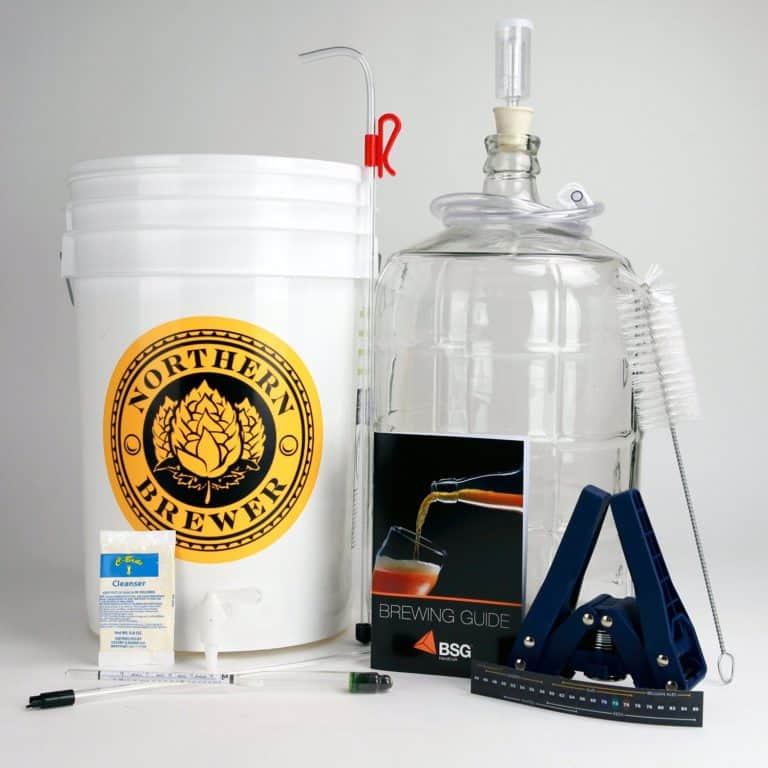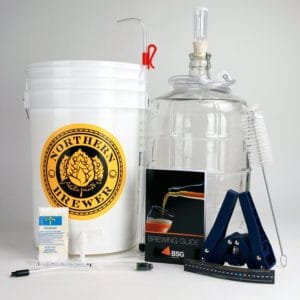 Whether you have several original recipes in mind or plan on brewing a clone, this home brew kit is going to get you the results you are looking for.
This kit includes ease of use and is put together with quality products.
It comes with complete easy-to-read instructions guiding you through the home brew setup as well as the entire beer making process, system, and service.
This setup includes all of the necessary brewing equipment to create, ferment, and bottle your amber ale.
It includes cleaning equipment, accessories, primary fermenter, secondary fermenter, a three-piece airlock, and more. The only thing this brewing setup doesn't have is a kettle and thermometer.
Includes:
Primary and secondary fermenter
Capper
Cleaning equipment and accessories
Glass carboy
Easy to read instructions
Doesn't Include:
Kettle
Thermometer
Bottles
Ingredients and recipes
---
#5 – Home Brew Ohio K6

Beer Homebrew

Kit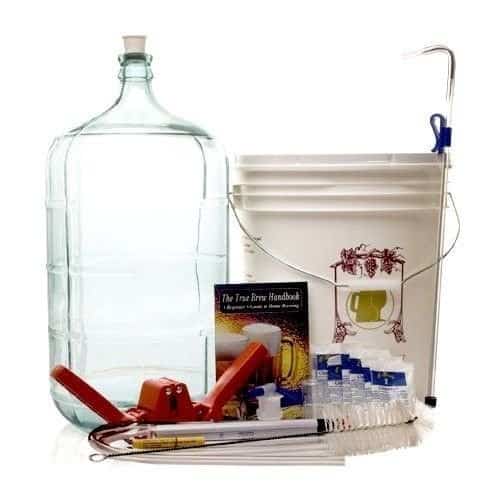 If you don't need a lot of handholding and teaching, this is a good pick. This beer brewing kit includes all the necessary equipment and accessories (especially for the fermentation process), and comes with easy to follow instructions that are not too pedantic.
This starter kit comes with a primary and secondary fermenter. It even comes with a hydrometer to measure the alcohol in your batch and a bottling spigot with capper to bottle your brews.
This can be used over and over again and also comes with the necessary tools to clean all your brewing equipment and accessories. The only addition that you will need is a recipe brew kit.
Includes:
Capper
Cleaning tools
Carboy and fermenting bucket
Doesn't Include:
Beer recipe
Kettle
Bottles
Ingredients and recipes
---
#6 Brooklyn Brew Shop Everyday IPA Beer Making Kit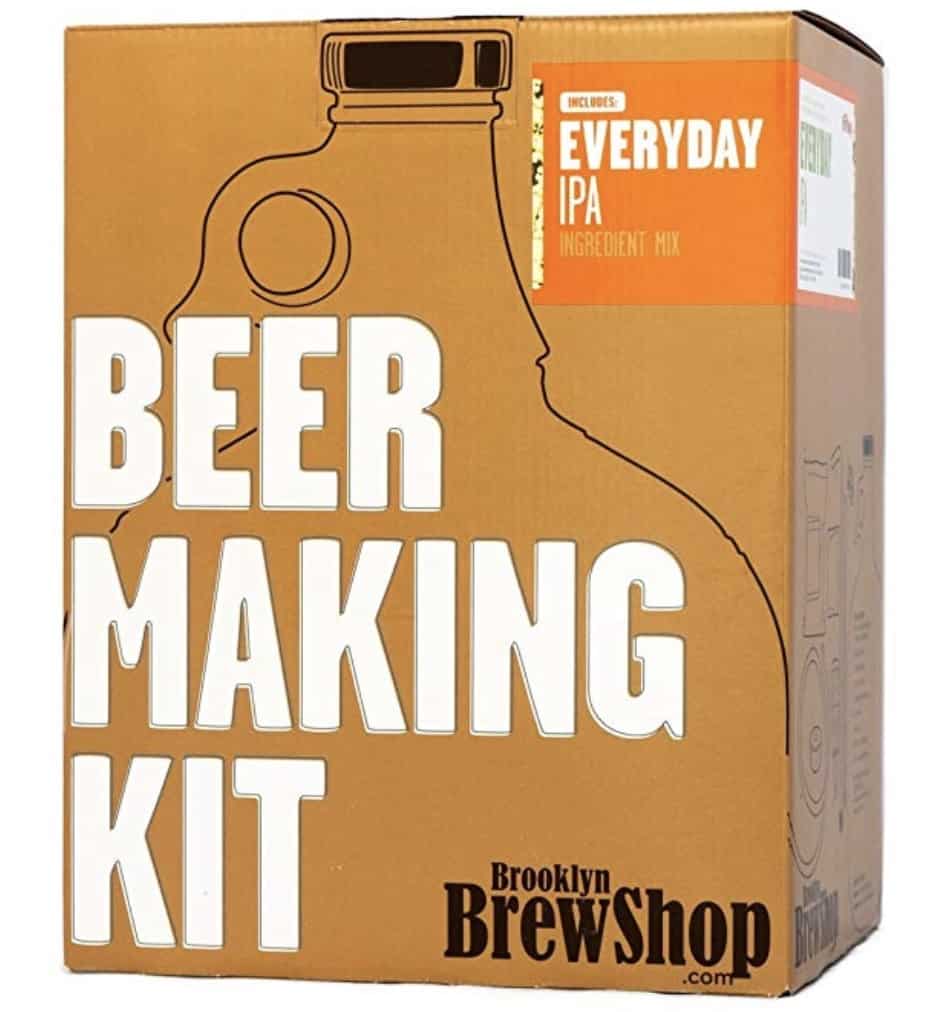 For anyone new to beer making and on a tight budget, this is a pretty good solution to get.
You'll receive the most important pieces of equipment, and as long as you have a kitchen and large pot to boil up the mash, then you're in business.
The fermenter is large enough for 1 gallon of wort, but keep in mind that once you strain and filter the finished product, you won't have a full gallon of beer.
The online reviews from customers are pretty positive, especially highlighting the easy to follow video instructions.
For small, occasional batches, this is a good option that makes a nice gift for father's day as well.
Includes:
IPA ingredients (other options available)

Glass fermenter

Chambered airlock

Foolproof video instructions

Thermometer
Doesn't Include:
---
#7 Coopers DIY Craft Beer Making Kit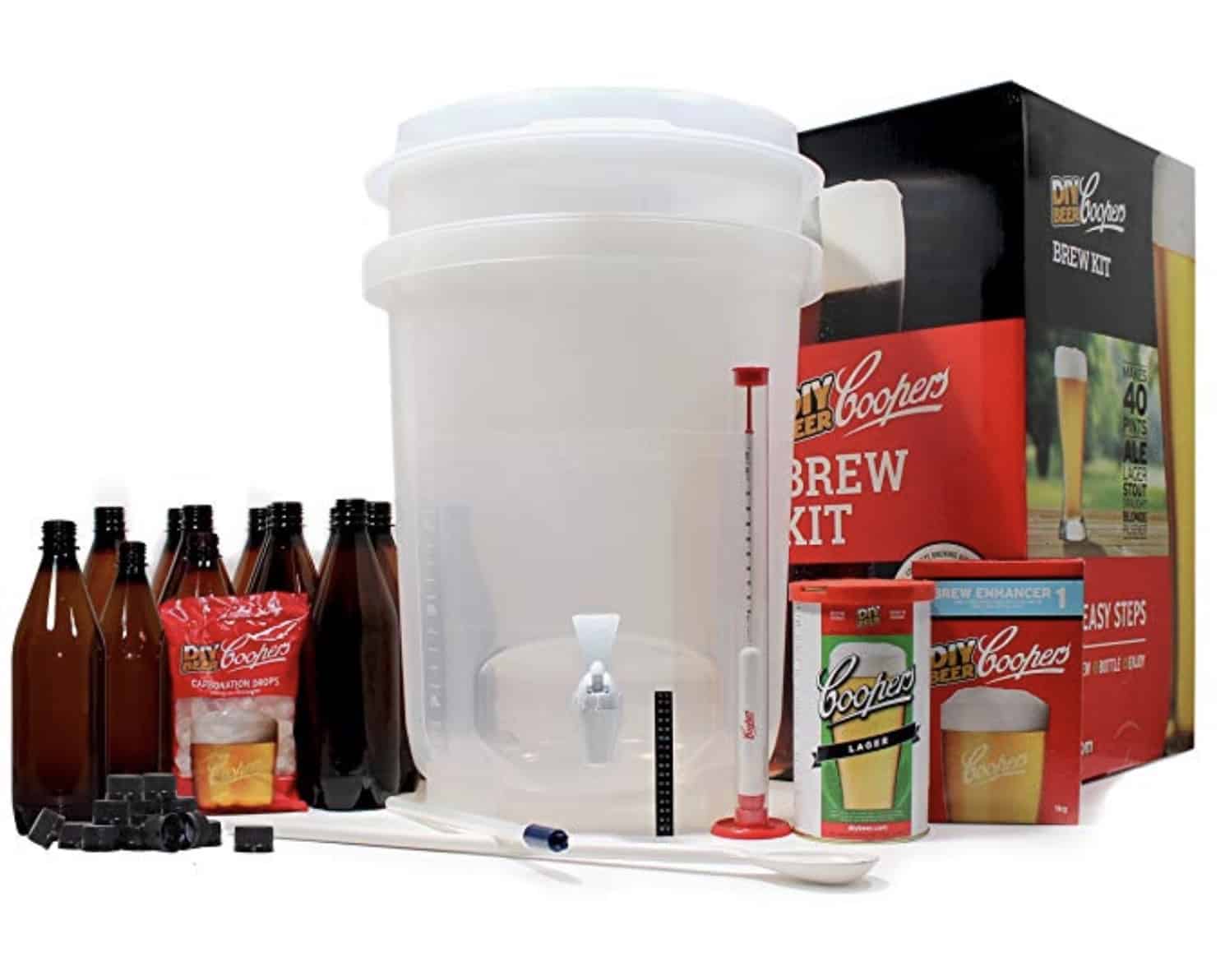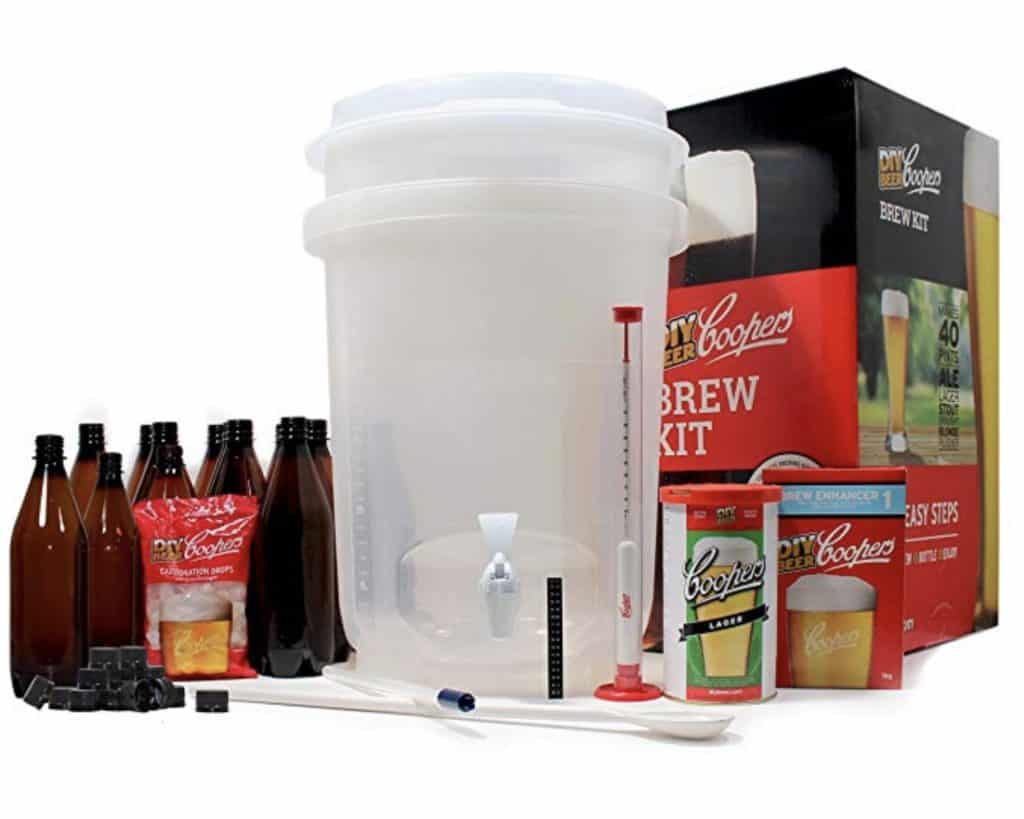 If you want to make larger batches without investing in very expensive equipment, then this Coopers kit is a good choice.
It has pretty much everything you need for creating your first batch, as long as you have a way to heat up a large enough volume of mash. A kettle is not included, and you'll probably have to invest in a large enough pot and gas burner to heat up 6 gallons.
Or you could make a smaller batch, of course… but where's the fun in that?
What a lot of reviewers highlight is that the bottling valve is quite convenient and saves some time.
Includes:
Easy one-step fermenter

100% natural ingredients

Hydrometer

Bottling valve

Bottles
Doesn't Include:
---
Comparing

Brew Making Kits

What is the best beer making kit for me? When you are considering the pros and cons of the various beer making kits on the market, keep in mind that there is no bad beer kit. Rather…

Consider what is going to best serve your needs and how much money you are willing to invest.

You may want to start small and add additional tools as the need arises. Or you may already have some things are just looking to expand your current setup. Or maybe you don't want to search for each piece individually and are ready to jump in, get your hands dirty, and go for the gusto!

Now, there's really no excuse for you not to create a delicious small batch of liquid goodness. These kits can produce literally any style of beer batch from pale ale to dry stout or hops depending on the available ingredients like malt extract, yeast, or hops.

Heck, you could probably create coffee and cider with these beer kits (most likely not). Pair your crafted IPA beer at home with some food and you have one hell of a combo.
---
Kit Essentials (
MUST-Have Items

)

The following items are essentials for all home brewing kits – these are the must-have items. Some items are usually free and are included in your brew kit.
Stirring Spoon
Primary Fermenter bucket or Carboy
Secondary Fermenter Carboy
Siphon
Bubbler/Airlock
Bottles
Measuring Cups
Cleaning tools
No matter if you're a beginner or advanced brewer, you should aim to get all these items as soon as you can. It will make your life a whole lot easier.
---
Kit Add-Ons (
Nice-to-Have Items

)
These accessories are nice-to-have products for beer making kits, but they aren't have-to-haves. In other words, it is possible to get by without them, but if you do get them, they can significantly assist you in the brewing process and system.
Carboy Carrier
Blow off Hose
Funnel
Additional tubing
Sanitizer Bucket
Hydrometer
Wine Thief/Turkey Baster
If you want the transition from a beginner to an advanced brewer, then you really need to get your hands on these.
---
FAQ
Is it actually cheaper to brew your own beer?
Yes, it's cheaper to brew your own beer than to buy it in-store. Even with a six-pack costing less than $10, you can get a hell of a lot of grain, malts, and barley for that. That said, for a vast majority of people, homebrewing is a hobby and not done for the purposes of saving money on beer.
Is all-grain brewing cheaper?
Yes, all-grain brewing is cheaper than extract brewing. You can buy several pounds of grain, malt and barley very cheap, but extract and concentrates are significantly more expensive.
How long does home-brewed beer last?
Home-brewed beer lasts about 12 to 18 months on average. The higher the alcohol and hop content the longer it will last. But with most simple homebrews being around 4% to 5% ABV they will be at their best for about 6 months, though perfectly fine to drink up to 12 months.
How long does beer take to make?
Beer takes about 4 weeks to make, mainly dependent on the style and alcohol content you're aiming for. The stronger the beer, the longer the fermentation process will take. For a basic brew, it will take about 2 weeks to ferment and 2 weeks to condition in the bottle.
Is it easy to brew your own beer?
Yes, it is easy to brew your own beer, and you don't even need a ton of specialist equipment. With some basic gear (like what we review on this page) and even simpler ingredients, you can have your first batch in a matter of weeks.
Do beer kits expire?
Yes, the ingredients in beer kits expire, and you should pay close attention to the dates printed on the ingredients. Also, once you open the containers or bags, you will need to use them a lot sooner than the expiry date because the quality will deteriorate rapidly after that.
How long will beer yeast last?
Yeast generally lasts for about 2 years in dry form. Each pack will also give instructions on what the expected deterioration will be. For example, some dry yeast may be still usable after 2 years, but only contain 50% of the active culture.
Can I reuse a home brewing kit?
Yes, you can reuse a home brewing kit as long as you clean and sterilize it after each use. Most kits are designed to be used many times over, and there are very few things that you will need to replace over time. By spending a little extra for a kit that has glass materials, you will increase the number of times you can use it.
---
What's The
Best Home Brewing Kit?
If you are just starting out, get the Deluxe Home Brewing Starter Kit by Northern Brewer.
Considering everything that you get, it's quite a good value. You won't have to worry about missing a step with the instructional DVD. The complete cleaning kit is also a must-have, and you can also use the bottling bucket as a sanitation station. This beer brew kit covers all aspects of the brewing process and provides you with the necessary tools to produce high-quality craft beers.
Buy it from Amazon by clicking on the image below.