The first cocktail that sparked a revolution in how we consume alcohol was a beer cocktail. Beer cocktails predate spirits-based or wine-based cocktails because beer was safe to drink, affordable, and readily available.
In the 19th Century, sailors were given rum rations on long voyages. To make their rations last longer, they mixed their precious rum with beer, sugar, water, and other ingredients, to form what was then known as grog.
In the 1980s, a simple beer cocktail made with lemonade called the shandy was popularized and reinvigorated beer mixology.
Nowadays, breweries are churning out excellent craft beers that have so many base flavors. These quality beers make delicious drinks that range from light and citrusy, tart and fruity, to chocolaty, malty, and decadent.
From caramel and malt flavors to grassy and fruity flavors, beer cocktails have taken over the drinks scene. If you want to learn how to make your own beer cocktail, read on.
Here are five beer cocktail recipes that you can whip up in minutes to impress your guests.
The 5 Best Beer Cocktails
1. Beergarita 
The idea of blending beer in a classic margarita is enough to send some people into a fit. But this simple recipe does work and will surprise you with its refreshing citrusy flavors accentuated with the malty taste of beer. A light Mexican lager works best, as it won't bring down the high notes of the limeade and tequila.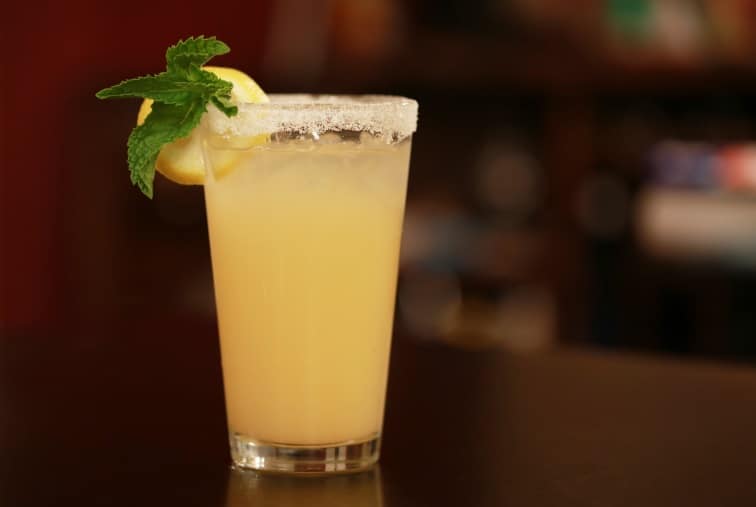 Serves: 4
Ingredients:
1 12-oz. chilled bottle light lager – use a Mexican lager if possible
8 fl. oz. chilled tequila
1 cup ice cubes or crushed ice
1 12-oz. packet defrosted frozen limeade concentrate
To Garnish:
1 lime, cut into eight wedges
¼ cup coarse sea salt spread onto a shallow dish
Directions:
Rub the lime wedges around the rims of 4 classic margarita glasses.
Dip the rims of the glasses into the salt to coat lightly.
In a medium-sized pitcher, combine the beer, defrosted lemonade or limeade, and tequila. Stir gently to mix.
Fill the margarita glasses with ice, and then pour in the margarita mixture.
Garnish with lime wedges to serve.
2. Peach and Apricot Beer Sangria
Spain meets beer in this fantastic fruity cocktail that will delight your senses. Use any craft beer or ale that's medium-bodied for this recipe as the peaches and apricots will hold up well to the beer.
Serves: 4
Ingredients:
2 oz. simple syrup
1 cup frozen peaches
4 oz. Pommeau de Normandie
1 cup frozen apricots
2 oz. fresh lemon juice
1 cup peach nectar
2 12-oz. bottles medium-bodied craft ales
Directions:
In a large punch bowl, stir together the lemon juice, simple syrup, peach nectar, and Pommeau de Normandie, and chill for up to a day.
When ready to serve, transfer all the contents to a glass pitcher.
Add the apricots, peaches, and beer, and serve immediately.
3. The Michelada
This classic Latin cocktail mix is made with beer, lime juice, spices, assorted sauces, chili peppers, and tomato juice. It is popular in Mexico and all over South America, and has variations on the recipe depending on the Latin nation making the recipe. This refreshing, savory cocktail is served chilled in a salt-rimmed glass, much in the way a Margarita is served. Full-bodied ales would do well in this mix.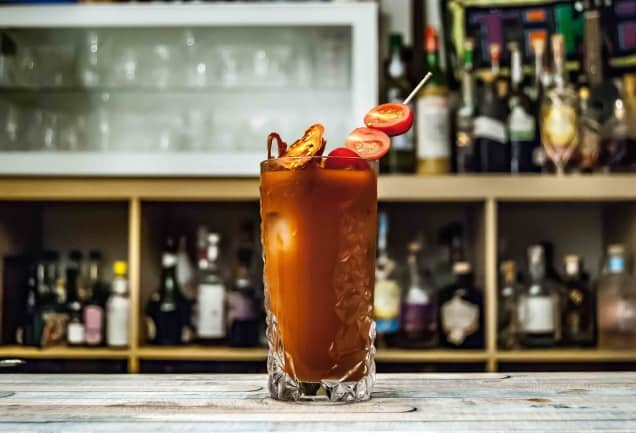 Serves: 4
Ingredients:
1 cup fresh-squeezed lime juice
2-8 dashes Tabasco
3-8 dashes Worcestershire sauce
2-8 dashes soy sauce
2 cups chilled tomato juice
4 12-oz. bottle chilled dark Mexican beer
4 cups ice cubes or crushed ice
To Garnish:
1 lime, cut into eight wedges
¼ cup coarse sea salt spread onto a shallow dish
Directions:
Run a lime wedge around the rim of four long glasses and then dip the edges into the coarse salt, twisting the glasses to ensure the salt covers the entire edge.
Fill a pitcher halfway with ice, and then add tomato juice, lime juice, soy sauce, chili sauce, and Worcestershire sauce. Stir all the ingredients to combine.
Slowly pour this mixture into the four long glasses and top up with beer.
Serve garnished with a lime wedge and enjoy!
4. The Guinness Ice Cream Float
We're now ready for a sweet beer cocktail, and what could be better than a Guinness Ice Cream Float! This Irish dessert cocktail is sweet and boozy, with decadent chocolate and caramel notes. For sweet lovers and beer lovers, what could be better than beer, whiskey ice cream, caramel, and chocolate?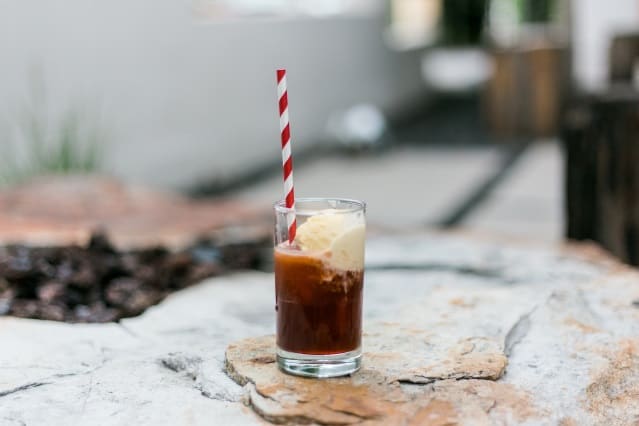 Serves: 2
Ingredients:
6 cups chocolate or vanilla ice cream
2 8-oz. shots Jameson Irish whiskey, or to taste
2 12-oz. cans Guinness stout
Chocolate syrup, to taste
To Garnish:
Whipped cream, to taste
Caramel, to taste
Chocolate shavings, as desired
Directions:
In a heavy-duty blender, mix the ice cream, Guinness stout, and whiskey.
Take two long glasses and pour in the chocolate syrup, swirling to coat the bottom and sides.
Pour in the blended stout mixture, and top with whipped cream, caramel, and chocolate shavings if desired.
Enjoy!
5. The Beer Mojito
Latinos seem to have gotten beer cocktails right, and this beer mojito from Cuba is no exception. The rum works perfectly with the beer, lime juice, and mint, to yield a refreshingly delicious summer cocktail.
Serves: 2
Ingredients:
20-30 fresh mint leaves
2 oz. Bacardi white rum, or to taste
2 oz. freshly-squeezed lime juice
1 12-oz. chilled bottle light Mexican or Cuban lager
To Garnish:
2 mint sprigs
2 lime wedges
Directions:
In a pitcher, muddle the fresh mint leaves and the lime juice until both flavors have mixed in well together.
Fill long glasses halfway with ice and then add in the white rum.
Stir gently and top with the beer.
Garnish each glass with a lime wedge and top with a sprig of mint.
Serve immediately.
Favorite Beer Cocktail Recipes: Final Thoughts
So, there you have it: five excellent beer cocktails that will take your beer mixology skills to the next level.
If you were a skeptic, perhaps we have convinced you of the merits of beer cocktails. If you have tried them before, maybe these simple beer cocktail ideas will inspire you to make your own at home.
Do you have any beer cocktail recipes that you think are worth trying? We'd love to know your thoughts in the comments below.