Mexican beers come from a long beer brewing tradition. What would surprise most people is that they are mostly influenced by German and Austrian techniques. These were introduced by immigrants in the 19th century, resulting in many of Mexico's top beer brands still using these techniques today. This is why many Mexican beers you drink today take after various European beers you drink. One difference, however, is that Mexican beers are often found to be more crisp and refreshing than the more eastern produced beers.
There's obviously a couple Mexican beer brands that you've likely already tried – beers such as Corona, Modelo, Dos Equis, and so on. Other brands that you may not have heard of are growing in popularity, so it's important that you learn what they are so you can give them a try!
While beer is a large market in Mexico, it hasn't quite surpassed the sales and exports of Tequila. If you're interested in the spirit that can only be produced in Mexico, check out Barrel and Brew's review of Espolon Tequila Blanco.
Michelada
One popular Mexican way to enjoy a beer is as a michelada. A michelada is a beer cocktail that is commonly known as a Mexican Bloody Mary. It uses Mexican beer as the base, tomato or clamato juice, lime juice, various sauces such as Worcestershire sauce, and is served with a salt rim over ice. You can read more about Micheladas and the best beers to make them with HERE! Many of these beers show up on both lists, some even offer Micheladas in cans.
Mexican Craft Beers
A majority of the most popular Mexican beer brands are mass produced lagers, consisting of both light and dark options. The craft brewery market hasn't quite reached the heights of what we see here in America, but there are some options out there. So, without further ado, here are the 15 best Mexican beers, some of which you'll know and others that are new to you.
Best Mexican Beer –

The Top 15
---
1. Tecate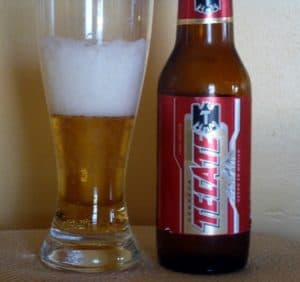 We ranked Tecate at the top of our list because it is the best mass-market Mexican beer by far. Tecate was first brewed by miners looking for a refreshing beer after a day underground.
It has a delicious blend of malt and hops, and as far as pale lagers go, it's definitely not bland, thanks to its Vienna lager-style history.
With a 4.6% ABV, it has an average strength as well, which makes it really easy to drink.
---
2. Negra Modelo
Negra Modelo is a traditional premium lager with a richer and smoother taste to it that would be common in such light beers.
This is thanks to a slower brewing process, which also gives it the slightly-stronger-than-average 5.4% ABV.
Definitely give this a shot if you come across it. It's particularly nice if you want a dark beer to go with heavier Mexican dishes.
---
3. Victoria
This Vienna-style lager is one of the more traditional beers to come from the Grupo Modelo brewery. Its taste and aroma are deeply rooted in Austrian pilsner styles.
It's not as easily found outside of Mexico as some of its more popular export competitors, but it continues to gain in popularity.
At 4.0% ABV, it is one of the lower strength options that will suit a lot of people.
---
4. Bohemia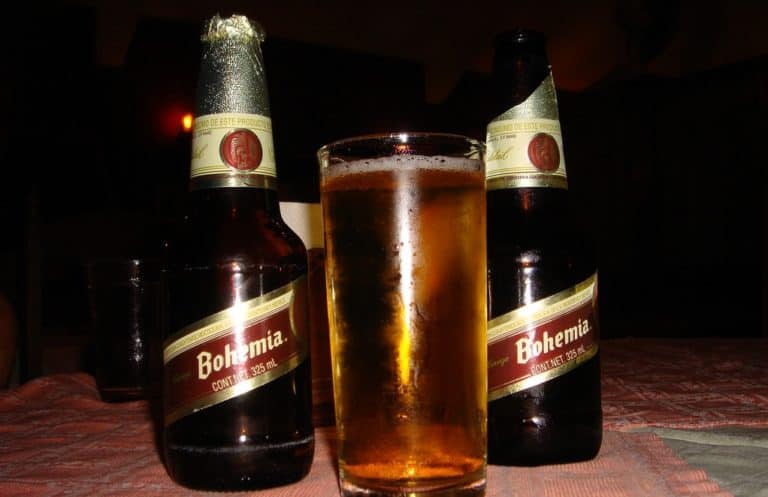 This Mexican beer brand is possibly one of the palest we have encountered, but the aroma is rather pleasing with some sweetness from the grain that balances off the bitter hops.
With an ABV of 4.7%, it is very much in the average range on this list.
---
5. Corona Extra
This Pilsner-type beer is extremely popular throughout the world, being perhaps Mexico's most famous beer worldwide (sorry Corona Light). Famously, it's usually consumed with a lemon or lime slice rubbed on the rim of the bottle, or even inserted into the beer. Some say this is to avoid flies hanging around the bottle, while others say it's for the flavor. Either way, it's delicious and we recommend it!
Another interesting fact – Corona is popular in Spain, where it is marketed as Coronita as a mark of respect to the Spanish royal family. [1]
At 4.5% ABV, it's at an average strength that is very refreshing in the summer.
---
6. Dos Equis
Dos Equis Amber is a lager with a richer and more full-bodied aroma than most of the previous ones on this list.
It has a lot of similarity to German Oktoberfest-style beers and has an ABV of 4.7%.[2]
It has grown tremendously in popularity outside of Mexico in recent years due to the advertising campaign with "The Most Interesting Man In The World." Also, if your Spanish is weak and you couldn't tell the connection – "Dos Equis" means "Two X's," the brand's name.
---
7. Sol
Sol is a great option for those of you who like to drink lagers that are quite light on the palate. It's very similar to Corona, though much less popular.
It's an ideal refreshment on a hot summer day and will go well with pretty much any food.
The 4.5% ABV is also pretty much in the average range.
---
8. Modelo Especial
Similar to Corona, Modelo Especial is a very pale Mexican beer with a nice citrusy hint to it. (And like Corona, feel free to add a lemon, if you like that citrus taste to be even more enhanced). The light color and taste make it ideal for your barbeques in the summer, and it will add a bit of a mix to the usual pale ale options.
With 4.5% ABV, it has become very much in demand on the American market. [3]
---
9. Pacifico
As the name implies, this beer has become one of the biggest Mexican export beers on the West Coast of the US. For this golden lager, we strongly suggest adding that famous Mexican slice of lime.
With 4.5% ABV, it's a suitable strength for most beer drinkers and – like most light lagers, especially Mexican ones – it's ideal for a hot summer day.
---
10. Noche Buena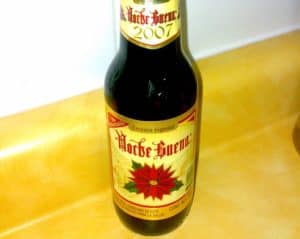 This has made it onto our top-ranked list because it's just a little bit stronger, which a lot of beer geeks will find quite appealing – and also it's very hard to find in Mexican beers.
With an ABV of 5.9%, it's more of a German-style Winterbock that is also a lot richer in taste, and is a very popular option among Mexican beers during the Christmas holiday season.
"Noche Buena" means "a good night," which you're sure to have as long as you drink this heavier ABV beer in moderation! 5.9% can sneak up on you, so go easy.
---
11. Leon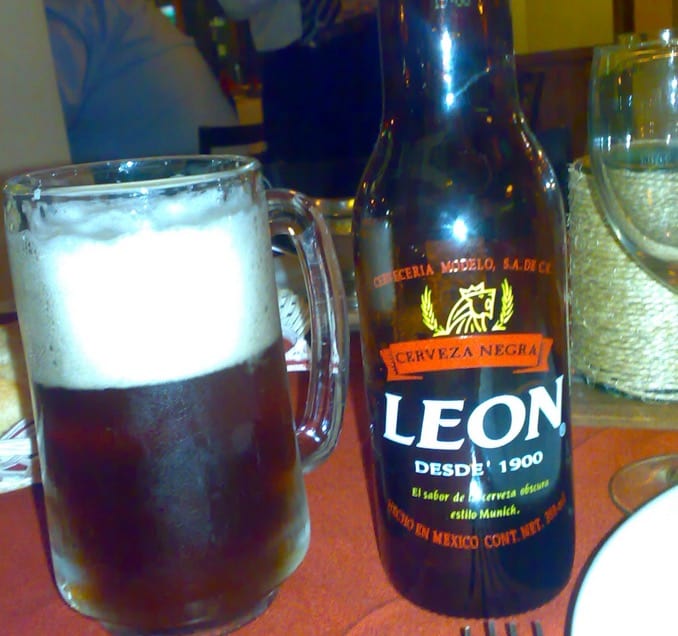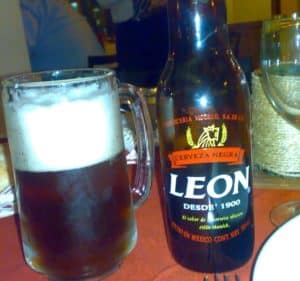 Surprisingly, this beer looks a lot maltier than it actually tastes. Quite dark in color for a Mexican amber ale, you would expect it to have a bit more flavor to it like a Negra Modelo.
You do get hints of that style, but if you're expecting something more full-bodied, you should stick with the Modelo.
The ABV is an average 4.5%.
---
12. Indio
Indio sitting at 4.1% ABV is still another great amber ale beer, though it is clearly very light on alcohol.
Slightly more malty-tasting, you will also get a hint of caramel that makes it quite unique.
Indio also has a mild sweetness that has become very popular with a lot of beer aficionados out there and can be a nice beer for variety if you are deep in repeating similar-tasting Mexican lagers.
---
13. Carta Blanca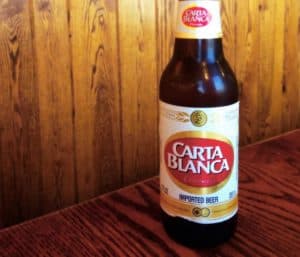 This brand is extremely similar in taste to Estrella, and most people will actually struggle to tell the difference. (Try it! Give your beer geek friends a blind taste test).
At 4.0% ABV, it is weaker than most, even the Indio, and that also makes it a little less flavorful too. However, for those who just want a fresh pale lager, it's still a great option.
Remember too that for long days barbecuing outdoors, or after-workout beers, or any other beer-drinking scenario where "refreshingness" is the key aspect of what you're looking for (or the ability to drink in large quantity without getting too drunk), beers like this are perfect.
---
14. Estrella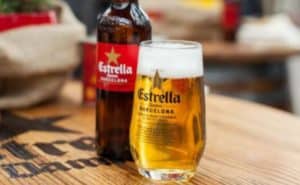 While this brand tastes very similar to Carta Blanca, Estrella is a bit stronger at 5.4%, which makes it a better option for most people.
It's also the only beer on this list that's not actually Mexican in origin, as it comes from Barcelona in Spain.
Still, it's a great option and is very common throughout Europe. [4]
---
15. Montejo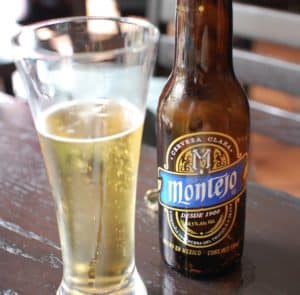 This is a relatively new beer from the southeast of Mexico that also follows a Pilsner tradition in the German style.
At 4.5% ABV, it's of average strength, and there isn't a huge amount to report on the flavor. But it is still quite a nice drink when you just want a little refreshment.
As you can see, we have put in a lot of "hard and grueling" work outside of office hours to come up with this list of the best Mexican brews. What is interesting is how many of them follow very traditional German brewing techniques, which adds to the appeal.
"Historically, the Mexican beer industry has been greatly influenced by German and Austrian immigrants."
– Jose Ruiz
---
Final Thoughts

on the Best Mexican Beer

Mexican lagers have become increasingly popular, not just in the immigrant community in the United States, but more broadly in the country and also worldwide – even in places with little to no Mexican immigration. This is a testament to the quality of the Mexican brewing tradition.

They have some of the best beers in the world, and the country is exporting increasing numbers of top-ranked (but less popular) craft beer products all over.

It hasn't quite outstripped the Tequila export market… yet.

There is quite a wide range of aromas available, so go ahead and give some of our favorite recommendations a try. These Mexican beer brands will be a great choice for your next party, BBQ or Cinco de Mayo celebration. Also, if you can't find any of the beers in the article at your local bar or liquor store, check out or link below for online stores where you can order almost any type of beer.

Gracias!