Are you a fan of wheat beers? Wheat beers contain just the right amount of sweetness and have balanced fruity, citrusy flavors along with a refreshing taste and light body that goes just about with any cuisine.
Weisbier, Witbier, Wheat Beer…?
Also often referred to as "weissbier" or "witbier" (German and Belgian names for each country's variety of this brew), it's been gaining in popularity for years now and is widely available in most bars.
What exactly is in wheat beer? Why is wheat beer different?
First, we'll take a look at the composition of wheat beer and then we'll give you our list of 7 great craft wheat beers to try.
Like other beers, wheat beers consist of three main ingredients: malt, water, and hops. What makes this beer different from the rest of the beers on the market is the influence of wheat malt. This ingredient makes the beer present distinct flavors, new tastes, head retention, and a smooth, cozy mouthfeel.
For a beer to qualify as a wheat beer:
It must contain 30 to 70 percent wheat malt as fermented content.
Use low-protein level wheat, usually between 13 percent and 14 percent. This aspect of the protein levels ensures that it does not affect the yeast and hops, which can hurt the fermenting process.
The wheat does not add to the beer taste but gives it a silky mouthfeel.
Proteins found in wheat make the beer thick, with a long-lasting creamy head.
By the way, if this sounds like Greek to you or if you wan a simple overview of brewing basics, check out our intro article on How Beer Is Made.
Now you know more about what constitutes a wheat beer, let's delve deeper into our seven top picks.
Our Top Picks For The Best 7 Wheat Beers
1.    Avery Brewing White Rascal
White Rascal is a wheat beer from Avery Brewing, a renowned Belgian brewer. This delicious beer has a zesty, smooth, and soft mouthfeel, with dense Belgian yeast aromas and fruit-based flavors.
It is popular among beer lovers thanks to its orange, citrus, banana, tangerine, and coriander notes that make it an excellent refreshment drink on a hot summer's day, or an accompaniment to snacks or light meals on game day.
Photo Credit: Avery Brewing website
White Rascal
ABV
5.6%
IBU
10
Estimated calories
168
---
2.    Wiley Roots Super 77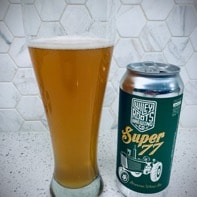 Wiley Roots Super 77 is an American top-ranking wheat beer. Brewed by Wiley Roots, this beer presents a clear, gold liquid with lingering white foam. It is crisp and light, but despite its light body, it has a creamy and smooth mouthfeel.
This beer is best for light drinkers as it does not have heavy alcohol content. The wheat's sweetness bundled with earthy flavors and a slight lemon finish, catapults this wheat beer into a class of its own.
Photo credit: Chris D on Untappd
Super 77
ABV
4.7%
IBU
0
Estimated Calories
141
---
3.    Allagash White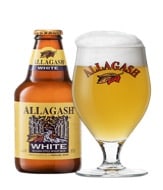 Allagash Brewing Company is the Belgian brewing outfit behind this excellent-tasting beer.
It follows the Belgian traditional wheat beer fermentation process that results in a tasty, zesty, and crisp beer. Allagash White has a light honey sweetness to it balanced out by slight but pleasant fruit juice flavors reminiscent of orange or apple juice.
Photo credit: Allagash Brewing Company
Allagash White
ABV
5.2%
IBU
0
Estimated calories
156
---
4.    Tioga-Sequoia Half Dome California Wheat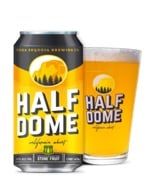 Tiago-Sequoia is the American brewer behind the Half Dome California Wheat. This top-notch beer derives its name from an attractive point in Yosemite National Park, where people enjoy hiking.
This beer offers a hazy and boozy unfiltered goodness, highlighted by a classic zesty, lemony taste. The beer has a bright gold appearance and quick fizzy, thin, white head. Earthy flavors and a wheat taste balanced with sweetness, really provide the body and depth that beer enthusiasts swear Half Dome provides.
Photo credit: Tioga Sequoia Brewing
Tioga-Sequoia
ABV
5.3%
IBU
17
Estimated Calories
159
---
5.    Odell Brewing Easy Street Wheat
Odell Brewing is a top-rated wheat ale American brewery.
They make no mistake on their wheat beer – East Street. This excellent wheat ale aims to offer beer lovers an "easy street walk" with a floral and citrus fruit-flavored beer.
This beer is light with mild hoppy flavors that make it taste not at all bitter, with a superb, rounded, and cozy mouthfeel. It is a smooth beer to drink, with or without snacks, the perfect wind-me-down afternoon drink on a hot and muggy summer's day.
Photo credit: Odell Brewing Co
Odell
ABV
4.6%
IBU
0
Estimated Calories
138
---
6.    Wynwood Beat-The-Meat Wheat – La Rubia
Get a feel of Southern Florida with this excellent wheat ale.
La Rubia uses ale yeast as the fermenting agent with added Citra hops to offer drinkers a genuinely tropical flavor reminiscent of the Southeast coast.
It has a solid yellow pour with golden highlights and fizzy, stable white foam. Beer enthusiasts love its buttery, almost caramel mouthfeel, which is above the board for beers with its alcohol content. This wheat beer has a crisp and Sahara-dry finish that leaves a clean, fresh taste in your mouth long after you've savored it.
Photo credit: Wynwood Brewing
La Rubia
ABV
4.4%
IBU
40
Estimated Calories
132
---
7.    The Referend Berliner Messe
Drawing its inspiration from Berliner Weisse of Germany, The Referend Berliner Messe is a renowned American beer.
It has a high proportion of raw wheat, and because it goes through months of fermenting, it begets a  crisp, clean taste. The beer has a hazy yellow color and thin, fleeting head that delicately settles over the pour, almost as if it can disappear anytime. The soft mouthfeel and sour fruit taste also put it right at the heart of wheat beer enthusiasts.
Photo credit: BeerAdvocate
The Referend Berliner Messe
ABV
3.5%
IBU
0
Estimated calories
105
The Best Wheat Beers: Final Thoughts
In a word, wheat beers have a mouthfeel that you won't forget once you've tried them.
In today's competitive beer environment, brewers are becoming more innovative when crafting their wheat beers to offer their customers new flavors that both surprise and delight. With wheat beers, you'll enjoy the high-quality, crisp sweetness and fascinating, sometimes fruity flavors.
Related Posts