Belgium has a reputation for having the highest quality beer in the world. Also, the country has about 230 active breweries producing some of the most sought-after brews worldwide.
Though that number compares to the number of craft breweries in the US, remember that Belgium has a population of just 11 million. Also, remember that while in the US it seems like everyone, their mother, their dog and their cousin has opened a craft brewery, in Belgium some of these breweries have been open for several centuries, or were opened by groups of medieval monks! Respect!
Belgian beers are famous for high quality, unique and nuanced tastes, and generally higher alcohol by volume (ABV).
The list below encompasses beers that you should be able to find outside of Belgium, though it may require some effort. Be aware too that some of these are more "seasonal" and may require a little patience to find!
Check out our list!
---
Our
Top 15

Belgian Beers
1. Duchesse De Bourgogne
This awesome Belgian beer is a perfect example of a sour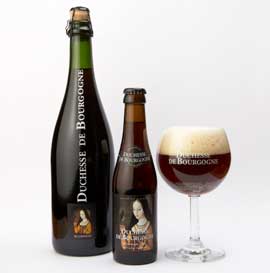 Flanders Red.
With a very tart flavor, this unpasteurized beer has a reddish brown color with a very earthy aroma from the oak barrels it's aged in.
Sours are becoming more popular these days, as the tangy acidity is very unique.
The ABV of 6.2% is a bit higher for a sour beer, which tends to be weaker generally – but works really well for this tart beauty!
---
2. Rodenbach Grand Cru
The Rodenbach family brewery has been making this red ale
 based on very traditional methods passed down through generations.
The dark red to brown color indicates that it does have some quite intense flavors. These are achieved by combining different aged batches of 1 and 2 years.
With a modest 6.0% ABV, it has a very fruity flavor that makes it very drinkable.
---
3. Orval Trappist Ale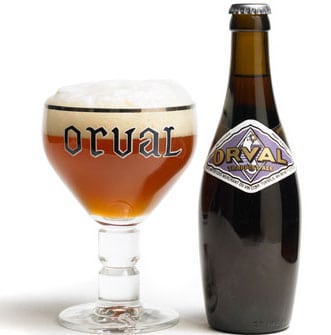 This Belgian ale is certainly one you shouldn't miss out on. It goes through two fermentations, with the second taking place in the bottle.
A fresh batch will have an ABV of 5.2%, but if you store the bottle for a few months, it can go up to 7.2%.
Before bottling, this ale also goes through a dry hopping process that gives it an extra dry taste. If ales are your thing, then don't miss out on this one.
---
4. Westmalle Tripel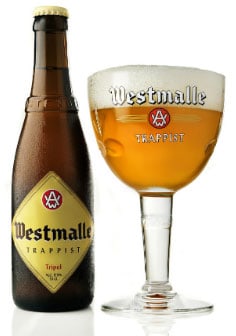 This Tripel has a wonderful spicy flavor to it that hits you immediately. Because of the rich flavors (and the high ABV!) you may not want to pair it with food. It's great on its own!
After all, that awesome aftertaste is something you want to savor, and not interrupt with anything else.
With a slight bitterness that reminds you of a Lambic ale, it is still very smooth and not overpowering at all.
The best thing is that it also has a sizable ABV of 9.5%. So make sure you don't have too many, even if you love it!
---
5. St. Bernardus Wit
One of the less well-known breweries is the Belgian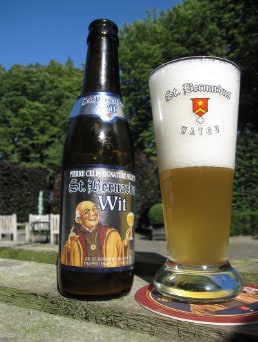 St. Bernardus, which makes this traditional white beer an absolute gem. [1]
When you pour it, you'll immediately notice the very light yellowish color with a dense head.
It has a very wheaty aroma with a nice tartness that makes it very refreshing.
The ABV is a little on the low side with 5.5%, but that just means you can buy a few more.
---
6. Duvel Tripel Hop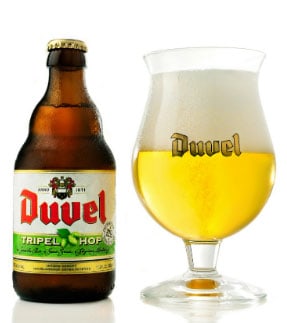 This Tripel is one of the more famous and recognizable beers to come out of Belgium.
It has been a very popular export for many years now, and you'll probably recognize the unique small bottles it comes in.
What's great about this one is that the brewers add three hops, with one of them changing every year.
So, if it's been a while since you had one, then chances are you're in for a whole new experience.
The ABV of 9.5% is also not too shabby at all.
---
7. Chimay Triple
We seem to be on a roll here with the Belgian 
Tripel beers, but no Belgian beer list would be complete without mentioning Chimay. [2]
With a slight bitterness, the flavor is distinctively fruity with a hint of raisins. It is an unpasteurized beer that isn't as acidic as would often be the case.
The ABV is 8.0% which makes it a great choice to go with a meat or poultry dish.
---
8. Cuvee Des Jacobins Rouge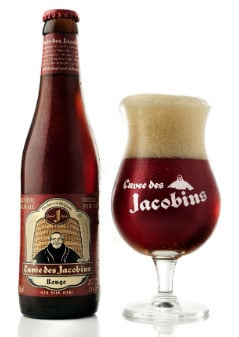 While it might be a bit light on alcohol with an ABV of 5.5%, this traditional Belgian Flanders Red is a pure unblended Lambic.
It is aged for 18 months which gives it the rich color and flavor, while at the same time not being overpowering.
The flavors are a wonderful blend of vanilla, cherry and stone fruit that linger for quite a while.
---
9. De Ranke XX Bitter
The Brouwerij De Ranke brewery brings you this 
more traditional golden ale.
It has a quite bitter flavor to it, despite having a relatively short fermentation and aging process. And it also has a long-lasting hoppy aroma that we all enjoyed.
As far as Belgian beers go, this is probably one of the weaker ones at 6.0% ABV, but sometimes that's a suitable option when you want to enjoy a few beers.
---
10. Boon Oude Geuze
This gueuze-style beer combines batches of sour beer from different vintages.
By taking a 1 to 3-year-old beer, it achieves a wonderful balance of strong flavors with light fruitiness. This is a very traditional brewing process that is making a comeback. [3]
The result is also a not too shabby 7.0% ABV, which is more on the strong side for a sour.
---
11. Bourgogne Des Flandres
The Timmermans brewery has created this reddish-brown ale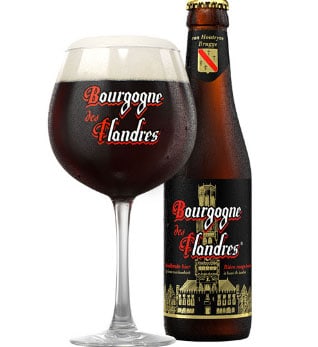 with a great balance of sweet and sour flavors.
It's one of the darker beers available, and you could be fooled into thinking it will be very heavy, rich and strong.
However, the richness is achieved from maturing in oak barrels for a relatively short time, giving an ABV of just 5.0%.
---
12. Lou Pepe Gueuze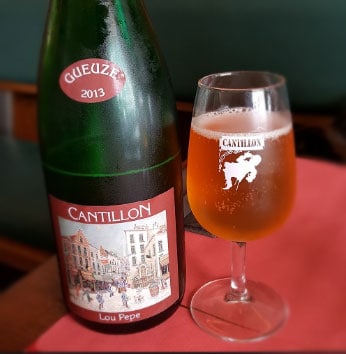 This might have the appearance of a pale ale when you pour it, but it's one of those beers that gives you a truly unique experience.
By combing Lambic beer of different ages (1 to 3 years), a perfect balance of sweetness and dry tartness is achieved.
It does have an ABV of just 5.0%, but the flavor more than makes up for that.
---
13. St. Feuillien Brune
If you like craft beers that have a wider selection of subtle
flavors, then this brown ale is going to be a great choice.
It has a malty sweetness that turns into a licorice and caramel aroma that you can just about make out.
It also has a more impressive ABV of 8.5%.
---
14. Goudenband
Another one of the stronger Belgian beers is this brew from the Liefmans brewery. Look out for a bottle wrapped in paper with a golden band underneath the label.
As a sour red ale, it has a great balance of sweet malts with a dry tartness that lingers for a long time.
In true Belgian tradition, it's fermented to a strong 8.0% ABV.
---
15. Brasserie Dupont Saison Dupont
Saison beer has a very long tradition in Belgium dating back to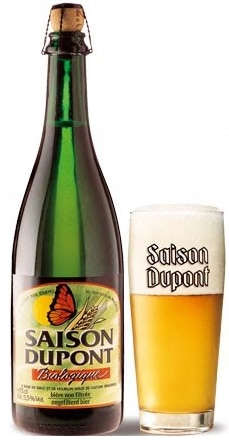 the 1800s.
In those days it was brewed in the farming off-season and aged until the summer when farmers would serve it to the workmen tending to crops.
Unfiltered, it has a bit of sediment that does add a fruity flavor.
The lingering taste is very dry on the palate, and the modest 6.5% ABV makes it a perfect choice for warm summer days.
"Because many specialty beers ferment in the bottle, some of the most famous brews come only in bottles." – Rick Steves.
---
Final Thoughts

on Belgian Beers

Belgian strong beers are famous throughout the world, and in recent years have seen increased exports to the USA.

As some of them are quite seasonal, it's best to regularly keep an eye out for them at your local beer specialist or online store.

Craft beers like Saison and Tripel are the best to get you started with, as they provide some of the most unique experiences.

Just remember to let us know what you bought and how much you enjoyed it.