People either love or hate the flavor of pumpkin! You only need to look at the heated debates around the famous pumpkin spice latte to see the emotions that this flavor inexplicably creates in everyone. Not everyone, therefore, might be excited at the prospect of pumpkin beer. But there are also some excellent craft beers out there that may change nonbelievers' minds and validate pumpkin lovers' defense of the controversial vegetable.
So how did pumpkin ale get so popular?
Pumpkin Beers – A Timeline
The brewing of pumpkin beer in the US dates back to the pilgrim fathers of the 1600s but was established in 1771. The first commercially produced ale came from Buffalo Bill's craft brewery in California in the 1980s.
This capitalized on the "pumpkin spice craze" that overtook so many consumer products. Breweries then attempted to create the level of success seen with the very similar Pumpkin Spice Latte, which increased sales exponentially for many coffee houses.
Here are our top pumpkin beer picks to keep your taste buds enticed this fall and holiday season.
Our Pick Of The 5 Best Pumpkin Beers
1.    New Belgium Voodoo Ranger Atomic Pumpkin Ale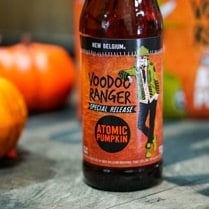 Ranger Atomic Pumpkin Ale is the latest addition from New Belgium that could count as the perfect Halloween beer. Count on sweet, pumpkin-spice flavors with a gentle kick from cinnamon and cookie-like malt and a peppery kick from fiery habaneros.
Wrap yourself up warm, curl up by the fire, and savor this warming sweet and spicy ale.
Photo Credit: newbelgiumbrewing on Instagram
| | |
| --- | --- |
| ABV | 6.4% |
| Calorie Content | 192 |
2.    Dogfish Head Punkin Ale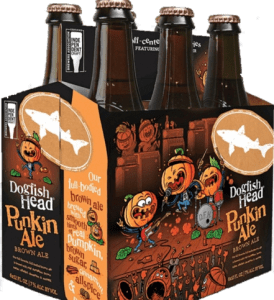 This pumpkin ale from Delaware is made with pumpkin, organic brown sugar, and several spices, including nutmeg and cinnamon.
It is full-bodied and intelligently spiced with an orangey-brown color and sweet pumpkin spice flavor.
The ale takes its name from the annual Punkin' Chunkin Festival held annually near Lewes, Delaware, on the weekend after Halloween.
| | |
| --- | --- |
| ABV | 7% |
| Calorie Content | 210 |
Photo Credit: halfpintaproom on Instagram
3.    Cape Ann Fisherman's Imperial Pumpkin Stout
Fisherman's Pumpkin Stout is a dark, almost jet-black stout enhanced by flavors of cinnamon, allspice, and nutmeg.
It uses real pumpkin in the brewing process to result in a robust stout with lots of head, and almost licorice and molasses taste.  This rich dark stout smells like milk chocolate and pumpkin and has a malty, creamy taste.
Photo Credit: beerstreetny on Instagram
| | |
| --- | --- |
| ABV | 7% |
| Calorie Content | 210 |
4.    Elysian Punkuccino Coffee Pumpkin Ale
Elysian's Punkuccino can be considered an upscale version of a Pumpkin Spice Latte. It packs a short shot of coffee toddy in your pint, elevated with hints of cinnamon and nutmeg.
The result is a creamy and flavorful ale that holds all the traditions of Seattle as a coffee mecca wrapped up in a brew.
If you love coffee and pumpkin spice latte, you'll be in heaven when you drink this craft beer.
| | |
| --- | --- |
| ABV | 5% |
| Calorie Content | 150 |
Photo Credit: mugginpoo on Instagram
5.    Cigar City Brewing – Good Gourd

Good Gourd is right up there as one of, if not the best pumpkin ale on the market today. It straight-up tastes like liquid pumpkin pie and features an impressive list of spices, including nutmeg, vanilla, cloves, and allspice.
Both novices and connoisseurs rave about its malty-sweet holiday flavor with an amber rust color reminiscent of the holidays. It's also 8.8% ABV, a little on the higher side, so you don't need much to get into the holiday spirit.
Photo Credit: majorleecheesy on Instagram
| | |
| --- | --- |
| ABV | 8.8% |
| Calorie Content | 250 |
Favorite Pumpkin Beers: Final Thoughts
What do you think of our favorite pumpkin brews? Do you enjoy them?
We feel that these high-quality brews will keep delighting you if you love pumpkin beer and change your mind if you don't.
They're sweet, spicy, nutty, and decadent, made with superior brewing technique and flavor, and will no doubt make your holiday season.