You love that feeling of sipping ice-cold beer poured fresh from a tap. This is part of the value of going to a bar versus just popping open a can at home. There's that something about draft beer that you just prefer. So naturally, you may have asked yourself: there must be a way to get draft beer at home – but how??
At A Glance: Our Top 5 Picks for Beer Kegerators
The answer is a "kegerator" (a keg refrigerator).

These aren't free, though, so it's not exactly an impulse buy. You'll need to study a little bit about them so you can make an informed decision.
Fear not, we got your "study guide" right here! Buy the right kegerator for you and your friends will thank you too 🙂
Also, scroll down past the reviews for some broader educational material about why you should own a kegerator and the different types of kegerators to consider.
---
52Brews.com'
Top 5 Beer Kegerators
IMAGE
PRODUCT

Thinner than standard models
Double-tap format
High-quality manufacturer

VIEW LATEST PRICE →

Large interior
Complete keg tapping kit
Built-in fan

VIEW LATEST PRICE →

Chills beer to arctic temperatures
High value for the price
Fits into any space

VIEW LATEST PRICE →

Fast spring-loaded tap
Nostalgic design
Affordable price

VIEW LATEST PRICE →

Affordable
Sleek design
Can fit a full keg

VIEW LATEST PRICE →
---
#1 EdgeStar KC2000SSTWIN: The
Best Value

for Money (

Editor's Choice

)
The EdgeStar KC2000SSTWIN has been the easy top choice for beer enthusiasts for years.
The kegerator with dual taps is the pricier older brother of the single-tap model (pictured) but comes with most of the same features (besides the obvious one – happiness on demand!).
Capable of cooling into the low 30's and equipped with a sturdy stainless steel frame, you'll be able to produce ice-cold beer for a long time.
It fits two 1/6th kegs or two "Cornelius Homebrew Kegs," each holding about 40 pints. If you want the best bang for the buck, we highly recommend this kegerator.
Pros
Chills beer down to the low 30s
Thinner than standard models
Double-tap format adds extra variety
Made by a high-quality manufacturer
Best bang for the buck
Cons
Higher price (but hey, you get what you pay for!)
---
#2 Kegco Kegerator: For High-End Shoppers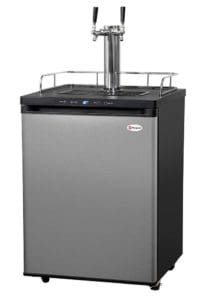 If you squint really hard, you could mistake this kegerator for a space-age droid.
Complete with digital temperature controls, a deep-chill instant cooling mechanism with just a click, and stainless interior ensure that NASA will come calling when it's time to provide the Mars Mission with some cold beer.
The price tag on this 2 tap kegerator is a bit on the high side. But, it's widely regarded as one of the best kegerators out there and everyone agrees, in a very positive sense with this product, you get what you pay for.

Another added bonus that customers enjoy is the flexibility of choosing between a full keg or two half kegs.
If you've got the money to spare and need a more industrial-strength model, then this one is for you.
Pros
Large interior – it can fit a oversized keg or two smaller ones
Includes complete keg tapping kit
Built-in fan
Cons
Pricey
The faucets included are not stainless steel
---
#3 EdgeStar KC2000SS: For Added Variety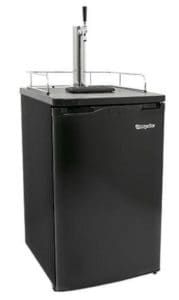 Nestled neatly between the compact mini models and high-end commercial products, the EdgeStar KC2000 kegerator is a decent kergerator . It combines durability and power—so you won't miss too much of the game—into a compact size.
This unit can fit snugly in your home without eating up all of your space (and your bank account).
It's capable of reaching temperatures well in to the low 30s and comes in two sleek colors, black and stainless steel (and single or double tap format). It gives you a bit of added flexibility with ¼ or 1/2-keg sizes.
Real beer enthusiasts will love the guardrail that supports glasses and prevents them from falling over (in case you're the type that enjoys your beer a bit too much!).
It doesn't have all the bells and whistles of a hi-tech commercial kegerator system (such as digital controls), but that's not what most are after.
Pros
Chills beer to arctic temperatures
High value for the price
Takes up less floor space
Cons
No digital controls
Slightly more difficult to operate
– or –
---
#4 Nostalgia KRS2100: For Fast Pours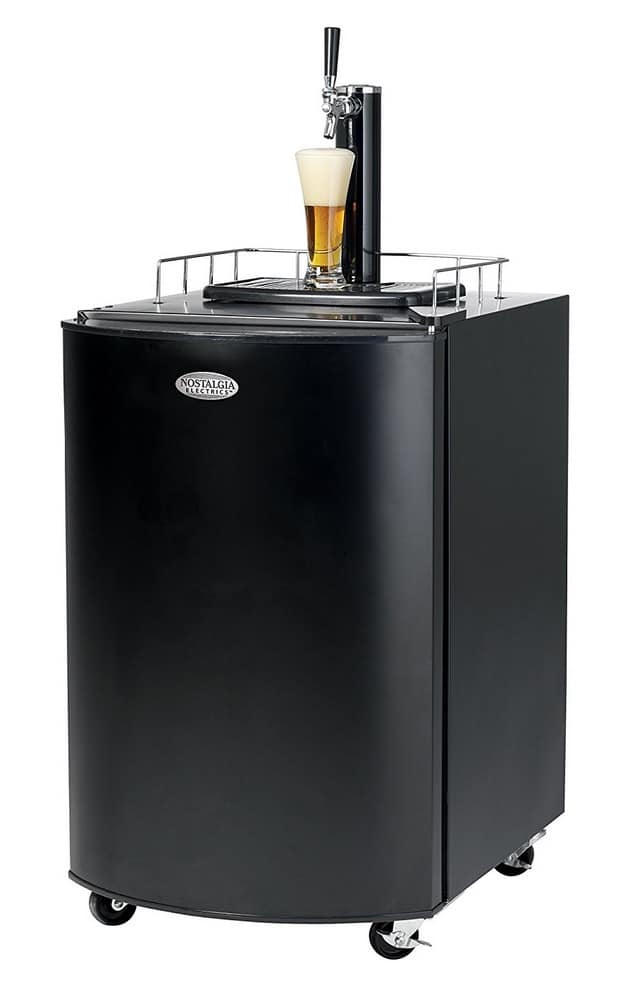 It may be number four on our list, but Nostalgia is a more bespoke brand with fewer dispenser models than competitors, and its reviews are great.

If you want a model that lets you pour beer quickly and easily, a Nostalgia kegerator will do just fine. It also has a really impressive feature: the spring-loaded tap for a quick, accurate pour. Don't let a thirsty crowd get grumpy by keeping them waiting!
Aside from the tap, its exterior is really a throwback to old(er)-school bars.
It's a good fit and doesn't take up much room if that's the look you're going for.
Another perk about this kegerator is that it can support anything from a 1/6th to a full ½ barrel of draft beer!
Pros
Fast spring-loaded tap for extra pressure
Nostalgic design
Affordable price
Cons
No dual-tap model
Not as good as similar models in the price range

Bulky curved door
---
#5 Keggermeister KM2800BK: A Good Budget Option
When we tried the Keggermeister kegerator model, we didn't expect too much since the price point was lower than most. However, we were pleasantly surprised.
It claims to keep beer fresh up to 3 months, and it can even fit a full-sized keg without taking up much extra space, giving you a decent amount of easy draft beer.
We liked the sleek design and the fact that it came with a neat chrome guard rail. But in the end, what stuck out to us was the price.
It's not as expensive as the other kegerators on this list, so if you are on a tight budget and need a basic model to keep your beer chilled, there's nothing wrong with it. Just don't expect to get too much extra.
It sounds cliche but "it does what it does" – no more, no less.
Pros
Affordable
Sleek design
Can fit a full keg
Cons
No extra features
Doesn't chill like other models
Slightly susceptible to damage on the back
---
What is a
Kegerator?
It's a combination of a keg-holder and a refrigerator (hence the name!) with a tap on top. [1]
It's designed to keep your beer chilled and let you pour as much as you want at will. Aside from being a beer dispenser and keeping a keg cold, kegerators also help you:
Save money on beer (buy in bulk with kegs)
Save time and money on homebrewing (kegging is more efficient than bottling)
Give you access to draft beer on-demand
Look really cool to your friends!
"The most efficient aspect of owning a kegerator is that it extends the life of your beer and allows for purchase and dispensing in mass quantity."
– Kegerators.com

---
The
6 Types

of Kegerators

For some of us, a compact chiller and a mini-keg are all we need to have fun. Some of us, however, think bigger. We're more ambitious. We're more fanatical.
That's the advantage of the modern beer-accessory market—anything you want, you can find.
But, that's also a bit of an issue too.
The sheer amount of kegerator choices makes it difficult to know where to start. We've put together this guide to the different types of beer keg refrigerators so you don't go home with the wrong one.
---
1. Freestanding Kegerator
Freestanding kegerators are what started the home kegging revolution. They allow beer enthusiasts across the world to enjoy fresh beer from the keg without needing to make a major investment in chilling infrastructure.
They are portable (usually on wheels), self-sustaining (meaning the chilling mechanism is located on the machine rather than externally), and, more importantly, they're more affordable than other types.
Note: All models featured in this guide are freestanding.
---
2. Mini (Tabletop)
Mini Kegerators (also known as tabletop or countertop) are perfect for a beer enthusiast who only needs a small pour. What you sacrifice in size you make back in price, convenience, and portability.
Just pick it up and bring it to your boat (you own a boat, right?), your friend's house, or the golf course!
There's a range of famous brands producing 5L kegs that fit right in (Heineken, Newcastle).
---
3. Built-in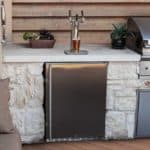 The more commercial cousin of the freestanding model is the built-in kegerator. These are built in (surprise!) to cabinetry or some similar structure and are usually used in bars.
Basically, they are used when the tap is needed on a countertop (like at the local pub).
What they lack in portability and affordability they make up for in specialized ventilation.
They cost more than freestanding models and require the right infrastructure, but are worth it if you want a classier faucet at home.
---
4. Commercial
This is for the big boys. Commercial kegerators usually have a massive capacity (up to 5 full keg barrels), are versatile (they have multiple taps and hold cans and bar accessories), and are extremely durable.
Their commercial-grade steel, security measures (locks), and interior lightning equip them to handle even the most raucous Saturday night pubs.
---
5. Outdoor
Nothing is better than a chilled glass or bottle of beer on your patio served from a chilled keg.
Outdoor kegerators are built for damp environments, so if you have a patio, pergola, terrace, or even just a damp area of your basement, they are the solution.
The rust-resistant exteriors and stainless steel components are hurricane-proof, just don't knock them over after a few too many!
Of course, the downside to the extra protection is the increased cost.
---
6. Undercounter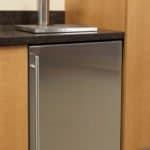 An undercounter kegerator is basically the same as a built-in one except it's usually more mobile. They are perfect for home bars and will fit snugly under your kitchen counter.
Some models come with wheels, but most are made to fit under a bar and have the tap pour over a counter.
We won't go into too much detail since they are basically the same as built-in kegerators.
---
4 Things to Consider

When Buying a Beer Kegerator
You've just spent the night savoring delicious kegged beer at a friends house, and now you're envious of his killer set up.
It's time to get your own, but you don't even know where to start. Sound familiar?
Most first-time buyers don't know what to consider when buying a beer kegerator, so we've put together a few guidelines for you to read.
Size: Kegerators come in all shapes and sizes—from minis to commercial behemoths that span the horizon. Most normal models are around 15-24 inches in diameter. Consider your size constraints—is it going under a home bar? Do you want it on your table top?
Maintenance: Kegerators don't come cheap, so you'll want to consider durability and maintenance. The more upkeep, the more headaches for you. More advanced models normally require extra cleaning or some tune-ups now and then. It's worth it for the quality, in our opinion.
Consumption: Are you a casual beer drinker? Or are you a rabid fanatic? Consider consumption levels before buying. If you just want to enjoy a beer after work from time to time, a mini will do. If you plan to have guests over and indulge, you may need 5 gallons or more. You don't want to have to store too many kegs.
Portability: It goes without saying that a larger model won't be very portable. Thankfully, standalone models typically come with wheels and are small enough to be moved about. Just know that if you get a built-in model, it won't be going anywhere anytime soon.
---
Kegerator Accessories
Beer tower cooler (kegerator tower cooler): You know what's better than an ice cold beer? An even icier, colder beer without foam.
If you're tired of foamy beer that warms up on the way from the keg to your mug, a beer tower cooler will put an end to that instantly.
Tap handles: It's time to add a hint of personalization to your tap. Pouring from a handle is nice, but pouring by pulling a guitar, supermodel, or branded handle is even better. The tap handle fits right over your tap and lets you pour beer in style.

Faucets:

High-quality faucets will keep your beer safe from mold and bacteria, and they'll do it in style. Choose from chrome or stainless steel and start pouring with a sense of class!
Cleaning Kit: Over time, mold, bacteria, beer stone and other impurities will build up inside your kegerator. A cleaning kit will make cleaning a breeze.

Kegerator Skins:

These are our favorite accessories. A kegerator skin is the awesome Halloween costume that your beer kegerator gets to wear all year round. Now you can fully show off your personality to everyone.

Drip trays:

A drip tray will keep your bar, countertop, and kegerator clean and safe from any liquid that drips from the tap.

Tap soother:

Also known as "caps", these fit snugly over the tap when not in use to protect you from evil fruit flies and nasty bacteria. They're a must for outdoor kegerators.

CO2 Regulator:

This device allows you to control the flow of CO2. If your pounds per square inch are too high, it's not only dangerous to work with, it makes pouring beer difficult too (which is way more important).

CO2 Tank:

Pretty self-explanatory here. A CO2 tank stores (you guessed it) CO2!

Beer Keg:

If you're brewing delicious craft homebrew, you might want to chill it in a keg. Why bother buying kegs from the store when you can make your own beer? Chilling in a keg is easier and can even produce higher quality beer.
---
Build Your Own

Kegerator (DIY with a Conversion Kit)
Want a home kegerator but don't feel like buying one? Chances are you've got one in your home already and don't even know it. [2]
It's possible to convert your fridge into a kegerator. All you need is a conversion kit. With a kit, you can convert any old fridge into an awesome keg chiller.
Just imagine being able to walk by your fridge, pull a tap planted on the front, and pour a delicious beer while getting food for your next meal.
Sounds like a dream come true. Basically, you just put the keg inside, set up a mechanism for getting the beer out, and install the handle.
"Simple"… right? Check out our guide: how to build a DIY kegerator.
---
Which
The Best Kegerator?
All of these models are great, but again, the top is the EdgeStar KC2000SSTwin. The quality is amazing and even though it's quite pricey, you will get the best quality any kergerator can provide. Like they say (again)… you get what you pay for. And when it comes to complex machinery like a kegertor and when you're talking about something as important as the machine that will serve your beer, you want to make sure you invest in quality!
The best part is how it chills beer down to arctic temperatures for an ice-cold pour. If you're just buying one for the first time, this is definitely the perfect model to start with too.
The investment is guaranteed to last and the quality is high. Can't beat that!