The quality and variety of non-alcoholic beers have grown tremendously in recent years. Beer, unlike wine, has spawned quality non-alcoholic alternatives that taste great and can match up to the alcoholic version.
Non-alcoholic beer has become so popular nowadays that major breweries like Anheuser-Busch, Heineken, and Peroni are incorporating low or non-alcoholic versions of their most popular beers to their mainstream product portfolios.
Beer Without Alcohol: A Timeline
Non-alcoholic beer was first brewed in the United States in 1919, a direct reaction to the Prohibition laws when only alcohol of lower than 0.5% ABV was permitted.
(If you're curious about this topic, check out our article on the history of beer in America)
These first non-alcoholic beers were dull and quite unappetizing, as the manufacturing process involved boiling away the ethanol, which interfered with beer's rich aroma and flavor.
In the last few years, however, new brewing techniques have made it possible to produce flavorful and high-quality craft beers that are entirely free of alcohol.
These breweries use arrested fermentation or vacuum distillation to ensure the alcohol level does not get too high.
Other brewers prefer to use less grain than usual in the fermentation vat or low heat to slow the rise of alcohol content in the wort. By using these new techniques, breweries can now create non-alcoholic beers with unique and enticing flavors.
Non-Alcoholic Beers Are Experiencing A Revival
In recent years, non-alcoholic beers have experienced something of a revival, especially in Europe.
Breweries are working hard to ensure their non-alcoholic beers taste just like the original versions to make them accessible to teetotalers.
Budweiser launched its non-alcoholic beer Prohibition in the UK and Canada in 2017, followed by Heineken with Heineken 0.0 in Europe and Israel in the same year. And it seems there two major beer brewers are onto something.
Heineken revealed earlier this year that those low and no-alcohol sales volumes had increased, delivering 6.9 million hectoliters compared to 6.3 million in 2018.
Furthermore, according to a survey done by Statista.com, the share of young Americans aged 18-29 years who drink non-alcoholic beer seems to be increasing.
Interestingly even cannabis growers are now brewing non-alcoholic beers as a diversification on their core business.
These beers are so good that even celebrity teetotalers like Robert Downey Junior, Natalie Portman, or Eric Clapton won't mind them.
YouTube: Non-alcoholic beers blind taste taste
So, what are the best non-alcoholic beers? We take a more in-depth look below to get you in the know.
The Top 7 Non-Alcoholic Beers
1. Clausthaler Dry Hopped
Clausthaler Dry Hopped is made in an alcohol-free brewery in Germany.It has a full-bodied and hoppy taste with hints of malty caramel and a hint of lemon. This amber-colored beer has the distinction of being the first of its kind.
It brings together German brewing mastery, and quality Cascade Hops imported from the USA. This unique combination makes for an unmistakable beer with a distinctive malty character and dark golden color.
| | |
| --- | --- |
| ABV | 0.5 % |
| Calorie Content | 15 |
---
2. Brew Dog Nanny State
A beer This West Coast-inspired beer has a distinctive caramel and hops aroma with a slightly bitter taste. Reviews have been very positive with beer lovers commenting on how it is full-bodied and full of flavor, with a hint of lemon. It pours excellent and sits in the glass with a bright amber color and an inch of frothy white head.
| | |
| --- | --- |
| ABV | 0.5 % |
| Calorie Content | 15 |
---
3. Athletic Brewing Co. Run Wild IPA
Athletic is one of the best craft brewers in the US and caters to younger Americans who love beer but don't want the alcohol or calories for that matter.
It has a subtle yet complex malt flavor, with a herbal and woody aroma. It pours hazy but has a beautiful amber color and with decent carbonation. Some would even say this is the beer for the non-alcoholic Millennial to savor with friends and in social settings.
| | |
| --- | --- |
| ABV | 0.4 % |
| Calorie Content | 13 |
4. Wellbeing Heavenly Body Victory Wheat
This non-alcoholic wheat beer is quite light but, surprisingly, with lots of beer flavor. It's perfect for sipping after sports, yoga, or during a hot summer's day.
This American-Style beer has lots of flavor and a slight citrus character that balances the lighter malt notes. It's grassy and wheaty, and incredibly light perfect if you don't fancy something substantial.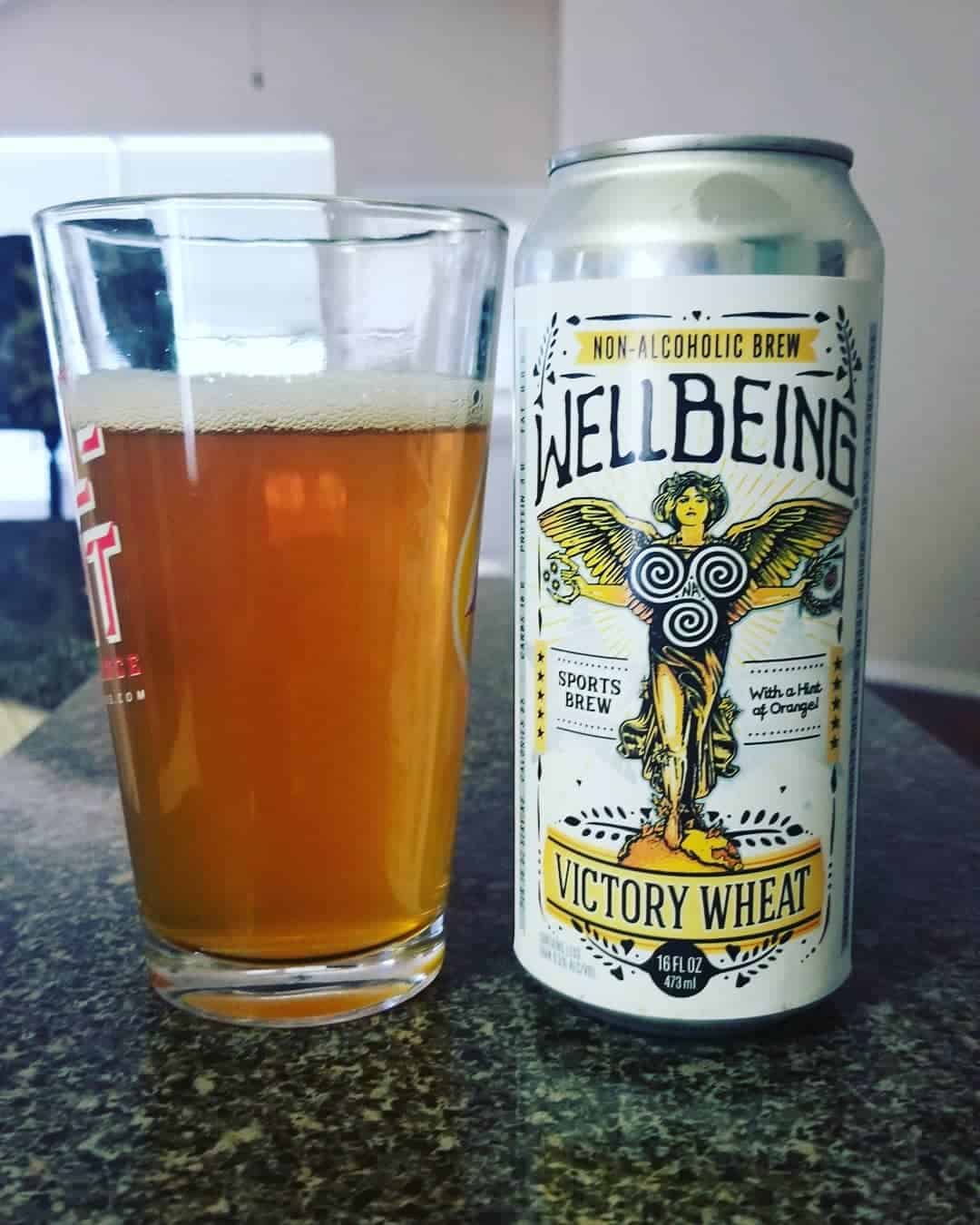 | | |
| --- | --- |
| ABV | 0.4 % |
| Calorie Content | 12 |
---
5. Kaliber
This European pale lager from the makers of Guinness is incredibly flavorful with intense malty and wheaty flavors.It features lots of caramel notes with a bready, cookie-like taste that's sure to satisfy.
If you love beers that are not too hoppy, Kaliber may be for you. It is the perfect sipping beer if you like them slightly bitter.
| | |
| --- | --- |
| ABV | 0.1 % |
| Calorie Content | 22 |
---
6. Peroni Libera 0.0
Peroni Libera is the latest non-alcoholic beer from Italy's Peroni under Asahi. It has citrusy aromas and hoppy characteristics that will please and delight your palate.
Peroni uses a "special decoction" brewing process that removes all the alcohol content while retaining the entire flavor. This beer has a sharp cereal and straw aroma with a hint of malt in the background.
| | |
| --- | --- |
| ABV | 0 % |
| Calorie Content | 22 |
---
7. Heineken 0.0
First launched in 2017, Heineken 0.0 is Heineken's impressive foray into the non-alcoholic beers sector. It is brewed twice and fermented with Heineken's unique A-yeast, and then the alcohol is removed to achieve an authentic malt lager with fabulous fruit flavors.
If you love alcoholic lager, this beer will please you with its slightly bitter and grainy taste, with just a hint of lemon and spices.
| | |
| --- | --- |
| ABV | 0 % |
| Calorie Content | 69 |
---
Best Non-Alcoholic Beers: Final Thoughts
The best part about non-alcoholic beers? There's none of the hangover and lethargy post-drinking session!
As the growing non-alcoholic beer sector shows, it is possible to make excellent and full-aroma, full-bodied beers without any alcohol in them that can resonate with a broader audience of beer and non-beer drinkers alike.