Making craft beer with an electric brewing system is like cooking with an electric stove instead of a campfire.
Brewing beer at home used to require hours of labor and complex equipment. Now it's as easy as getting a few packaged recipes and letting the machine go to work.
So, what is the best home electric brewery out there? Read on…
At A Glance: Our Top 5 Picks for Automated Electric Brewing System
Warning: An automated brewing system sounds like every man's dream, but it can quickly become a nightmare if you try to go cheap. Make sure you invest in a proper setup. You get what you pay for!

---
What's an
All-In-One Beer Brewing System?
An all in one beer brewing system is an automated electric brewing system that simplifies the homebrewing process.
"In the past few years we've seen a huge influx of countertop beer brewing machines and all-in-one homebrew systems that can heat water, mash, lauter, sparge, boil, chill, ferment and even dispense from the same unit. "
– Christian Lavender, Brewer

---
Our
Top 5 Automated Brewing Systems
IMAGE
PRODUCT

High-quality equipment
Great for DIYers
Authentic brewing experience

VIEW LATEST PRICE →

Easy to operate
Customization options
Easy to sanitize

VIEW LATEST PRICE →

All-in-one auto brewer
Easy to operate
Cool design

VIEW LATEST PRICE →

Brews large batches
Simplifies brew day
Has more authentic experience

VIEW LATEST PRICE →

The Beer Machine Model 2000

10-day waiting period
Fits in the fridge
Reader helps you gauge the brew inside

VIEW LATEST PRICE →
---
#1 The Grain Father (
Editor's Choice

)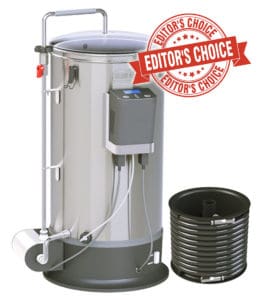 The Grain Father makes the process feel more "real" than just pressing a bunch of buttons. It's an all-in-one system that lets you be more a part of the process.
The sleek look and deep feature set come with a simple temperature control mechanism, allowing the home craft brewer plenty of control over their creation.
The recirculating mash lets you create all-grain recipes fairly convincingly.
The Grain Father comes with a stainless steel body, expandable grain basket (to to different types of grain), and a built-in electric gauze filter.
Many users struggle to get the temperature high enough at certain times of the year, so you might want to get this heat insulation jacket as well as an add-on to the Grain Father.
The Grain Father isn't as convenient as other models since it requires hands-on participation, but some DIY beer lovers will like that. You definitely need to follow the manual.
The work was worth in our opinion though, since the beer came out pretty delicious. Check out the video below to see it in action.
Pros:
High-quality equipment
Great for DIYers that live in small spaces
More authentic brewing experience
Cons:
The brewing process requires more experience and work
– or –
---
#2 PicoBrew PICO Model C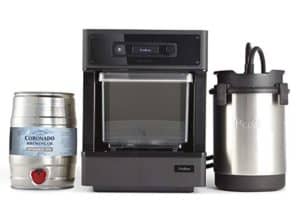 Next up is an automatic beer brewer – PicoBrew PICO. Light, compact, and easy to clean, this simple model was one of the first available on the market.
With over 100 PicoPak (recipes) to choose from made by award-winning breweries, its "BrewMarketplace" was what stood out to us.
What's really unique about this electric brewer is that you can easily adjust the beer to your liking or even customize your own PicoPak.

So, if you like your IPAs extra bitter (like you should!), just go to the company's website and adjust your recipes. Insert the PicoPak into the machine, press a button, and wait 10-14 days (you can monitor the process from an app). [1]
Then enjoy. Seriously, an all-in-one automatic brewer from the push of a button. Since you can brew up to 5 liters at a time, it brings the price a single beer down a decent amount.
Pros:
Simple to operate
Delicious ready-made recipes
Customization options
Easy to sanitize
Cons:
You are limited to the PicoPak recipe library
– or –
---
#3 BeerDroid
If you think the BeerDroid looks like something out of Star Wars, you're right.
The first thing that hit us with this electric auto brewer was the futuristic design and wi-fi connection.
What we liked about it was the simplicity—the LED screen tells you when it's ready to be kegged—and the brewing recipes—their "BrewPrints" recipes are all-natural and pretty tasty. [2]
The selection isn't as extensive or prestigious as #1 product, but it's still pretty good.
You can brew about 2.6 gallons and monitor everything through an app.
There is also a "Custom" setting that allows you to have more control over the process, but honestly, it didn't feel that authentic to us or worth the time.
In the end, the beer came out pretty good but didn't blow us away.
Pros
All-in-one auto brewer
Simple to operate
Cool design
Easy to clean
Cons
The inauthentic experience isn't offset by the quality
Small library of recipes
or
---
#4 PicoBrew Zymatic
We tried the Zymatic to get a more hands-on experience and brew larger batches.
The Model C (the little brother) is a great electric model for beginners or beer enthusiasts who want a simple machine at home to make good beer.
The Zymatic is for those with a bit more experience who want to be more hands-on. It really just depends on you.
This heavy-duty, stainless steel behemoth weighs in at 50 lbs and generates 2.5 gallons of brew per cycle (roughly 10 more beers than its little brother per batch).
The company allows the same access to their BrewMarketplace and the same customization options.
The difference is that the ingredients are pre-loaded into the machine. Since there is more work involved, you can bring the price per beer down further than others, but of course, it's offset by the workload.
The quality of the beer tasted the same to us.
Pros:
Brew large batches
Simplifies brew day
More authentic experience
Cons
Higher price point
More work involved
Requires internet connection
---
#5 The Beer Machine Model 2000
The Beer Machine Model 2000 requires some assembly and comes with a few confusing parts, including a plastic body that resembles an old-school pressure cooker.
That being said, it does come with some pretty cool features, including a custom pressure gauge to read brew quality, carbonation level, and dispensing pressure.
It even came with 6 reusable bottles. Honestly, the model is a bit of a conundrum—it's geared toward hobbyists and only makes small batches, but it's not nearly simple enough to set up and operate as other models.
Still, we got what it promised us: decent liquid gold in about 10 days. So it looks cool and makes some solid brew. We can't really argue with that.
Pros:
10-day waiting period
Fits in the fridge
Reader helps you gauge the brew inside
Cons
A bit more assembly than we liked
Not a lot of customization options
Plastic body leaves a bit to be desired
---
Other Honorable Mentions
Here are some of our runner up systems that are worth a mention:
---
How to Choose

the Best Electric Brewing System For You?

If you're new, this is the hardest part. In our opinion, these following 3 most important factors are the most important for electric brewing systems:
Batch Size: Do you drink more than socially (be honest!) or do you plan on having a lot of friends over to your man (or woman) cave?
Recipes: Do you want to be master of your creation or are you fine with recipes? Some models only let you buy from their library of recipes, so you can't actually make your own beer.
Work involved: The whole point of an electric brewer is to make your life easier, but some of us still want to feel like a brewmaster and not like we're using a Keurig to make coffee.
---
Automated Brewing System
vs.

Doing It Yourself
As much as we like the idea of doing away with the expensive electronic equipment and saving hours of our precious labor, there are still some benefits to doing it yourself.
Let's cover the differences between DIY and an all-in-one brewing system:
DIY:
You save money in the long run
Total control over your brew
A fun and passionate community
A sense of fulfillment
All-In-One Brewing System:
Little work involved
Great recipes from world-famous breweries
No expensive equipment to maintain
Great for beginners
---
What's The
Best Beer Brewing Machine?
After reviewing a bunch of these automatic brewers, in our opinion, it really comes down to how much convenience you want. You may enjoy brewing beer as much as the next person, but sometimes it's nice to have the machine do all of the work for you.
The Grain Father covers all of the bases — awesome beer, extremely simple to use, and unrivaled convenience.
Setup is incredibly easy, cleaning requires minimal effort, it can be stored easily, and best of all, the footprint is small enough that you can get away with brewing in the kitchen on cold winter days.
By following the instructions on the Grainfather app, you can hit precise target numbers on all our batches. This level of precision will really step your brewing game up and it's just something exciting for a nerd like me.
Note – if you want something more automated, with the machine doing all the work, then the PicoBrew PICO Model C may be for you. It's cheaper too, if the price is a factor.
If you want a greater degree of control when brewing, though, The Grainfather is a must.