When it comes to producing booze, France is most popular for their wine, of course – but don't sleep on the country's "bière." France's relationship with beer dates back to the country's rural past, when feudal farmers (and even Christian monks) produced "bière de garde," or "beer to keep." The beer was made in winter and stored for the summer when it was too hot to brew properly.
Nowadays, pilsners and lagers make up almost 90% of the French beer market. Nonetheless, French beers are varied and excellent well beyond those styles (you'll see we've picked lots of stouts). Check out our list below of the top 10 French beers!
[toc]
1. Demi-Mondaine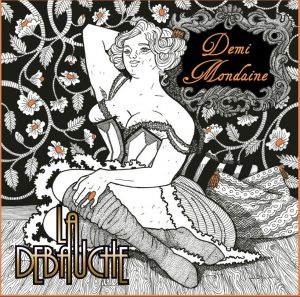 This is one the best French stouts. Produced by La Débauche, the Demi-Mondaine is a Stout Imperial beer with an impressive 11% ABV. 
You can easily taste a sweet, chocolatey coffee. This is from the coffee and cocoa beans that are added during brewing. As recommended by the producers, Demi-Mondaine should be enjoyed cold, around 50°F (10°C). 
This beer gets bonus points for the cool 1920s-inspired label! 
2. Brasserie Popihn Russian Imperial Stout (Hoppy People)

Photo: Brasserie Popihn via Facebook.
This Russian Imperial Stout is difficult to find. It is made by a small brewer in Vaumort called Brasserie Popihn, made in collaboration with Hoppy People. For context, in 2010, Vaumort had 347 inhabitants. It's a really small town, so – lucky for us – they take their beer seriously.
This stout has 11.5% ABV and 50 IBU. It's smooth and flavorful, with mouth-watering hints of chocolate and coconut, as you can expect from the label.
3. Coffee Stout Toujours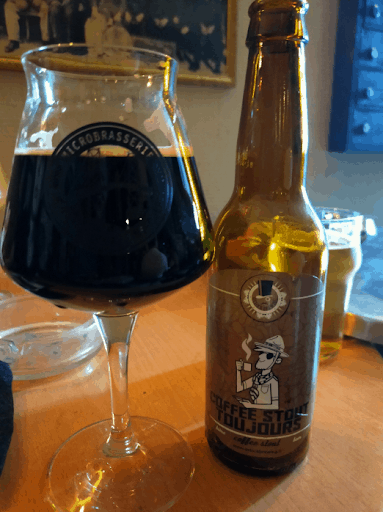 Photo: Owen F. via Untappd.
Another great French stout is Coffee Stout Toujours, made by O'Clock Brewing. It has 8.5% ABV with a dense body and strong coffee taste. If you don't like coffee you can also try the traditional Stout Toujours by O'Clock Brewing.
4. Mazout
Photo: Happy Road via Untappd.
The Mazout by Hoppy Road is a Russian Imperial Stout: thick, sweet, and deep in color. This flavorful beer feels like a desert, just like having a cup of coffee and a piece of a cake. Perfect for after. Before bottling, the Mazout is aged in rum barrels. It's made with barley malts, oatmeal, roasted rye malt, roasted barley, and American yeast.
5. Monstruous Fat Pig Stout Mexican Cake
Photo: Fab Z. via Untappd.
Yes. Exactly! Monstrous. That is how the "mother" (The Piggy Brewing) calls your son! The Monstruous Fat Pig Stout Mexican Cake is an Imperial Oatmeal Stout with 12% of alcohol that beautifully pairs with chocolate and believes it or not, vanilla milkshake!
This beer is powerful! The blend of ingredients, for the 1% of Bourbon that is mixed while cooking, give the beer a unique taste. Another ingredient that makes a difference is the little chipotle pepper also mixed. The pepper cuts the sweetness at the right level, making it a very special beer.
6. La Planche 3 Spois 2007
Photo: Vinck via Untappd.
The underground: La Planche 3 Spois 2007 by La Franche! This very special beer is a Blond Ale with just 5% ABV. 
France isn't all just dreary, grey Parisian skies. For sunny days – the French need a lighter beer 😊. 
La Franche is a micro-brewery focused on organic beer based in the Franche Comté, in Eastern France. 
7. Bière des sans Culottes Ambrée
Photo: Brasserie artisanale La Choulette.
La Bière des sans Culottes made by Brasserie artisanale La Choulette should be on this list to add a little variety beyond the stouts!
According to the producers, the Ambrée version is made out of aromatic malts and spices that emphasize its roundness. It has 9% alcohol volume.
The name, Sans Culottes, is a tribute to a group in the French Revolution of 1789. In the context of the beer itself – they "freed" beer from numerous taxes and constraints in its manufacture and distribution.
8. La Cagole de Marseille
Photo: Eus H via Untappd.
La Cagole de Marseille is a Pale Lager made by La Cagole Brewer with 5.5% alcohol volume. 
Straight from the beaches of Marseille, in the south of the country, the "Marseille" (Pale Lager) is the most famous beer La Cagole produces. 
You can find this beer all over France. You can also find the tap version (smoother and more flavorful, according to some) in lots of bars.
9. Bellerose Blonde
Photo: Eus H via Untappd.
The Bellerose Blonde by Brasserie des Sources: a Belgian Blonde with 6.5% alcohol volume and just 33 IBU – so, this is a very light and refreshing beer, but with a decent punch. 
10. Révolution au Paradis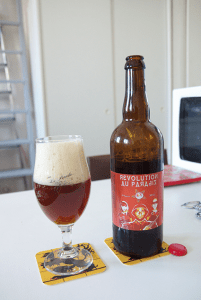 Photo: pablo69 via Forum Bière.
Révolution au Paradis by Brasserie Le Paradis: 6% alcohol, bitter, malty, "long in the mouth" but with delicious notes of caramel that stick to the nose. Vive la France!
Related Posts