Saison beers originated in the French-speaking part of Belgium, with the word meaning "season." The history behind the name is simple: this type of beer was originally brewed in the farming off-season, in the cooler months of the year. This is interesting because the flavor (generally dry and fruity) often lends itself to most drinkers' summer palate.
Saisons have a typical cloudiness, like so many other Belgian beers. It's also generally very highly carbonated, so be careful when you pour your first glass. It's easy to end up with a glass full of frothy foam!
Check out our list of 15 great Saison Beers for you to enjoy during any season!
---
Saison Beer: Our
Top 15

Picks
1. Saison Dupont

This one is as traditional as it gets, being bottle-conditioned and unfiltered.
You will notice the cloudiness, and there will be some sediment as well.
Make sure you shake up the bottom of the bottle a little bit, as the sediment does add a lovely flavor.
It also has a moderate 6.5% ABV – ideal for a summer BBQ!
---
2. Goose Island Sofie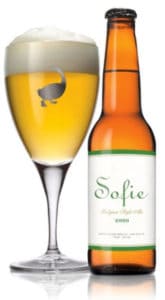 This Belgian Saison actually comes to you from Chicago, Illinois (where the famous Goose Island Brewery is based) and has been fermented with wild yeast.
It does make the process a little more unreliable, but the result is superb.
By adding orange peel during the aging process, it has a distinct fruitiness along with subtle spices and peppers.
The ABV is 6.5%, which for a Belgian beer is a little on the low side, but is within typical range for a Saison. Just means you can drink more of it!
---
3. Brooklyn Sorachi Ace
Brought to you from the famous Brooklyn Brewery in NY, this is one of the real traditional saisons easily findable today. They stuck to a proven method, and have created a truly great dry and fruity flavor.
It's also a bit stronger than others at 7.6% ABV, which is thanks to the secondary bottle fermentation using champagne yeast.
It's a perfect beer for hot sunny days with a light meal.
---
4. Boulevard Brewing Tank 7
This is another one of those beers for anyone who loves fruity flavors but really like higher ABV.
At 8.5% ABV, it is definitely one of the strongest saisons on the list, but the great thing is that it's not overpowering.
You will immediately get a citrus fruit taste, but the lingering flavor is more dry and peppery.
---
5. Allagash Saison
This beer is one of the driest we tested, which is down to the wide selection of hops that are added during open fermentation. This process is known to bring out more flavors and a slightly tart aroma.
It's also one of the cloudiest saisons on this list, but it does only have an ABV of 6.7%.
A great option if you want to enjoy a couple of drinks on a hot day.
---
6. Hill Farmstead Arthur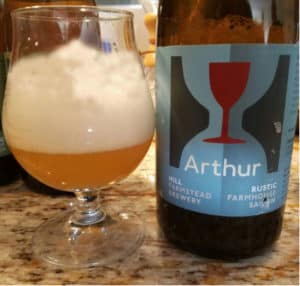 This is one of the most traditional farmhouse ales with a recipe and brewing process that is exactly the way it was hundreds of years ago.
Using a variety of hops, it delivers a wonderful dry aroma.
And because it is unfiltered and naturally carbonated, you don't lose any of the fruity flavors provided by malted barley.
Many people like beers in the summer that don't pack as much of a punch, which makes Arthur ideal at just 6% ABV.
---
7. Funkwerks Saison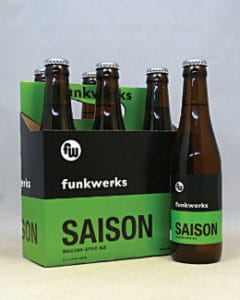 Colorado-based Funkwerks tried something a bit different with this creation – and it worked!
Traditionally, Saisons are brewed at cooler temperatures, but they decided to turn up the heat a bit.
Unlike the other beers on this list, this process does bring out a lot more fruity flavors that hit you immediately.
It still has a nice dry bitterness that lingers and an ABV of 6.8%.
---
8. Hill Farmstead Anna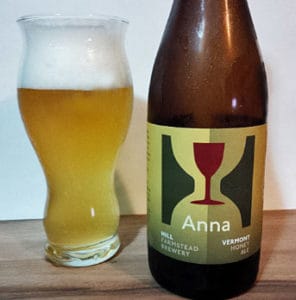 This is a similar ale as their Arthur (reviewed above), but not quite as "rustic."
It has a slightly sweeter flavor that is achieved by adding wildflower honey and extra malted barley to the mix. This gives it a less tarty finish that is smoother on the palate.
Keeping with the tradition of saison beers, it has a relatively low ABV of 6.5%.
---
9. Flora Plum
In this creation, Hill Farmstead decided to change things up a bit from a flavor perspective.
Different fruits have long been added to brewing processes of farmhouse ales, but this is the only one we're aware of that has plum added to it.
It's not overpowering, but you will notice the color is slightly more orange than the other ales they produce.
The ABV is an average 6.5%, making it one of those go-to beers for hot summer days.
---
10. Allagash Astrid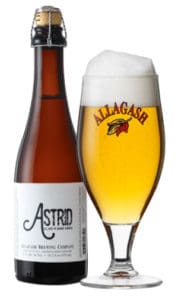 This is one of my personal favorite craft beers on this list, mainly because it is the strongest at 10.2% ABV.
This is thanks to a fermentation process that lasts a year, rather than the usual short period.
It has a much more tart finish that is similar to sour beers (see our favorites here)
While that's a deviation from tradition, the ingredients, including saison yeast, are kept the same.
---
11. Saison Bernice
The Sante Adairius Brewery in California brings you this Bernice which we recommend buying a couple of Drink one now, and keep another one or two in storage for 6 to 9 months.
It's one of those ales where Belgian yeast is added post-fermentation, which means that you can end up with a very different experience by letting it mature for a while.
The ABV is 6.5%, and because of that, along with the dryness, it's perfect for BBQs.
---
12. The Bruery Saison Rue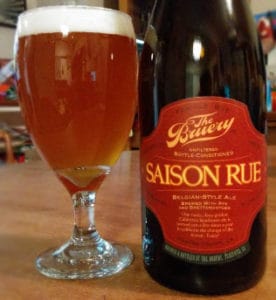 As far as saison beers go, they have to be fruity with a nice lingering dryness.
And that is something that The Bruery in California have managed to get perfectly right. The carefully selected hops make it very dry on the palate.
And by avoiding going overboard with different citrus fruit, it has a much simpler aroma.
Sometimes less is more, but you still get a decent 8.5% ABV.
---
13. Jolly Pumpkin iO Saison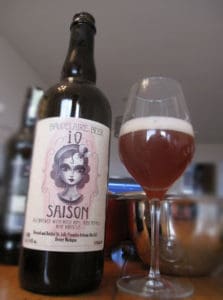 Not to be confused with one of those beers that have added pumpkin as a flavor, it is a bit more traditional and certainly not just for Halloween.
What does make it unique is that the lingering dry flavor from the hops is complimented with the aroma from rose petals, rose hips and hibiscus.
It's a wonderful combination with a modest 6.8% ABV.
---
14. Burial Separation Of Light And Darkness
We couldn't complete this list of craft beers without an option for those that do prefer the weaker beers.
In that sense, the Burial Beer Company have stuck with the original concept of creating a brew that is light, fruity, dry and not too strong.
The ABV of 5.5% is the lowest on this list, but it is still a delicious choice.
---
15. St. Feuillien Saison
The final recommendation on this list of beers actually comes from the country that first created this style of brewing.
This saison has a wonderful golden color that is a bit less cloudy than some of the others we tasted.
The local hops have been used for centuries and give you that wonderful dryness, along with a reasonable 6.5% ABV.
---
What is a
Saison Beer?
A Saison beer is a type of Belgian pale ale that has a very dry and fruity aroma to it.
It originated from the southern part of Belgium known as the Wallonia region, which has a very long history of creating some amazing artisan ales.
Of all the Belgian beer styles, it is probably one of the lesser-known ones. It also lost some popularity because traditionally it was brewed as a low alcohol beer in the winter months.
But for brewers, spring is the perfect season for Saison beers.
Thankfully, some breweries today have made sure that this doesn't become a light beer choice, and have made it a bit more alcohol-heavy for those who prefer their beers strong.
If you happen to spot one of these Saison beers, definitely give it a try, as it is a very drinkable tipple.
"Nowadays, seasonal beers can feel like a marketing ploy, but back before refrigeration, they were a necessity." – Anne Becerra.
---
Farmhouse Ale
vs

Saison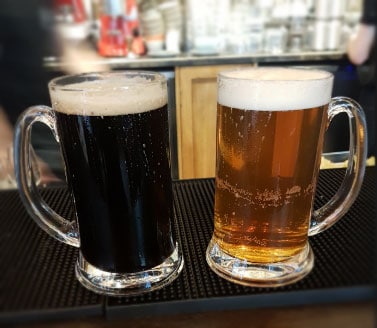 Essentially, farmhouse ale and saison refer to the same style of brewing that dates back to the 19th century.
Farmhouse ales got their name literally from the fact that they were brewed in farmhouses. At a time when agriculture required vast amounts of manpower, farmers would brew batches of beer in the off-season, ready to serve to workers in the summer months. [2]
It was never made for resale, and was always brewed in the agricultural off-season, hence the French term saison, or "season."
Today, you will find products marketed as both a Classic Saison and a Farmhouse Ale.
They're basically the same, and we challenge anyone who claims to be able to tell the difference to a blind beer tasting challenge.
---
Final Thoughts

on Saison Beers

Artisan ales like the saison are starting to come back into fashion, and if you're looking for something to go with pretty much any meal, then get your hands on some saison!

Even if you personally prefer much stronger beers, you will be pleasantly surprised at how much flavor these have.

Make sure you get a couple to compare, as they tend to have more unique flavor profiles in each beer as compared to lighter beer types such as pilsners. If you want to order some now, check out our recommendations of where to buy online!