Japan ranks in the top 10 countries globally both in the production and consumption of beer. Also, beer now accounts for two-thirds of total alcohol consumption in Japan. It's clear the Japanese love their brews. The Japanese are known to accompany their meals with beer, just as much as they are known to do so with sake – meals often begin with a beer before proceeding to other drinks – which points to just how popular it has become.
The most prominent distributors of beer in the Japanese market are decades-old breweries that produce a wide range of world-class beers, exported widely (lucky for us!).
Here, we feature the top five Japanese beers that you can easily find abroad and should make a point of trying if you're an ardent beer lover and want to expand your palate internationally.
1. Asahi Super Dry
In 1987, Asahi Group Holdings launched the beer that became one of Japan's favorites, Asahi Super Dry, which has gone on to sell pretty well internationally in Australia, China, the US, the UK, Italy, and Canada, and other notable global markets.
This refreshing, dry, draft beer has a subtle, sweet, and crisp taste, derived from the main ingredients—water, rice, maize starch, hops, and malt. Asahi Group uses a rare species of yeast to give the drink its distinct aroma and particular dry taste.
This pale golden rice lager pours lightly, forming light white foam. With Asahi Super Dry beer being a domestic No. 1 seller as well as a top international export, it appeals to many beer enthusiasts worldwide, especially lovers of light lagers.
Photo Credit: Asahi Super Dry beer on Instagram
Asahi super Dry Beer
 ABV
5.0%
 IBU
18
 Estimated Calories
150
---
2. Kirin Ichiban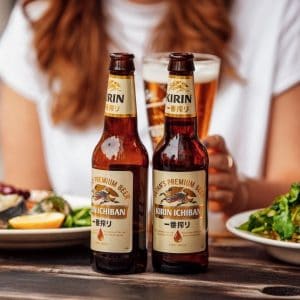 Kirin Brewery Co. prides itself on using only first-press wort, in Japanese known as "Ichiban Shibori." This unique Japanese brewing process, the use of first-press wort, is unlike other brewing methods and results in a more elegant drink with a unique and distinct taste.
This Beer consists of 100 percent malt, water, and hops, giving it a light pine aroma with a crisp and sweet malt taste. This lager also has a bright golden color and forms a fleeting white foam as it pours.
Kirin Ichiban is one of the best Japanese beers to serve as an accompaniment to Japanese food. In many sushi restaurants, Kirin Ichiban is not only sold in bottles and cans, but is also dispensed from taps, and goes very well with the available meal offerings.
Photo Credit: Kirin Ichiban U.K on Instagram
Kirin Ichiban
ABV
4.9%
IBU
18
Estimated Calories per serving
147
---
3. Sapporo Premium Yebisu
The brewing of Yebisu beer started in 1887, by the Japan Beer Brewing Co. Sapporo Breweries would later acquire the firm. But Sapporo maintained the distinct brewing methods used to produce Yebisu.
Since then, this beer has consistently ranked as a top seller in Japan.
Yebisu beer has sweet, thick, and creamy malt with a slightly bitter aftertaste. The beer pours light and golden and forms fleeting creamy, cozy, white foam.
Photo Credit: Pierre & Beers on Instagram
Sapporo Premium Yebisu
 ABV
5.0%
 IBU
35
 Estimated Calories
150
---
4. Sapporo Draft Black Label
The beer is one of the flagship products of its brewer, Sapporo Breweries, and it launched in 1977.
The beer contains mostly malt, yeast, rice, hops, and water. Sapporo beer has a malty aroma and is light, grainy, and hoppy to taste. The pale golden drink pours forming a large white fizzy head that satisfyingly stays on long after you've poured it.
Photo Credits: Sapporobeer.jp
Sapporo Draft Black Label
 ABV
5.0%
 IBU
  –
 Estimated Calories
150
---
5. Suntory The Premium Malt's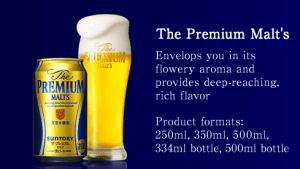 Suntory The Premium Malt's is brewed by Suntory Food and Beverage Co, which started operations in 1899. These are the same makers of Suntory whiskey, which you may have heard about (try it!). This award-winning beer consists of malt, pure underground water, and hops.
Suntory has a crispy, malty taste, and is light in flavor, leaving behind a slightly bitter aftertaste. It is also light golden and pours smoothly, forming creamy white foam that quickly dies down.
Photo Credit: Suntory.com
Suntory The Premium Malt's
 ABV
5.5%
 IBU
–
 Estimated Calories
165
---
Final Thoughts
With the growth in popularity of Japanese beer worldwide, Japanese beers are easy to find pretty much anywhere. In fact, almost all Japanese restaurants carry Japanese beer, so the beers on this list (and many others) are likely to be much easier to find. Try them!
Also, if you like international beers, check out the International Beer Club by Microbrewed! They mail you a selection of great beers from around the world each month.