In the market for a beer canning machine? Any one of these will make a great addition to your home brewing equipment, and each can be counted on to provide reliable service.

At A Glance: Our Top 3 Picks for Beer Canning Machines
Most home brewers simply opt to dispense beer right out of the keg, while others choose to bottle their brew for later consumption. But there are many reasons to consider the canning system instead.
With a good home canning machine, there is virtually no risk of your beer going bad.
You also won't have to deal with bottles exploding due to over-carbonation.
So if you think a can seamer is something that you could use in your own home brewing pursuits, read on to see our take on three of the best models available.
---
Our
Top 3 Beer Can Seamers
IMAGE
PRODUCT

Rugged aluminum construction
Reasonably priced
Flywheel

VIEW LATEST PRICE →

All-American Senior Flywheel with Adaptor

Durable
Hand-cast aluminum construction
Seals up to 150 cans per hour

VIEW LATEST PRICE →

All-American Electric Can Sealer

Quality and reliability
Easy to use
Cast aluminum

VIEW LATEST PRICE →
---
#1 All-American Flywheel Can Sealer (
Editor's Choice

)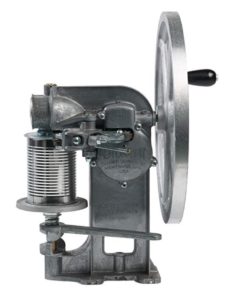 The All-American Flywheel Can Sealer (Model 225F) is a popular machine among home canners, mainly for three reasons: it is relatively inexpensive, it is reliable, and it is easy to use.
This last factor is possibly the most important for novices, as improper canning can cause a host of problems from flat-tasting beer to spoiled food, and even food poisoning.
Of course, there is little risk of food poisoning when brewing at home. Nevertheless, you still want to ensure the integrity of your product, and an easy-to-use beer can seamer is the best way to do that.
The 225F hand crank sealer is intended specifically for beginners, and no skill or experience is required to operate it.
The addition of a flywheel is what makes the 225F can sealer different from the purely hand crank-driven Model 225.
This makes the 'F' a lot easier to operate, giving you consistent results on your overall beer even without the use of electricity. Like the 225 can sealer, the 'F' hand crank seamer features solid cast aluminum construction.
More than able to withstand heavy home usage, this canning machine actually seems durable enough for commercial applications, as well.
Pros
Rugged aluminum construction
Reasonably priced
Flywheel makes canning easier
No experience required
Cons
Only compatible for No. 2 beer cans
---
#2 All-American Senior Flywheel Can Seamer with Adaptor
The All-American Senior Flywheel Can Seamer with Adaptor is considerably more expensive than the Flywheel variant.
For the money, you get the same robust build and construction as the aforementioned model, with high-grade aluminum giving it unparalleled durability and reliability. [1]
Unlike the Flywheel can seamer, the 'Senior' (Model 7502) is designed to handle No. 10 and No. 12 beer cans.
And with the included adaptor, you can just as easily seal No. 2 and even No. 3 cans.
According to the manufacturer, the 7502 canning seamer seals up to 150 cans per hour.
That pretty much gives you commercial-level canning capability at home. And because this sealer is equipped with a flywheel as well, secure seals can be achieved with much less effort.
Pros
Durable, hand-cast aluminum construction
Seals No. 2, No. 3, No, 10, and No. 12 beer cans
Seals up to 150 cans per hour
Cons
Quite pricey
Could be overkill for most home brewers
---
#3 All-American Electric Home Canning Machine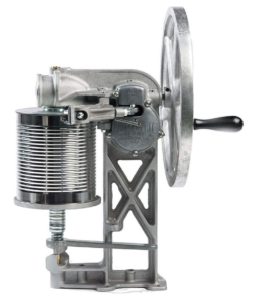 Like the 'Senior', the All-American Electric Beer Can Seamer (Model EL12253) is capable of sealing as many as 150 cans per hour.
This machine also costs a few hundred dollars more than the Senior variant.
Considering its even steeper price tag, this electric can sealer doesn't seem to add a whole lot of functionality right out of the box.
It can handle No. 2 beer cans just fine, but you will need to have this canning machine pre-configured if you plan to use cans of other sizes.
This isn't really a major issue, as All-American can sealers generally has a good reputation for accommodating the needs of its customers.
Nevertheless, it seems just a little odd that a home canning machine in this price range isn't able to accommodate a broader range of can sizes.
In any case, you can generally expect the same performance and reliability with the EL12253 can seamer as you would with the other models. It is just as easy to use, and consistent results can be achieved even without prior experience.
That said, the price of this canning is potentially the biggest stumbling block. Unless you are planning on sealing hundreds of cans a day, spending this much on a beer can sealer doesn't really make a lot of sense.
Pros
All-American build quality and reliability
Just as easy to use as the other models
Cons
Expensive for most home brewers
Only handles No. 2 beer cans out of the box
---
Our
#1 Beer Canning Machine…?
When it comes down to it, these three home canning machines really are more similar than different.
Basically variations on a theme, these can sealers offer unparalleled ease of use, rugged durability, and the trademark quality performance that the All-American brand has become known for.
So which one wins out? Our money is on the All-American Flywheel Can Sealer.
Every bit as capable as its higher-priced siblings, it is more than worthy of a place in your home brewing setup.
Sure you could cough up the extra dough for the Senior and be able to handle a wider range of can sizes. But for most home brewing equipment, the Flywheel can sealer is more than sufficient, and it offers the best bang-for-the-buck.