Christmas! It means the gathering of distant relatives, catching up, exchanging presents, seeing the kids run around the tree, and all the nice warm fuzzies you haven't gotten all year, all packed into one night, in the middle of winter… Or… it could mean sitting through never-ending conversations with that uncle you despise, hearing your nephews fight over the video game controller, or hearing an hour of your cousin talk about her latest boyfriend.
Beer can do wonders in both scenarios! Magical Christmas? Beer will act as an enhancer of those aforementioned warm fuzzies. Awful Christmas? Beer will get you through it a lot easier!
Since everything else in your life will be Christmas-themed from about mid-November to December 26, your beer should be too. Breweries have picked up on this trend and put out seasonal beers around this time, several of which we review below. Also, some beers are just the right type to consume in wintertime (and tap into that cozy Christmas vibe), so we've reviewed those too.
Christmas Beers are traditionally heavier, more full-bodied, darker and just a better overall fit for wintertime.
We've got the 15 Best Christmas brews that will warm you up through the holidays!
Christmas Brews from pale ales to IPAs to stouts, we've got them all. Ho ho ho – check out our list!
---
1. Sam Adams Winter Lager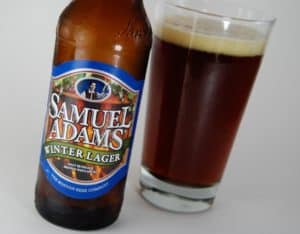 Sam Adams Winter Lager is a dark and bold bock lager with a 5.6% ABV.
It has a rich roasted malt sweetness that is perfectly complemented by beguiling cinnamon, ginger, and orange peel citrus accents.
A warming and full-bodied beer that has an appealing chestnut brown color, its appearance is almost reminiscent of maple syrup.
All comparisons with maple syrup disappear, however, once you experience the enigmatic spiciness and crisp mouthfeel of this delectable Christmas brew.
You can also watch this review by Greg, a beer expert, to know his thoughts about this specific type of brew.
---
2. Stone Xocoveza
Stone Xocoveza is a Mocha Stout with an ABV of 8.1%. A previously-discontinued beer that has since been reissued due to overwhelming public demand, it is strongly reminiscent of Mexican hot chocolate.
With the enticing cocoa and coffee making for a heady brew, its flavors are further enhanced by hints of vanilla, cinnamon, nutmeg, and even pasilla peppers.
Although Stone Xocoveza definitely belongs in the holiday beers category, it ages gracefully enough that it can be enjoyed throughout the year.
---
3. Great Lakes Christmas Ale
From Great Lakes Brewing out of Ohio comes this spicy ale that can be enjoyed even before the season is upon us, and well after it is over.
With its enchanting flavors of fresh honey, cinnamon, and ginger, Great Lakes is the best Christmas ale to wash down roast duck, spiced desserts, and a host of other holiday fare.
Setting it all off is a rich, reddish-amber hue.
---
4. Tröegs Mad Elf
Tröegs Mad Elf is a product of the Tröegs Brewing Company out of Pennsylvania.
A Belgian Strong Dark Ale, it has an ABV of 11.00%, making it a pretty potent Christmas beer.
Mad Elf has a captivating blend of flavors, with no less than three malts–Munich, pilsner, and chocolate–imbuing the brew with their distinctive sweetness.
The addition of Pennsylvania honey and West Coast Cherries further lend subtle fruit and spice flavors to this brew.
"This beer was very light and easy drinking. Frankly, I'd happily drink it during the summer months – or any time of year for that matter. Oh, and the 11% ABV in this beer is absolutely, positively, without a doubt NOWHERE to be found. Normally, I'd recommend taking it easy on this one or classifying it as a 'sipper'. But it's not. It goes down way too easy and tastes too damn good to be drank slowly."

– Ryan, guysdrinkingbeer.com
---
5. Stone Enjoy By
Stone Enjoy By is a fragrant and hoppy double IPA with a distinctively citrusy and floral taste.
Meant to be consumed by a specific date, each can and bottle is clearly marked with the date when it will taste its best.
Stone Enjoy By doesn't undergo the extra filtration process that removes the yeast, hop sediments, and proteins that accumulate during brewing.
The result is a pronounced peach and tropical fruit hop character.
---
6. Rodenbach Grand Cru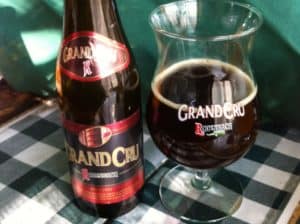 A Belgian sour ale with a 6.0% ABV, Rodenbach Grand Cru combines two parts beer aged in oak vats for two years with one part young brew.
This results in a unique fruity blend that is remarkable in its depth and intensity.
Because of its complex flavors, this holiday beer has been compared favorably to wine.
And who doesn't love wine?
Maybe a bad question for a beer-lover's site? 🙂
---
7. Anchor Christmas Ale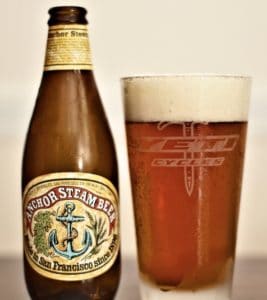 Made by California's Anchor Brewing Company, Anchor Christmas Ale is a true "winter warmer" with an ABV of 6.7%.
Also marketed as Anchor Our Special Ale, it is available only from early November to mid-January.
Although the recipe changes slightly from year to year, there is no mistaking the spicy flavors that make this one of the best Christmas brews you can buy.
Make sure to add this to your list when doing your holiday groceries. It's definitely worth a try!
If you're too lazy to go beer shopping, you might want to check out GiveThemBeer where they specialize in beers during the Christmas season..
---
8. Delirium Noël
Delirium Noël is a pretty potent Belgian Strong Dark Ale with an ABV of 10.0%.
Distinguishable by its hazy amber hue paired with a slightly tan head, it is a foamy beer marked by generous amounts of carbonation.
In terms of aroma, it gives off noticeable hints of Belgian yeast along with tinges of caramelized sugar and fruit.
This is further echoed in the taste, which combines the fruit flavor with subtle biscuit and toast notes.
---
9. Sam Adams White Christmas
White Christmas is a Belgian-style Witbier or White Ale with an ABV of 5.8%.
With its fresh and zesty flavor accented by fruity and spicy tones, it definitely deserves special mention when the subject of good Christmas beers comes up.
Much of the distinctive character of White Christmas is attributed to its blend of cinnamon, nutmeg, and orange peel.
---
10. Harpoon Winter Warmer
A Spiced Ale with an ABV of 5.9%, Harpoon Winter Warmer is both full-bodied and delicate, owing to its cinnamon and nutmeg spices.
The cinnamon aroma is especially noticeable upon first sip, with virtually no aromatic hop component to detract from the spiciness.
Interestingly, the caramel and pale malts used to brew the beer imbues it with just enough body without making it too rich. [1]
---
11. Scaldis Noël
From Belgium's Brasserie Dubuisson Frères sprl comes this Belgian Strong Dark Ale that has a heady ABV of 12.00%.
A slightly hazy golden-brown brew with a foamy head, it has a delectable aroma in which alcohol, honey, and cracked pepper all come together in equal measure.
Once you take a sip, the sensory experience is further enhanced by the sweetness of toffee and honey, with delicate touches of plum and raisin.
---
12. Sixpoint Global Warmer
Sixpoint Global Warmer has a pretty standard ABV of 7%, which in no way detracts from the enticing character of this American Amber Ale.
Decidedly rich with a pronounced flavor of toasted malt, it also has a bright hop component that makes it a thoroughly enjoyable Christmas beer.
Unfortunately, Sixpoint Global Warmer is no longer being brewed, so you would be well-advised to grab a case or two if you chance upon it.
We stocked up last season and we're definitely super happy we did.
---
13. Prairie Christmas Bomb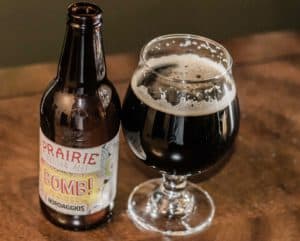 Prairie Christmas Bomb is an American Imperial Stout brewed by Prairie Artisan Ales out of Oklahoma.
With a staggering ABV of 13.00%, it is definitely one of the most potent holiday beers around.
Nevertheless, it has a rich blend of flavors that you will remember long after the buzz has worn off.
Boasting of exquisite notes of espresso and vanilla beans, chocolate, and even ancho chili peppers, this is a good, robust beer with a strong and lingering character.
"The taste is medium-sweet roasted malts, cocoa, espresso, and chili peppers. The peppers add to the flavor but don't produce as much burn as I would expect. As it warms there's fudge and more pepper. It's full-bodied, rich, sweet with medium mouthfeel and medium-low carbonation. It has a long finish with some alcohol mixed with pepper heat."

– Christmas Beer Reviews
---
14. Avery Old Jubilation
An English Strong Ale with a respectable ABV of 8.3%, Avery Old Jubilation has that complex blend of flavors that you will find only in the best holiday beers.
The spectacular mahogany color offers a suggestion of the rich flavors of the brew, which is reminiscent of hazelnuts with mocha and toffee toward the end.
Refreshingly free of strong spice flavors, this ale is purely the result of five specialty malts blended to perfection. [2]
---
15. Summit Winter Ale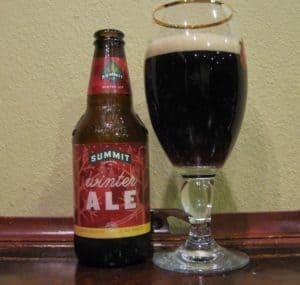 Summit Winter Ale is a Strong/Old Ale that has a pretty modest ABV of 6.2%. Even so, it has a richness and complexity that rivals the best Christmas brews.
A virtual grab bag of flavors can be enjoyed in this delicious winter warmer, including espresso, caramel, black cherry, cocoa, and just a touch of hop spice. [3]
This brew is definitely worth the try this Christmas season.
---
Best Holiday Brews:

Our Final Thoughts

There's no shortage of Christmas-y brews to try! In fact, make sure you don't try too many on Christmas itself. Enjoy them all through the winter. This is especially true if your Christmas happens to be with family you don't get along with – drink responsibly and avoid drama! 🙂

You really can't go wrong with any of the brews mentioned above. Choose a couple that appeal to you, and have a wonderfully heady holiday with all the rich flavors that a good Christmas beer brings!