Why buy beer online instead of at a store? Well, there are many advantages, but here are just some of the main ones:
– Variety: the number of different beers on the Internet is infinite, whereas your local store is limited by space, by the preferences of everyone else buying there, and the owner's knowledge of beer.
– Convenience: Find what you want within minutes, and the package ships to your door, sometimes within 24 hours. No schlepping, no visiting multiple stores, no calling around to check whether the clerk has ever heard of that beer you had on vacation last month.
But, where exactly do you buy beer online?
Is it legal? Is it safe?

Here are our go-to online stores, all of which are well-known and trusted by thousands and thousands of consumers. We reviewed them based on reliability, delivery costs and terms, selection and overall customer service.
---
Top 5 Websites

to Order Beer Online

1. Microbrewed Beer of the Month Club
If you're into craft beer, there's no question that this is the best option for you.
Note that it's not just a monthly club – you can order a huge range of craft beer, from IPA to stout, on an individual basis.
You do have to order a minimum quantity, so it's not that easy to select a wide variety in small quantities – but the range is amazing, so it's worth trying.
Shipping and handling are $15.00, and they also offer wine, chocolate, and cigar clubs.
– or –
---
2. Tavour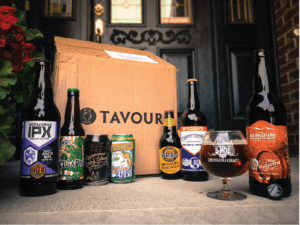 If you like convenience – one thing we love about Tavour is their really cool mobile app!
Set up a profile and start liking some of your favorite beers, and you will get some recommendations for new ones. It's like Pandora for beer!
Choose the beers you'd like to try and put them in your crate. It's easy to order another crate of the same beers, which makes it simple to keep a steady stream of your absolute favorites.
Shipping costs are capped at $14.90, which is excellent if you like ordering in bulk. And it's free to sign up!
– or –
---
3. Drizly
If you need beer **NOW**, Drizly is by far the best bet.
If you live in a city covered by Drizly, you can get beer delivered to your door as quickly as one hour. That's pretty amazing!
If you're into more than just beer, their booze selection is great too. And the prices are not that much more expensive than your local store (in fact, they partner with local stores for their service).
Definitely check them out to see if you live in any of these states: California, Colorado, Connecticut, Florida, Illinois, Louisiana, Massachusetts, Minnesota, Missouri, New Jersey, New York, North Carolina, Ohio, Oregon, Washington.
$5 off your first order (min cart 20)
---
4. Hopsy
This is a truly unique online beer shop. With Hopsy you can buy a SUB Home Tap which takes small kegs for a freshly drawn draft beer (rather than a bottle), right in your own home.
Kegs are available from over 50 different breweries covering a very large range of different beers.
Shipping costs are flat at $9.99, but delivery times are a little on the slow side with 4 to 7 days in Pacific Northwest, Northeast and West Coast.
In the Mideast and Southeast, it can be as long as 10 to 12 days.
Your patience is rewarded though, with a perfect draft beer every time.
---
5. Craft City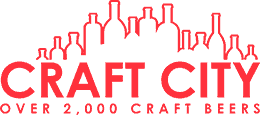 The last craft beer shop we would recommend is Craft City. They have an excellent selection of pale ale, stout, porter and seasonal specials.
If you're looking for something difficult to find, then chances are you will find it here.
Shipping is available except for AR, DE, KY, MS, SD, TX, or UT.
Costs are calculated based on your location and the type of delivery required. Faster delivery will obviously cost more, but we have found that the 2-day delivery is very reliable.
---
Tips For Buying Beer Online

Tip #1.

What's The Legal Age To Buy Beer In The United States?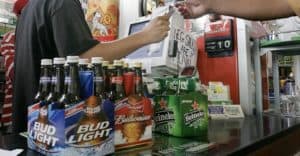 The legal age to buy beer in the United States is generally 21, but there are states with less strict laws, lowering the age to 18. [1]
Just like buying beer in a liquor store, you have to prove your age when buying beer online. It's definitely not a way for underage teenagers to get a store or brewery to ship alcohol directly to them.
---
Tip #2.

Local Laws May Vary
Shipping alcoholic products has different restrictions by state. Most will allow it with certain constraints. [2]
In pretty much all cases that will include the requirement that the delivery person will have to get a signature from an adult over 21, with a mandatory ID check.
You will also not be able to have your bottles sent to PO boxes or mail order addresses. All the above sites provide information on the specific restrictions, and what will be required to receive your brew.
---
Tip #3.

Compare Shipping Rates And Conditions
Delivery time, guarantees and costs will vary a lot. Costs are probably quite similar, as this is not generally an area where online retailers make any money. But you should take a close look at delivery times. [3]
Drizly is definitely the best choice if you happen to live close to one of their locations; you can't really beat a 1-hour delivery.
---
Tip #4.

Compare Prices
As with anything you buy, you will find very wide-ranging prices with online beer retailers.
Some craft beers can be quite pricey, and a few percent along with better shipping costs can make a huge difference.
Could even be enough for an extra bottle to enjoy.
"Slice says 60.8% of the growth in online beer, liquor and wine sales came from the expansion of app-based alcohol delivery service Drizly Inc." – James Melton.
---
Final Thoughts

on Ordering Beer Online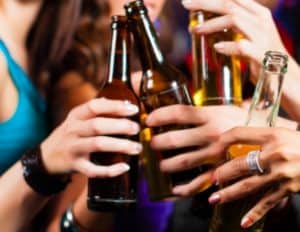 The only way to have a more convenient source of beer at home is brewing it yourself, or constantly having a large stash of different options.
As appealing as that sounds, most of us don't have resources to store those kinds of amounts.
You can, of course, hop in your car and drive to a load of different stores to find what you're looking for.
But in today's modern age of technology, it's time you tried combining beer and the Internet.
Let us know if you know of any other great services that we may have missed.
---
References
1. Centers for Disease Control and Prevention, Fact Sheets – Age 21 Minimum Legal Drinking Age, retrieved from https://www.cdc.gov/alcohol/fact-sheets/minimum-legal-drinking-age.htm
2. National Conference of State Legislatures, Direct Shipment of Alcohol State Statutes, retrieved from http://www.ncsl.org/research/financial-services-and-commerce/direct-shipment-of-alcohol-state-statutes.aspx

3. Holger Görg, László Halpern, Balázs Muraközy, Shipping the premium beer farther away, retrieved from https://voxeu.org/article/shipping-out-best-beer-why-export-prices-increase-distance