When purchasing any type of homebrew supplies, it is important to purchase quality products that are made from quality materials.
Otherwise, your homebrew may be negatively affected just because you wanted to save a couple of bucks.
If you're new to the homebrew world and aren't too sure of exactly what to purchase, you are definitely are not alone.
To help you out, I've assembled a list of a few of the best fermenters out there. I've decided to include at least one of each type of fermenter so that way no matter your budget, you'll be able to find something that will get the job done right.
Here are our

Top Picks

as of May 2018
| Product | Volume | Materials | Dimensions | Price |
| --- | --- | --- | --- | --- |
| #1 - SS Brew Bucket Fermenter | 6.95 Gallons | Stainless Steel | 20.5 x 12.5 x 12.5 inches | $$ |
| #2 - Fast Ferment | 7.9 Gallon | Stainless Steel | 21 x 14 x 14 inches | $ |
| #3 - Big Mouth Bubbler | 5 Gallons | Plastic | 11.5 x 11.5 x 22.5 inches | $ |
| #4 - KegCo Glass Carboy | 6 Gallons | Glass | 11.5 x 22.5 x 11.5 inches | $ |
| #5 - Northern Brewer Fermenting Bucket | 5 Gallons | Plastic | 27 x 14 x 14 inches | $$ |
---
#1 SS Brew Bucket Fermenter

The SS BrewTech Brew Bucket is one of the best fermenters on the market. It looks professional and, like Blichmann's Fermenator, it is also a conical fermenter.
This allows for sediment to settle within the bottom cone and makes it much easier to transfer clean beer. Once you go conical, you never go back.
Although SS Brewing has many similar fermenters, the alternate Brew Bucket only comes in a 7-gallon model, which is why I prefer this model instead.
The entirety of its body and components are made of food grade stainless steel.
This includes the sealable lid which also has a hole for a blow off valve and/or tubing. It also has stainless steel retractable handles that can be used to move the fermenter when it is full.
– or –
---
#2 FastFerment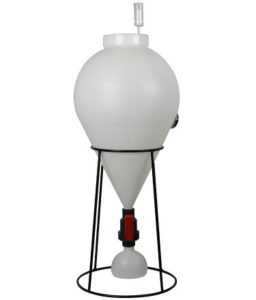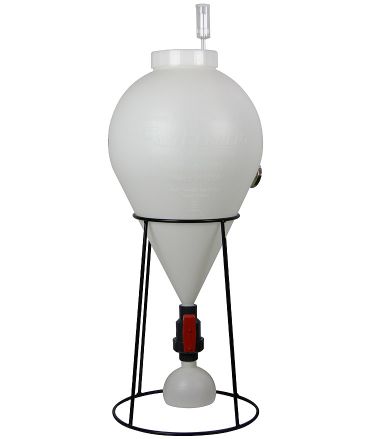 The FastFerment is an amazing option for anyone looking to brew small batches of beer. Since the FastFerment is just one size, it makes it a very simple and easy purchase that does not require any thinking when it comes to picking out a size.
The FastFerment also takes care of every single stage of fermentation in just this one easy-to-use unit. That means no transferring, no siphons, no secondary sanitization, etc.
I told you it was easy! The FastFerment has a nifty detachable collection ball that collects the yeast and debris, which completely eliminates the transfer to a second vessel.
If you're on a budget and can't quite swing the stainless steel conical fermenter, this is a great option for an all in one.
– or –
---
#3 Big Mouth Bubbler
The Big Mouth Bubbler is very similar to the carboy. In fact, I would describe it as the same thing but with added convenience features.
These convenience features, in my opinion are way worth the extra cash over your standard product.
Big Mouth has designed their fermenters to incorporate a spigot at the bottom of the fermenter for a siphonless design. This makes it extremely easy to attach a hose and transfer the wort to a secondary fermenter or bottling bucket.
Another great feature that I love is the dual port lid that allows for a myriad of options.
The Big Mouth Bubbler comes in two different sizes, 5 gallons and 6.5 gallons. If you're sold on the carboy style fermenter, these are a great step up and highly suggest going with one of these.
– or –
---
#4 Kegco Carboy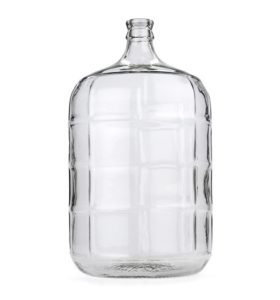 One of the most common home brew fermenters is the carboy. This product is large glass bottle that generally ranges in size from 5 gallons up to 15 gallons and is definitely one of the more inexpensive options for fermentation, especially when compared to the stainless steel conical fermenters.
I find this option to be much better than their plastic counterpart because they do not hold odor or bacteria and they don't scratch, discolor and break down over time.
Make sure to pick a bubbler airlock if you're sold on this product. This will allow the gasses to escape while still maintaining a tight air seal preventing contamination.
You may also want to pick up a second equivalent if you're planning on secondary fermentation. This product is a great way to get started brewing at home for very little money.
---
#5 Northern Brewer Fermenting Bucket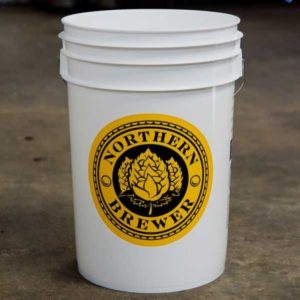 The fermenting bucket is the absolute one of the cheapest, if not the cheapest way to ferment your beer. But don't expect much! After all, it is just a bucket!
The fermenting bucket can also double as a bottling bucket, which is actually a more common use. If you're going to go this route, make sure to go with the siphonless model.
It will make several steps of the brewing process a whole lot easier on you.
This bucket also comes with the option to add a lid, airlock, thermometer, and spigot for a very low price.
If you are still deciding on what fermenter to grab, I would seriously consider going with one of the other options such as the Big Mouth Bubbler or the FastFerment.
There isn't a whole lot of cost difference between the choices, but the benefits are great.
– or –
---
Runner Up – Blichmann Conical Fermenter
At 52 Brews, we're always striving to find the best brewing equipment for you, and this unit is something worth mentioning.
The Blichmann Conical Fermenter is one of the most popular and coveted conical home brew fermenters out there.
This beast of a fermenter is made from solid stainless steel and has pretty much every option you want in a fermenter.
It also comes in a variety of sizes ranging from a small 7-gallon system all the way up to a huge 42-gallon system.
This is an obvious advantage over the carboy and the FastFerment that only come in smaller sizes.
I find stainless steel conical fermenters to be the ideal choice when it comes to home brew beer fermentation.
– or –
For a full summary of all these great products, check out our video below.
---
Recommendation
There are plenty of different brands and manufacturers out there that deliver very similar products. However, not all are created equally. When I make a purchase, I tend to always grab the absolute best I can afford. That way, a few weeks or months down the road I am not forced to upgrade to something better. In the long run, it saves you on money and time.
With that being said, I would recommend going with the SS BrewTech Brew Bucket. I know these are a little more expensive than the other options I've chosen to talk about, but you get what you pay for.
If you're on a tight budget consider the Big Mouth Bubbler.