London Pride is a cask ale that is highly revered in Britain. Calling to mind the distinct atmosphere of an English pub, it is every bit the idiosyncratic British ale: rich, complex, and full-bodied, it has a strong character that invites repeated drinking.
London Pride has since been exported in canned form, so even those who don't have the privilege of being able to hoist a couple of pints at an actual English pub can enjoy it. Although the canned version is obviously less complex than the draft, it still has the pungent hoppiness and citrusy flavor that makes it one of Britain's best-loved beers.
Here's a quick look at London Pride's most distinctive characteristics:
Appearance: Light amber to gold
Foam: Light with good lacing
Aroma: Sweet caramel maltiness, with a hint of biscuit and fruits
Taste: More of the same, with herbal touches and a light hoppy finish
ABV: 4.7%
---
A Well-Balanced Brew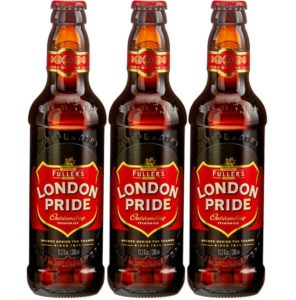 If there is one term that could be used to describe London Pride, it would have to be "well-balanced."
It offers an enticing blend of quintessential English brew flavors, with a delicate marmalade taste accented by toffee malt and floral hops.
Each of these flavors can be appreciated in isolation, but they are best enjoyed as a whole.
---
Soft Mouthfeel
There is also a gentle mouthfeel that is said to be the result of natural carbonation. This is tempered slightly by the mineral content of the water, which gives it a degree of hardness that isn't wholly unpleasant.
It is, in fact, these five elements combined — the yeast, the malt, the hops, the water, and the cask — that gives London Pride its distinct harmony of flavors.
---
Rich Color
In a glass, the beer shows off its beguiling clarity to perfection. Its color ranges from light amber to almost golden.
The head isn't too excessive, with a creamy, egg white hue that indicates the expert brewing process behind it.
The head remains in the glass for a good while, but not too long. It soon settles into a light surface layer that leaves delicate traces down the sides of the glass.
---
A Harmony of Flavors
London Pride reveals a rich and complex array of flavors as you drink. Initially, you get a buttery malt character that has an almost biscuit-like flavor component. This is quickly joined by caramel and toffee tones that assert themselves without being too overpowering.
By the time the herbal and fragrant hops come in, you will likely be convinced that this is one of the most flavorful and balanced beers you have ever come across.
As an added bonus, you also get light hints of grain that further emphasize the balance of flavors in this amazingly complex brew.
---
Not Your Usual Hoppy Brew
Those that are more accustomed to hoppier beers may not quite be so taken with London Pride. The strong caramel flavor that is its most dominant component might even throw off palates more suited to a bitter blend.
Nevertheless, those with an appreciation for wheaty and buttery beers that have subtle fruit, grain, and herb undertones will definitely appreciate the full flavor palette that London Pride has to offer.
The mouthfeel is also a bit of an acquired taste. Drinkers expecting a dry beer that leaves a robust taste in the mouth may be disappointed.
Nevertheless, the distinct mouthfeel of London Pride gives it a refreshing smoothness and crispness that has a way of satisfying thirst.
---
A Classic You Will Love Revisiting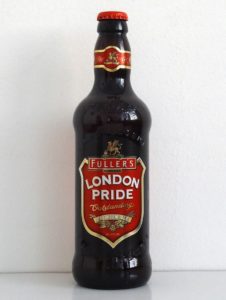 Given its complex flavor and smooth mouthfeel, London Pride is ideally suited for lengthy sessions.
Even those that aren't really into craft beers will appreciate its complex flavor and aroma, and may be encouraged to explore the myriad varieties of craft beers in a similar vein.
Whether you consider it an introduction to custom brews or as a regular standby, London Pride is a beer that you will likely come back to again and again.