Has the birthday of a loved one ever crept up on you, only for you to end up scrambling for ideas on what gift to buy for them?
How often has the result been another novelty tie and a few pairs of socks?
The reality is that in today's world, it's always difficult to find something really unique as a gift that will definitely be enjoyed.
For a long time, nice bottles of wine in a presentation box or maybe an expensive bottle of whiskey were the only solution. Because let's face it, you wouldn't exactly send beer as a gift when it comes in a cardboard box.
Fortunately since 2013, the clever people at givethembeer.com have filled this little gap in the market. It's a website entirely dedicated to craft beer gift delivery services that are ideal for birthdays, Christmas, anniversaries and even Valentine's.
I've used this service a few times to send beer baskets to friends, family and business partners. I've even sent one to myself!
Why beer baskets? Because, as beer aficionado and great actor Jack Nicholson said, "Beer, it's the best damn drink in the world."
So, because I often get asked what to buy as a gift for a beer lover, I thought I'd write up a GiveThemBeer review.
Let's see if you can find the next birthday beer idea here…
---
Great Beer Variety

To Choose From
GiveThemBeer has an amazing selection of craft beers from all over the USA and the world.
With dozens of large and small artisan breweries to choose from, there is no shortage of all types of craft beers here.
Whether you just want a variety of stouts, or you know you're buying for someone who loves their IPAs, you won't be stuck for choice.
Personally, I find their stout collection to be excellent as there is a wonderful choice of very uniquely crafted and flavored brews.
Ales and lagers seem to be what they stock the most of. It's not all that surprising really, as these are the most commonly bought beers.
I must admit I was pretty disappointed because I was hoping to see less ales and lagers and more of the other types of beers. But I guess you can never really have everything in life, can you?
But they do have a specialty range, and if you really want to make an impression with a birthday beer gift then you have to check it out.
Technically, it does include ciders, but if you take a closer look at the ABV for some of the Belgian ones, you'll see why these are a favorite.
They also pay a lot of attention to seasonal beers, and if Christmas is coming up, then you will find some amazing winter brews that are a lot stronger. Similarly, in spring and summer, you will start to notice saison and sours having a larger range to choose from. (1)
This really makes it a great option to send beer gift packages any beer geek will love, while finding some rarer beauties as well.
Just in case you're buying for someone who only drinks the big brand name boring lagers, you can get crates of Bud Light, Coors Light, and Corona as well.
I know—they're not exactly craft beer, and if you send one of these to a true craft beer lover you could be blacklisted for life. I'm just telling you that there are some boring and bland options available too that come in nice presentations.
You can also watch this unboxing video of a sample craft beer basket from Burnt Brian. This will give you an idea of what to receive on your own basket.
---
Gift Basket
Options
Now, it's important to note that this really is a service that provides craft beer gift baskets.
You wouldn't just go to them to get a new selection for your next beer tasting evening with your beer mates.
With hundreds of beers to choose from, it can be a bit daunting to find the right ones. And not all beers go well together as a gift set… Unless, of course, you work here at 52 Brews and beer is all you think about.
For most people though, finding a nice combination of beers is quite a struggle – that's why you'll probably love their prearranged microbrew beer gift baskets. They've got some unique sets.
To be honest, most of the time I don't make my own combination either, but just go for one of the store options.
What's also cool is that GiveThemBeer has different combinations and themes that allow you to buy the perfect birthday, thank you, Valentine's or corporate gift. All the packaging is adapted to the theme, and you can even personalize it.
One of their most popular sets are the IPA beer gift baskets. They certainly have the widest variety of beers, and they also change on a regular basis.
So if you're buying for the same person their birthday and Christmas, then you can be pretty sure that the beers will be different.
As far as craft beer gift delivery services go, this is a good option. They take care of all the packaging to put things in a nice basket with decorations.
Whether you're looking for birthday beer crates or a simple corporate thank you basket that will make you stand out from the crowd, you will find a great combination here.
---
Pricing

and

Shipping
Prices start from $75 for a small and basic package that includes some of the more common craft beer gifts. The largest and exclusive set is about $150, and this does make a very special gift for a loved one.
I actually bought one for my brother a few months ago, and he loved it!
When it comes to shipping, there are 4 things you want to pay close attention to:
1. Where Can It Be Delivered?
GiveThemBeer is currently able to send craft beer gift basket sets to the following states: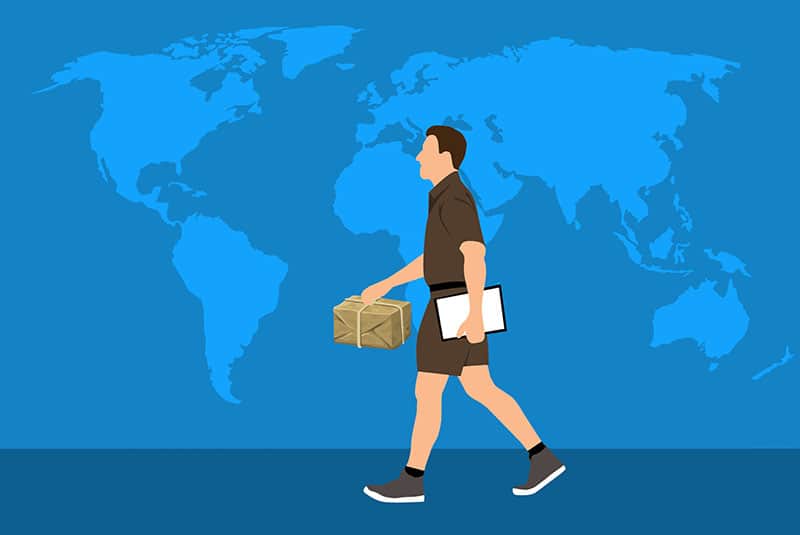 Arkansas, Arizona, California, Colorado, Connecticut, Delaware, District of Columbia, Florida, Georgia, Idaho, Illinois, Indiana, Iowa, Kansas, Louisiana, Maine, Maryland, Michigan, Minnesota, Missouri, Montana, Nebraska, Nevada, New Hampshire, New Jersey, New Mexico, New York, North Carolina, North Dakota, Oklahoma, Ohio, Oregon, Pennsylvania, Rhode Island, South Carolina, Tennessee, Texas, Vermont, Virginia, Washington, West Virginia, Wisconsin, and Wyoming.
2. How Long Does It Take?
Depending on where you live, it will take 1 to 5 days with ground delivery.
Florida and the South East will be about 1 to 2 days, while the Pacific Northwest will be closer to 7 days.
There is express shipping available as well, and the price for this does vary a lot depending on where you live. If you order before 3pm, then your package will be shipped the next day, which is a great bonus.
3. How Much Does It Cost?
Shipping costs are easy to work out:
$15 for a 12-pack
$28 for a 24-pack.
It's not exactly like the free shipping you get with your Amazon Prime, however, which is quite a bummer, to be honest.
4. Will It Arrive In One Piece?
Over the years they have perfected the packaging in a way that makes sure nothing breaks.
Let's face it, even one broken bottle can completely ruin an otherwise perfect gift.
So far, I have never had a problem with something arriving damaged.
---
Customer

Service
While I really haven't needed to contact customer service, they do have a dedicated team that I hear is very responsive.
You can contact them via phone or email, and the contact info is available at the bottom of their website.
I do know that a friend of mine contacted them for some advice on choosing the right beer gift for a corporate client, and they were more than helpful to point out the best options.
"When the company first began, they originally sold around 30 different types of craft beer, but it wasn't long before they took things to the next level and now they sell more than 150 different craft beers for you to enjoy."

– Things Men Buy
---
GiveThemBeer:
Our Final Thoughts
If you're looking for something really unique to give, then GiveThemBeer is definitely one of the best craft beer gift delivery services available right now.
They stock some of the top-rated craft beers in the country, and you also have a great choice of international brews.
From my experience, however, there are other beer delivery services available right now that provide a better selection of craft beers. I'm talking, of course, about the Microbrewed Beer of the Month Club.
It's around the same price but the value you'll get for your money is infinitely better because they have literally hundreds of brews that you can choose from, with 50 different styles of beer that will satisfy even the most discerning beer lover's palate.
Their amazing selection of beers is due to the rigorous monthly selection process that allows them to handpick only the best and most unique styles and varieties so you can get only what your tastebuds deserve, and rightfully so.
Personally, I have never had anything but great feedback from the people I have bought these for. And I always love seeing a delivery from the Microbrewed Beer Club arriving for me as well.
Their shipping, customer service and community (their community is one-of-a-kind, trust me on this) are also topnotch, which is why the Microbrewed Beer Club really has been my beer delivery service of choice ever since and our #1 recommended beer club.
Currently… GiveThemBeer has a superb special deal going on until the end of [month].