Heineken – It is a name that is instantly recognizable beyond the world of beer. Hint: Heineken is not from Germany. Heineken is practically a household name, and the reason behind this fact is due to the wild and interesting history of Heineken beer, and the brand itself. What kind of beer is Heineken though?
Some would argue that it is a pilsner, and some say it is a lager. The truth is, Heineken is more widely known to be a pale lager, but due to its makeup can also qualify as a pilsner. Lager or pilsner, James Bond, and over 150 years of family history (including a kidnapping) are all part of the Heineken legacy. Keep reading to find out more about this amazing, and worldwide famous beer.
Heineken is what we know as a pale lager. A pale lager is a certain type of beer that is usually light in color or golden brown. Like Heineken, Coors Light, Peroni, Amstel, and Stella Artois are also considered lagers. Pale lagers tend to be light-bodied beer. In comparison to darker lagers that are more heavy-bodied, robust, and bitter – a pale lager is just a little bit less intense. Heineken is extremely popular and can be thought of as an archetypal lager. It is strong, and has a yellowish color, and can be a little bitter. Although Heineken is one of the top-rated beers in the world, many of its fans say that it does not taste so good. With that being said, I've been on a hunt to find out how Heineken has remained so popular for over 150 years.
[toc]
Why is
Heineken So Popular?
Heineken is not limited to only Europe or the USA. Heineken is loved worldwide and can be found in over 190 countries across the world. The reason why Heineken is so popular is that the brand is diverse and innovative. Throughout the years, Heineken has produced dark and light lagers, beer, and ales. They also create specialty alcoholic beverages, international, and regional drinks – so that way, they have something suitable for almost any and everyone.
On top of that, Heineken also owns over 170 other brands. Some of the brand-name beers that are owned by Heineken are Amstel, Zywiec, Dos Equis, Newcastle Brown Ale, Tecate, Anchor, Sol, Primus, and more.
---
Is Heineken the
Largest Beer Company in the World?
Despite the numbers, Heineken is the 2nd largest beer company in the world next to Anheuser Busch. Although they are the 2nd largest beer company in the world, that has not stopped their success from peaking. In 2016 the company sold 42 billion pints of beer. Quality and care are crucial to the brand and help its organic growth. In 2019 Heineken sold 241,300,000 hectolitres of beer. When you convert that amount to pints, you have 50,995,772,987.2 pints. Heineken sold 50 billion pints in 2019!
Heineken became such a widely popular and financially successful brand that Mr. Freddy Heineken himself was kidnapped and held for ransom. There is a book written about the kidnapping and a film that I highly recommend checking out! The book, "Judas: How a Sister's Testimony Brought Down a Criminal Mastermind", was written by Astrid Holleeder, the sister, of the villainous crime mob boss, Willem Holleeder, in this wild kidnapping story. The Heineken kidnappers received a hefty prison term, and Mr. Heineken was returned safely after being held captive for three weeks in an abandoned Amersterdam warehouse. If you want to check out the movie it is called, "Kidnapping Mr. Heineken", and it was released in 2015, roughly 30 years after the kidnapping initially took place.
---
What is
Heineken Beer Made Of?
Is less more? Surprisingly, Heineken only has three ingredients! The three ingredients that make Heineken beer are water, malted barley, and hops. Over time, Heineken has aimed to become conscious of its brand and products. Heineken uses only the purest and best water to brew their beer. Since beer is made of mostly water, this is important. Heineken soaks the malted barley in pure and clean water as part of the germination process.
This lightly colored and often foamy beverage is a classic favorite since its first brew over one hundred years ago. With four generations of family running the company since the 1860s, it is very clear why Heineken is such a dominant brand.

When was
Heineken First Made?
The Heineken brand name has been around since the year 1864! It was first brewed and created in Amsterdam, the Netherlands by Gerard Adriaan Heineken. Since then, Heineken has been brewed worldwide in at least 70 different countries and for over 150 years.
The original brewery used by Heineken was bought by Gerard's mother in 1864. Although the Dutch beer market was struggling during that time, the Heineken family made it their goal to turn things around. They did so quickly, and by 1873 the first Heineken beer was brewed. Heineken established itself as a brand name that would grow to popularity over time.
By the year 1875, the Heineken beer company was the largest beer exporting company in all of France. They did not stop there and eventually made their way to the United States of America. Once the Prohibition ended in the states, Heineken had their beer imported almost instantly. It was three days after the prohibition era ended, that the first Heineken shipment was received in North America. From that moment on the brand has been loved by the United States and continues to remain a popular and go-to beer.
---
What Makes
Heineken Different From Other Beers?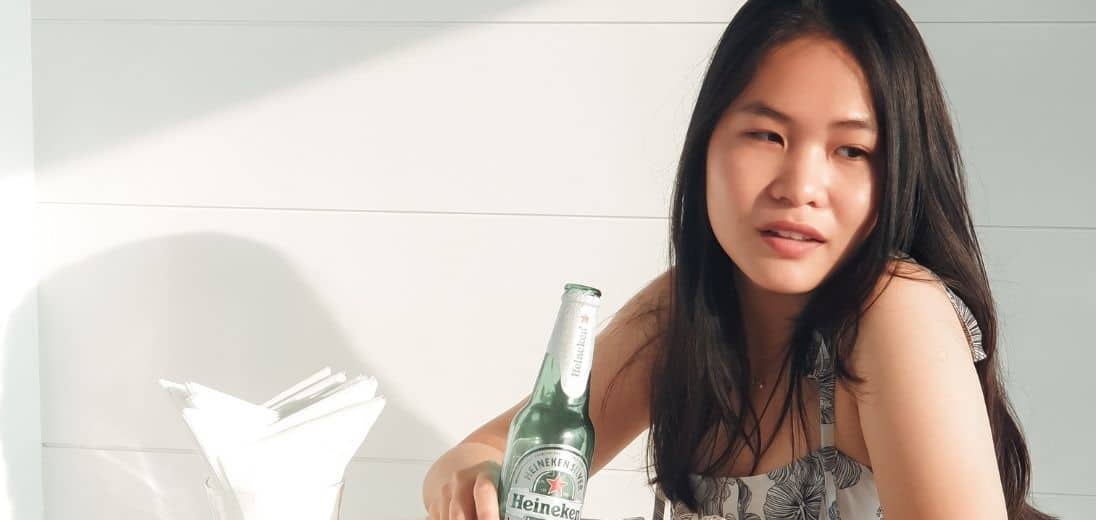 Heineken stands out compared to other brands because they have a true passion for the work they are doing and the beer they are brewing! According to Forbes, Heineken made the cut for the Top 100 Most Valued Brands. They are number 78 on the list and achieved this by stacking up their sales next to brands like T-Mobile, and Lego. After 23 billion dollars in sales in 2016, Heineken has shown no signs of slowing down its progress and success. Heineken is different in the sense that the brand has been family-owned and operated since its beginning. There is a sense of ancestral passion and history throughout the brand, and the Heinekens do not take their job as master brewers lightly.
On top of their strong family history, they also make amazing things happen in their community and across the world. Some examples being, the fact that they have sponsored James Bond movies since the 80s, or how about the time they built the world's largest pinball machine?
Since 1988 Heineken has sponsored James Bond and has even gone as far as creating special campaigns for James Bond movies. They have also created special beer bottles featuring Double-0-7 designs inspired by Bond and the movies. At the Heineken museum (which you can read about below) there are even special areas and rooms dedicated to James Bond that feature movie props and memorabilia on display for all museum go-ers to see!
According to the Guinness World Book of Records, the largest pinball machine (built by Heineken) measures 53 ft 9 in long, 24 ft 7 in wide, and is 35 ft 1 in tall. So, they are passionate about not just beer, and their brand, but also pinball and making sure their name is written in history for a variety of reasons!
In my personal opinion, not many brands can be that cool! It seems I'm not the only one who thinks so because Henienken is also the most "liked" brand of beer on the social media outlet, Facebook. Compared to other brands like Budweiser and Guinness, Heineken has a massive amount of followers. 24 million as of 2021!
---
Where is the
Heineken Museum?
Heineken has turned the original Heineken brewery into an interactive museum that is equipped with beer tastings for everyone, and also serves as a corporate meeting center. The Heineken original brewery now turned museum, is located in Amsterdam. The original brewery is no longer in operation but has been preserved as a marvelous piece of history and doubles as a bucket list place to see for all lovers of the brew! The interactive tour guides you through the history of the company and leaves you with a tasting room finale. If you are lucky enough to visit, you will have a great understanding of the true Heineken Experience.
---
Final Thoughts –
What Kind of Beer is Heineken?
Heineken has left its mark on our world. The thoughtful beer brand has also started utilizing electric delivery trucks as a means of looking out for the environment. Heineken has aimed to become a more environmentally friendly company. When their beer is delivered, they use a fleet of trucks in Amsterdam that are electric, instead of gas. This is a great idea on their part considering the massive amounts of Heineken beer being delivered all over the world. The fact that they are conscious about their impact on the environment, is just another reason to love this beer and the brand itself.
Related Posts