The Brew-Boss is an electric homebrew system that enables users to brew both extracts and all-grain formulations. Offering a range of useful features, it utilizes a powerful heating element that can be controlled via Wi-Fi from an Android device.
Features such as automated/manual control options and the optional hops feeder and kettle filler make it seem like a device to be reckoned with.
But how does it actually measure up? Does this system have what it takes to earn a place in your home brewing arsenal? Read the rest of this Brew-Boss review to find out the good, the bad, and the ugly…?
---
Brew-Boss:
Highlights & Benefits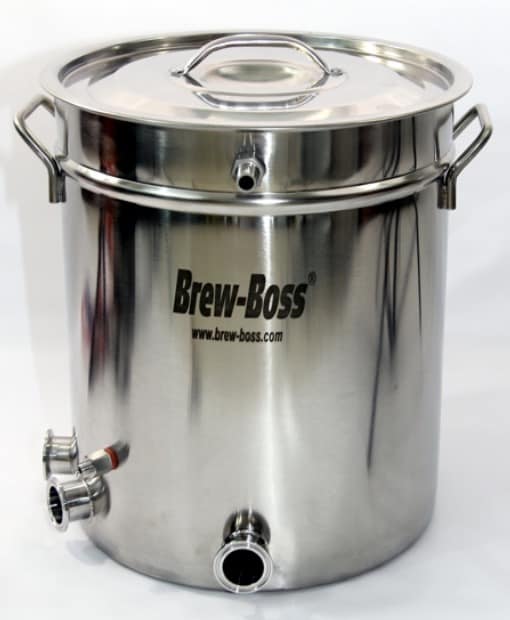 This automated homebrew system comes in the following capacities:
10-gallon – The 10-gallon model can produce up to five gallons of finished brew.
15-gallon – The 15-gallon model can produce up to 10 gallons.
20-gallon – The 20-gallon model can produce up to 15 gallons.
54-gallon – The big daddy of the lot–the 54-gallon model–is designed for barrel production, and can produce a whopping 31 gallons of beer.
The controller unit is primarily responsible for all the functions of the device, controlling the electric heating element and the circulation pump.
The controller interfaces with a dedicated Android app, providing full-color, touchscreen control over the system's various functions.
The Brew-Boss provides extensive control over the different steps and parameters of the brewing process. You can even modify the steps to suit your purposes and preferences.
Automatic control is provided for utmost ease of use, but you can also switch to manual mode for more precise control during brewing.
A new version of the controller has actually been released, giving you even more flexibility with regard to operating the unit. Now on version 3, the controller gives you the option to go through the brewing process in predefined steps, control only the heater and pump, or control the entire system right from the app. This wide range of control options is one of its best features, and it definitely makes the process more efficient.
You may purchase the controller as a part of a complete Brew-Boss brewing system, or as a separate add-on for your current homebrew setup. You can even customize it using its controller and your choice of brewing kettle.
Pros
Comes in a wide range of gallon capacities
Gets up to desired temperatures quickly
Controllable via Android app
Easy to set up and use
---
Any
Shortfalls?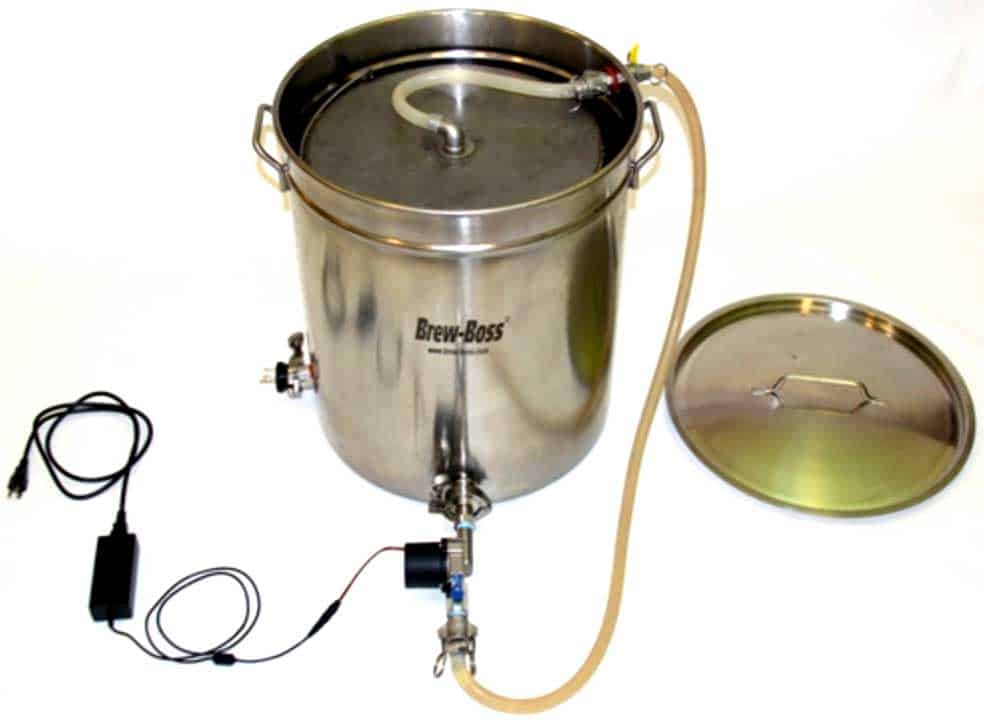 Unfortunately, the Brew-Boss system isn't all it's cracked up to be. The option to mix and match components with products from other manufacturers might seem like a good thing.
But it also makes it seem less like a fully-integrated setup than a haphazard collection of stock parts.
More problems revealed themselves in the temperature monitoring components. The connector of the temperature sensor jack isn't as reliable as one would wish, and it, in fact, came off during shipping.
A quick remount was all that was needed to get it working properly, but we feel that such an important component shouldn't have come off so easily in the first place.
It also seems that this automated brewing system had its our temperature reader incorporated into the interface. Throughout the testing process, the gauge constantly gave readings that were as much as 8°F higher than other thermometers.
The Android app integration is definitely a welcome feature, and it does a fair job of modernizing the brewing process. Unfortunately, the interface is quite clunky in use, and the appearance and function seem to have been lifted directly from a 1990s website.
Getting around isn't exactly smooth and intuitive, and we often found ourselves stumped when trying to carry out even the simplest tasks.
Cons
Reliability issues
Temperature reading isn't accurate
App interface could use an update
---
Brew-Boss:
Is It Worth Investing?
We really wanted to like the Brew-Boss system. The many options in gallon capacities, the ability to get up to desired temperatures quickly, and the app control all suggested a brewing setup that is ready for primetime.
Unfortunately, the reality fell way short of expectations.
For about the same amount of money, a system such as the Grainfather is a much better choice.
With its innovative features and superior ease of use, the Grainfather is just as suited for experienced users as it is for novice home brewers.
Furthermore, it works off a 120-volt mains power and can brew all-grain recipes.
If you are in the market for a solid and reliable brewing kettle that ticks all the boxes, definitely go for the Grainfather over the Brew-Boss.
52Brews brings easy-to-understand, unpretentious craft beer and homebrew information for our readers. We got you covered on all things craft beer, beer of the month clubs, homebrewing, general beer knowledge and more!