Company: Founders Brewing Company
Style: Imperial Stout
Origin: America (Michigan)
8.3% ABV
I came across Founders Breakfast Stout a little while ago and was immediately attracted by the beer's name. I've always thought that breakfast is the most important meal of the day. Now it's also the best meal of the day. Ha Ha. OK. I know that was cheesy and has probably been done 1,000 times before, but I had to.
The first time I tried this brew, I knew I had to write about it. Apparently, I'm not the only one. Tons of people have already written about Founders Breakfast Stout and agree with me.
About Founders Breakfast Stout
Founders Breakfast Stout is freaking amazing. This Breakfast Stout from the Founders Brewing Co. is brewed with real chocolate and coffee. Yup, you heard me—actual coffee and chocolate. This would never happen under the German brewing laws (Reinheitsgebot) that limit the ingredients that can be used for brewing to hops, water, grain, and yeast.
I have tried a few different types of "breakfast stout style" brews like Sam Smith Oatmeal Stout and the Young's Chocolate Stout before and never really thought that much of them. Honestly, both of these left me wanting something a little more. If you are thinking the same thing about this one, think again. This is the stout of stouts. Throw all of your ideas about oatmeal and chocolate beers out the window. This breakfast stout is so crazy it left me not only wanting more, it left me raving about it.
Here is the brewery's notes and description:
The coffee lover's consummate beer. Brewed with an abundance of flaked oats, bitter and imported chocolates, and Sumatra and Kona coffee, this stout has an intense fresh-roasted java nose topped with a frothy, cinnamon-colored head that goes forever.
---
Our Experience
I was first introduced to the Founders Breakfast Stout by one of my friends. When he gave it to me, I was a little unsure about it. I've tried a number of different oatmeal stouts and was never really impressed. Being one to always try something new, I took the bottle from him and tried a big swig of the thick, oily, full-bodied brew.
Much to my surprise it didn't have the weird, overpowering oatmeally taste that the other brands have. It has a dark, black velvet viscous malt has an amazingly pronounced coffee taste that I really love. As soon as you crack open the bottle, the coffee aroma fills the air.
Despite my doubts, I have to admit this breakfast brew has a bold, rich taste that isn't overpowering in the least. It's roasted, semi-sweet chocolate flavor hints with a pleasantly bitter after taste. If you love coffee, chocolate, and a great stout, you will love this drink instantly. The sweetness of the chocolate is cut with the nice bitterness of the coffee. It's a great mix of dark roast malt flavor with a lasting finish.
---
Founders Breakfast Stout:
The Bottom Line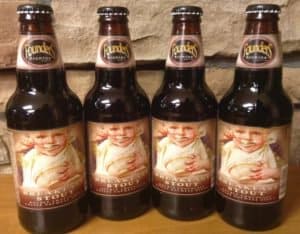 After I tried Founders Breakfast Stout, I knew I had to have some of it. It took me a little while to find this beer in the stores, but I knew it when I saw it on the shelf. The bottle has a rather distinctive creepy looking baby on the label, so naturally when I came across it I had to buy a full case of it.
Go out and try it yourself. You won't be disappointed. Or, if you want to see our other beer reviews or all the different types of beer available, read this page here.