A lot of people are interested in craft beers but don't have the time or space that to dedicate to building a home brewery. For those people, there's the new Minibrew all-in-one homebrewing device. It is a product of Dutch entrepreneurs who partnered with some pretty ingenious engineers to create a kind of "Mr. Coffee" for the homebrew crowd.
And it worked — this homebrewing machine looks like the world's biggest drip coffee maker. It's hard to believe that anyone would be able to reduce the process of brewing beer to little more than pushing a couple of buttons and waiting, but it seems like our friends across the water may have pulled it off. In this review, we'll find out if they were indeed successful.
---
Minibrew:
General Features
Minibrew aspires to reduce the complex process of brewing beer to a few simple steps, and for the most part, it looks like they have succeeded. The new machine is actually a refinement of their first attempt at a drip-style homebrew machine. With this new iteration, the total time involved has been reduced significantly to only about 3 1/2 hours. All you need to do is:
Select which recipe you'll be using (there are 50 different recipes available)
Add the ingredients (which you'll procure from the company's online store)
Get the mash started by pushing a button on your iPhone (no Android compatibility yet)
Wait
You'll get an alert on your phone when it's time to add the yeast and hops. Once you've done that, it'll now only be a matter of waiting out the fermentation process which can take 5 to 15 days.
This homebrewing machine, which we have to say is really sharp-looking, can churn out 5 liters of finished homebrew. While that may not seem like a lot for party animals or for people who are aiming to market the results, it should be more than enough for the casual brewer. You can be sure that the finished product will be in your flavor ballpark too because the system requires you to enter your taste preferences via the iOS app.
Another advantage to this system is it lessens the chances of contamination because it doesn't require you to transfer your product from one vessel to another during the brewing process. In fact, when the fermentation process is complete, your nice copper fermentation barrel will then become your keg. How simple is that?
Pros
CO2 cartridge and tap are included
Has a stunning design that you'll want to display in your kitchen
50 different recipes currently available
Total control through a handy iOS app
---
Any
Shortfalls?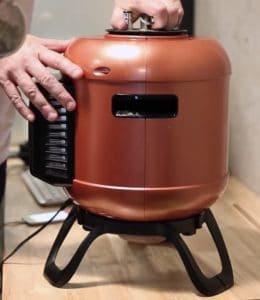 No product is without its downside, and that includes the Minibrew system. Primarily among them is the price, which has recently been reduced by a significant amount but is still north of $1,100. That's going to be a turn-off for quite a lot of folks out there when compared to our other favorite picks.
Some, however, might say that anyone who eats out regularly spends more than that in restaurants every year, and something that can churn out beer that you can enjoy right in the comfort of your own home is a much better investment, right? Add to that the fact that this homebrew appliance will likely last you for years, which is not something you can say with restaurant food.
And they have a point. On the other hand, not everyone makes weekly trips to Tavern on the Green. And if you suddenly discover that homebrewing isn't for you, then you're going to be left with little more than a very expensive curiosity. Also, the lack of an Android app is a shortcoming that the company needs to address sooner rather than later.
Cons
May be too expensive for some folks
iOS-compatible only at the moment
---
Minibrew Brewing Machine:
Is it Worth Buying?
While there's no denying that this is one spiffy-looking homebrew appliance, the price and lack of Android compatibility make it difficult to end this review with a "buy" recommendation. Perhaps if the people in charge manage to figure out a way to solve those two issues then we can revisit our decision.
For now though, anyone interested in this type of all-in-one homebrew device would be better served to invest in the PicoBrew Model C. It costs about ¼, is just as convenient, and is able to produce a variety of different craft brews that are every bit the equal of this homebrew system.
Sure you won't have that lovely copper barrel sitting on your counter, but you'll have enough money left in your pocket to go out and buy some lovely copper cookware to cook steak that will go well with your homebrew. All thanks to Minibrew.