Germany has a rich history, but nothing more enriched than it's history with brewing. So many different versions of beer have come and gone through the century and now a new branch of beer is coming to front. Some of the names may be new but the companies that make them can be traced back for centuries. So, what are the top ten German beers?
This of course depends on who you ask, but here are our personal picks for the top ten beers that the German people have the luxury of indulging in.
[toc]
1. Weihenstephan Hefe Weissbier
This beer tops the list when it comes to consumers choosing beer in Germany. It's a Bavarian wheat brew top that is excellent to have aside a small dinner, amongst friends or family. It also has the added benefit of coming from one of the most respected breweries in Germany, Weihenstephan is the oldest brewery, having been in service to the public since 1040.
2. Gaffel Kölsch

If you live in Cologne then you're in luck because Kolsch can mainly be found around these city limits. You'll see many people walking around with it here, but once you leave it may not be that easy to find. Thankfully you won't have to condemn yourself to a bitter taste (unless you like that taste) as Kolsch has a more fruity taste to it. One thing additionally to point out, they are served in a 200ml glass, so if you ever travel to Cologne don't be alarmed by the glass, it's customary.
3. Weltenburger Barock Dunkel
With it being one of the oldest dark beers it is no question why it is taking one of the top spots on this list. It's dark and creamy brew can lead to its bitter taste but it still has a sweet taste that is not too overpowering and makes it a good accessory for an after dinner drink.. Many can contest whether it should be first on the list but there is no question that top five is the rightful position.
4. Erdinger Kristall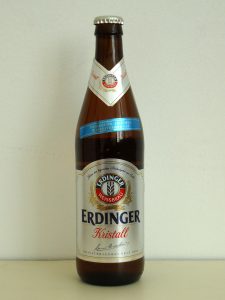 Now from the world's longest running brewery to the current world largest wheat beer brewery. Kristall may be second on the list but it can be the best beer to have when you're out by the lake on a hot, sunny day. It is a recommended thirst quencher, and can leave you with a smile on your face. Add on a lemon wedge for optimal taste and watch how your taste receptors fly off the charts once they are exposed to this beer.
5. Einbecker Ur Bock Dunkel
It Has a distinct history of being first brewed in the 14th century in the city of Einbeck. With a mixture of raisins, toffee, and it's malty taste it gives a unique taste and will be smooth down the mouth. But with the added combination of caramel, and molas, to offset this taste it was necessary to add some hop, so expect that taste once you take a drink. They also come in different styles each depending on the time of the year so don't be surprised to see a different look in the winter versus the summer.
6. Spaten Oktoberfest
Find this beer around Oktoberfest. Brewed in March so that it can be ready for the fall, this beer is known for it's mildly malty taste, and its brown coloring. It's a sweet beer but don't be confused that crisp taste can sneak up on you if you're not paying close enough attention. Once you see this beer on sale and you enjoy what you taste, make sure you get your hands on it quickly because it is only sold from August to October, but if you're lucky you may be able to find it in November, but after that it'll be a whole year before you'll be able to get a hold of this sweet beer.
7. Ayinger Marzen
Another Oktoberfest delicacy, this beer is also brewed in March and is aged until October. This Lager is fermented at low temperatures, and you know you're in good hands as Ayinger is a well regarded brewer with this specific brand having one many awards. With it's golden amber color and bready aroma it stands out from the rest. If you're looking for a beer that stands out for its nutritional values then Marzin is the beer to go with it's zero sugar, and zero fat label. It comes low on the list but again another beer that won't leave you disappointed.
8. Augustiner Hell
Made by the oldest brewery in Munich, this nice cool, sparkling, beer is an easy one to take down. It is highly recommended to people in the city as it can be found in your everyday store, and can be a good pre-game beer before the main event commences. It is a lager beer, which can only be a good thing as it will allow the experience to last longer. With it's restrained bitterness and having a good percentage of both malt sweetness and hop then there is no question why it is on this list, and why it can be your favorite in no time.
9. Berliner Kindl Weisse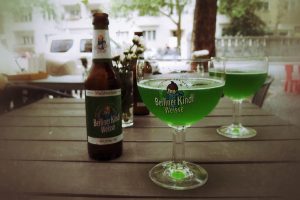 If it's the summer in Berlin and you're looking for the right beer to have, then Berliner Kindl Weisse is the best route to go. With it's soured grains, get prepared to have a tangy, tart beer to ease your mind, and take away your stresses as you bathe in the rays from the sun. The best part too is it is commonly served in a large glass, so there will be plenty to last you all day. It can be found in two different colors, both red or green depending if it comes with a shot of sweet woodruff syrup, or if it was made with raspberry, but nonetheless the same genuine tasty beer.
10. Aecht Schlenkerla Rauchbier
Now if you thought the one before was going to be hard to find, then you must feel very special if you are able to get your hands on this one, but if you're among the lucky ones then be prepared for another sweet, malty beer that may be easier to find if you can remember it's smoky aroma that may confuse you for the scent of smoked jerky. If your able to make it to the brewery that makes this beer, which has been in production since 1405 then your best option would be to enjoy this beer alongside the food they offer at there brewery garden, you'll walk away satisfied knowing your one of so few who had the chance to taste such a delicacy.
If you or someone you know loves German beer, check out our review of the International Beer Club by Microbrewed, which features many great German beers delivered directly to you!
Related Posts